Professional-quality CD and DVD duplicators make copying DVDs fast and efficient. Some DVD+R duplicators offer additional features such as disc labelling, graphic application, and multiple format support, with some models offering compatibility with DVD, DVD+R, and DVD+RW as well as CD formats. Duplicators and copiers allow users to burn many copies of discs, as opposed to traditional burners, which only allow one copy at a time. High-performance technology allows data transfer to DVDs smoothly and quickly, without any additional button pushing or extra work. Most duplicators work alone once burning begins, so users do not need to supervise the duplication process. Some duplicators, including top models, offer unique features such as multi-language options and the option for users to create their own artwork from their PC then transfer it to the disc with laser printing.
| | |
| --- | --- |
| 1 | LightScribe CD DVD Duplicator |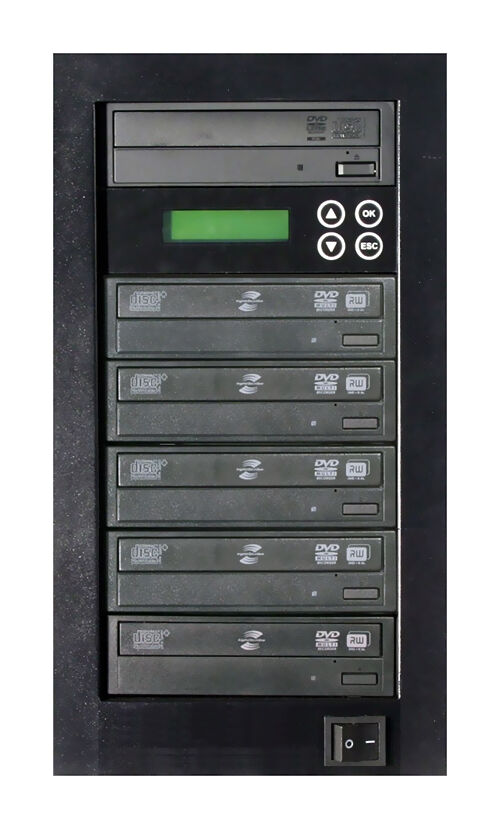 LightScribe technology enables labelling, and designs burn directly onto discs. The 1-to-1 Target LightScribe CD DVD duplicator includes label-printing capability and software to help consumers create their own CD and DVD label designs. The Target LightScribe duplicator does not need a PC to work; it is a stand-alone duplicator that works automatically without the aid of software. Buyers customise the speed of the burner to create the most successful copies, and the LightScribe duplicator works in tandem with many formats, including CD+R and DVD+R, DVD+RW, and DVD-RAM discs. LightScribe duplicators are simple to use and include an LCD screen and digital controls. Some models offer an inbuilt USB drive.
---
| | |
| --- | --- |
| 2 | ACARD CD and DVD Duplicator |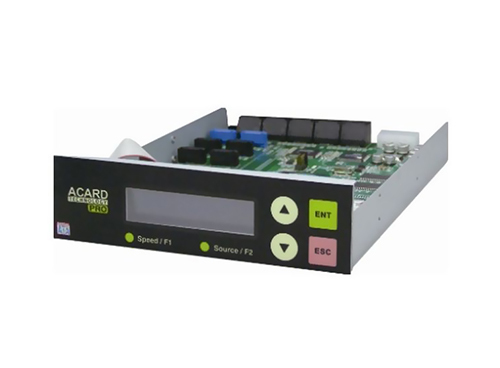 Consumers burn DVDs and CDs using a high-quality ACARD CD and DVD duplicator. The ACARD duplicator also stands alone, meaning the unit does not need to connect to a computer to work. Fitted for Samsung, Pioneer, or Sony burners, the ACARD duplicator works with all DVD and CD formats, and it burns anywhere from three to 11 discs at one time, depending on the purchased model. ACARD copiers automatically detect the inserted disc, and many models are upgradeable with additional software. Some models offer MP3 playback and compatibility, as well as solutions for data backup and integration. For consumers wishing to copy Blu-ray discs as well as DVDs, there are models of the ACARD duplicator which copy those discs. An easy-to-read LCD screen makes menu options simple, and users do not need training to operate the duplicator.
---
| | |
| --- | --- |
| 3 | Microboards Quick Disc DVD Duplicator |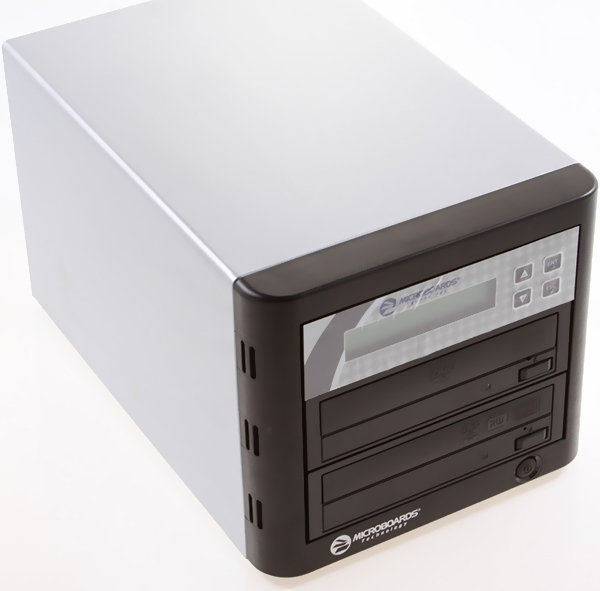 The company Microboards offers consumers an affordable duplicator packed with features. The Microboards Quick Disc DVD duplicator comes in a variety of models, including duplicators that burn one, three, five, or seven discs. There are also duplicators with an added 500 GB disc drive for additional data storage, which makes burning previous projects simple with easy access and retrieval. The Microboards Quick Disc duplicator offers fast and efficient speeds, writing 24x for DVDs and 48x for CDs. Microboards products support many formats and include 2.0 USB ports. Microboards' duplicators are not cheap, but they offer a high level of quality and simplicity for users not familiar with the copying process, or for experts who need a professional-level copier.
---
| | |
| --- | --- |
| 4 | StorDigital Premium CD DVD Copier |
StorDigital offers duplicators with up to 15 drives for burning. The StorDigital Premium CD DVD copier is an affordable option for premium disc copies with high-speed burning for CDs and DVDs, as well as simple controls, a SATA interface, and error scanning so each disc is burned perfectly every time. The duplicators are reliable and built by engineers, and since they stand alone, no computer connection is required for copying. Many StorDigital copiers also support Blu-ray discs. The convenient counting feature keeps up with the number of copied discs. The copier is upgradable with firmware, and supports all disc formats, including mini CD+Rs and dual-layer DVD+R discs.
---
| | |
| --- | --- |
| 5 | M-Disc CD DVD Duplicator |
M-Disc has made a name for itself in the world of disc duplication, and the M-Disc CD DVD duplicator is no exception. The duplicator uses a unique type of technology to actually etch copies instead of the traditional burning method of duplication. This ensures that all data copies without any problems, and makes music and other formats crystal clear and lacking in interference. The discs are then readable by a number of devices without any technical issues. The M-Disc duplicator is powerful, durable, and includes an anti-dust design and an LCD display. This duplicator is usable alone or as an external drive alongside a computer, and discs burn extremely fast with models available that create up to 11 discs at once in mere minutes. The affordable drive reads and writes a multitude of formats including Blu-ray and DVD+RW discs. Users also create compilation CDs with multiple tracks from different sources.
---
How to Buy DVD+R Duplicators on eBay
If you regularly make copies of videos or run your own business that records sporting events, graduations, or church events, a DVD+R duplicator comes in very handy. With a professional level, high-quality duplicator purchased from eBay, burn hundreds of discs per hour for a less than professional price. Search with keywords to find the perfect copier, or search by brand such as ACARD. Filter the results by price range to stay within your budget. DVD+R duplicators are not just for burning DVDs. Many models support Blu-ray, MP3, and all CD formats to make the devices even more convenient and useful. You do not have to be a pro to use a copier; easy controls and automatic burning make the machines simple to use for everyone.