The professional male uniform is standard throughout much of the Western world, comprised of a dress shirt, sui
t
(or, at minimum, dress trousers), tie and dress shoes. As a large percentage of suits are muted or toned down, dress shirts and their accessories, including neckties, cufflinks, and tie clips, are how most men display their personal style. Because the appropriateness of accessories vary depending on the colour, style, and pattern of the shirt, it is generally necessary to obtain a range of accessories to maintain a varied, yet professional look. Following a review of dress shirt accessories and the assessment of which should go where, savvy buyers can visit eBay and enjoy a wide, unparalleled selection.

A necktie is a necessity in today's world, as it brings out the style of a dress shirt and ties together the entire ensemble. A bright, bold tie goes best with a white dress shirt, whereas coloured shirts might call for a muted or classical style. Striped ties are ideal for any suit; however, a wearer should consider the shirt's print before pairing one pattern with another. Striped ties that incorporate complementary colours, such as tasteful blues and greys, lend a touch of class and elegance to a business suit and dress shirt. When reaching for solid necktie, a good rule of thumb is to go with brighter, bolder colours. A solid red tie is a staple in every man's closet, as it pairs nicely with solid, light-coloured shirts, such as light blue, grey, or white, but also picks up the accents in a striped or patterned dress shirt. Men looking to make a bolder impression may turn to royal blue or purple ties.
---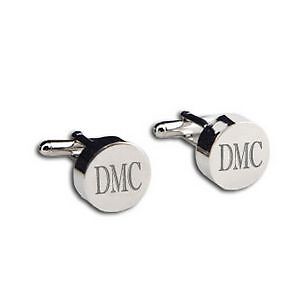 For some men, a dress shirt with simple, buttoned cuffs is enough; those wanting to make a more formal impression, however, may turn to cufflinks for an added touch of class. Cufflinks connect the cuff buttonholes on each sleeve; generally, the wearer folds over the material and lines up the button (cufflink) holes. As cufflinks come in a range of styles for a variety of situations, their selection is not as simple as buying the first one the purchaser sees. For more formal occasions, men may desire a high-end cufflink, perhaps 14-carat gold adorned with a small diamond or gemstone. Casual cufflinks are appropriate for a number of situations, and may represent holidays, TV or cartoon characters, hobbies or interests, or geometric shapes.
---
| | |
| --- | --- |
| 3 | Collar Bars and Collar Pins |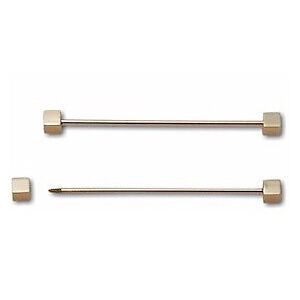 Collar bars and collar pins are yet another way to enhance a dress shirt. In lieu of a buttoned-down collar, some men opt for a more formal, unbuttoned look with or without collar tabs. If without, a collar bar or collar pin might hold the two lapels together. The bar passes under the tie and emerges at either end, where it slides through specially made eyelets. Collar bars are also available with clips at the ends, making them appropriate for almost any kind of dress shirt. A collar pin is similar to the bar, but uses actual pins to hold the lapels in place. Ultimately, collar bars and pins deliver a more refined, aesthetically pleasing look than standard buttons.
---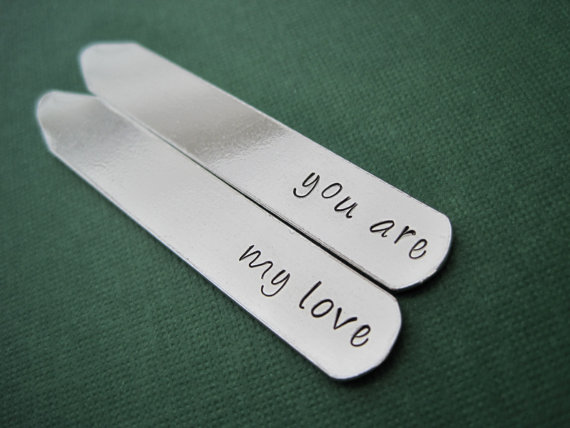 In general, when a dress shirt has neither a button-down collar nor collar bar eyelets, removable collar stays may hold the lapels in place. A wearer inserts the small, rigid strips of hard plastic or metal into slits on the underside of the lapel, thus keeping the fabric straight and in place. Individuals should remove the collar stays prior to washing or ironing to avoid damage from heat or water. Although most shirts utilising collar stays come with the pieces already in place, shirt wearers may find they need to replace the stays due to loss or damage.
---

Men use the term "tie fastener" to refer to a handful of products, most notably the tie tack, tie clip, tie bar, tie chain and tie pin; the most popular of these are tie clips and tie bars. These are pieces of metal, similar to a barrette yet open on one end. A tie clip slips easily over the tie and rests about midway down its length; while it is acceptable for the clip to be shorter than the width of the tie, it should not be longer. Although some frown upon the wearing of tie clips with a full suit, most men find nothing wrong with this combination.
---
How to Buy Dress Shirt Accessories on eBay
The first step to buying dress shirt accessories is to inventory the dress shirts currently in your collection. If you are happy with what you have, then proceed directly to accessory shopping; if not, you may wish to expand your dress shirt collection while you are perusing accessories. On eBay, you can do both. With its deep selection of men's clothing and accessories, eBay is the perfect place to shop. You may wish to break your search down by category, such as Men's Accessories or Men's Jewellery, or scroll through the entire inventory for ideas or inspiration. With your dress closet well stocked, you can always put your best foot forward-along with your firm, confident handshake.