Nothing makes a girl feel more feminine than wearing a
dress
; the range of styles and options only adds to the allure. With so many fabrics, designs, and lengths available, girls can easily find the right look for every occasion. Summery days call for the girlish freedom of a sundress, with its comfortable, lightweight fabric, bare arms, and variety of lengths. Casual and more businesslike forums may call for the floor-length sophistication of a maxi, while work situations and nights out often demand flattering, form-fitting sheath dresses; formal and designer dresses put the "dress" in dressing up. Girls can find whatever look they desire on eBay, with its near-limitless selection of dresses and accessories.

The sundress has long been a summer staple. Beyond being light and airy, sundresses are more comfortable than their more formal counterparts, yet dressier than a simple pair of shorts. With the right hemline, the sundress is appropriate for most body types, making it a popular choice; in general, though, a knee-length dress complements most figures. When choosing a sundress, girls should select a flattering print: both simple and bold patterns flatter taller ladies; shorter girls, however, usually prefer smaller patterns or solids. Natural materials such as cotton let the fabric breathe, keeping the wearer cooler in warmer temperatures. Finally, the choice of straps usually comes down to the wearer's bust size, and how much width it takes to cover any bra or camisole straps.
---

The maxi dress is a chic step up from the sundress, a floor-length hem making it appropriate for casual, semiformal, and formal situations alike. The maxi's dressy appeal comes from the way it goes with most body shapes, from tall to petite, thin to plus size. V-neck dresses always serve to elongate and streamline the wearer's appearance. Whereas small patterns or solids flatter petite wearers, plus-size girls often gravitate towards the boldness of big prints. Whereas thin girls gravitate towards thin or no straps, full-figured wearers prefer wider straps. Another benefit of a maxi is the range of accessories available to the wearer, from coordinated shoes to jewellry and scarves to belts. For fun and fashionable ideas, girls can review the look popularised by the characters in Sex and the City.
---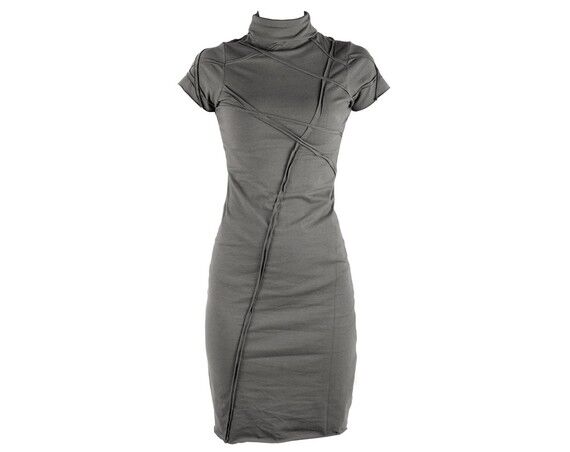 Even more flexible than a maxi dress is the sheath, stylish for work, casual, and evening wear. As timeless as they come, sheath dresses are more fitted than their shift counterparts, with attractive darts holding the fabric in all the right places. Sheath dresses may feature standard, high, or dipping necklines and differing sleeve lengths. Generally made with lightweight fabric such as cotton jersey or silk, these dresses hit the wearer at knee level and may be lined. Versatile and trendy, the classic sheath flatters the waistline of most sizes and body shapes. Audrey Hepburn's attire in Breakfast at Tiffany's is a popular sheath look.
---

Most girls have the first experience with formal dresses at school dances or weddings. Since girls wear these gowns infrequently, shopping is an exciting experience. Amongst the considerations when perusing formal dresses are colour, pattern, fabric, hemline, and sleeve; as with most dresses, a lady's size and body shape dictates many of these choices. Shoppers can find formal dresses in a range of materials, including simple cotton or polyester blends, and sleek satin or silk finishes.
---

Springing for a designer dress can be a stretch for some; therefore, it is important to know what to look for, as well as how to find a bargain. To begin, prospective buyers may peruse designer catalogues, websites, or upscale department stores to see what looks and brands are available. Designers vary in terms of materials, formality, and style, from classic, timeless looks to trendy, up-to-the-moment designs. As with any dress, girls should find the style that best suits their figure.
---
Choosing Accessories for Girls Dresses
No girl's ensemble is complete without the right accessories. As a dress allows for a greater range of accents than 'round-the-house wear, buyers should first review their options. Of course, jewellery is a primary consideration, with earrings, necklaces, bracelets, and rings at the ready. Coordination of these items is important, but it is up to the wearer to decide which of these items should be matching sets, and which add another level of accent. Another equally important consideration is shoes, with both colour and style lending an appropriate finish to the ensemble.
How to Buy Girls Dresses
Unless you are merely browsing, you want to have an idea of the look you seek before heading to the online market. Other important tools to take on your venture are accurate measurements: bust, waist, and hips. eBay has for sale girls dresses of all looks and styles, from sundresses to maxis and sheaths, and designer dresses to formal dresses. And remember, no outfit is complete without the right accessories, all of which are available on eBay, as well. The site makes browsing and shopping easy, offering the ability to search by category (such as Girls' Dresses), product (e.g., designer dress), brand name (including H&M and GUESS), and more. With so many dresses from which to choose, girls can find the perfect look for every occasion.