Having a newborn baby at home is an exciting time for all those involved with so much to look forward to. Sleeping and feeding schedules for the new baby get underway and so do other routines like bathing and changing clothing. Dressing newborn girls is a lot of fun because there are so many styles to choose from, especially when it comes to
dresses
. There are many dress options available at department stores and online at eBay. It is a good idea to have outfits ready before the baby arrives. Knowing what styles of dresses are available and how to choose the right size for a newborn is helpful for shoppers inexperienced in purchasing such items, especially for first-time parents.
| | |
| --- | --- |
| 1 | Carter's Dresses for Newborns |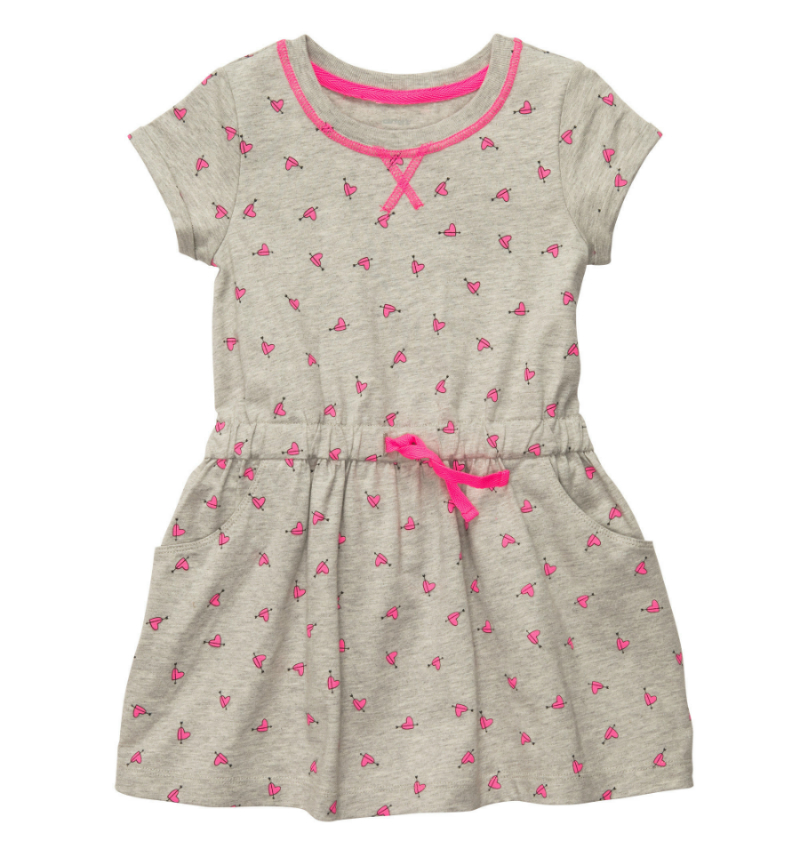 When it comes to outfitting a baby girl, Carter's baby dresses do that with style. This brand has a wide selection of dresses sure to fit any time of year or any occasion. If it is a festive and frilly look parents are after for their newborn girl, Carter's has a line of dresses which meets that need. There are also dresses for everyday use and special occasions as well. The brand's floral prints, polka dot dresses, and bright coloured options are ideal for summer. There are also many wool blends available for the cooler months and dresses for the holidays as well.
---
| | |
| --- | --- |
| 2 | Ralph Lauren Newborn Dresses |
Ralph Lauren is a name that is easily recognisable in the fashion industry for the high-quality clothing and stylish looks that represent this brand. Pink Jersey Rugby dress with bloomers which is attractive and comfortable.
---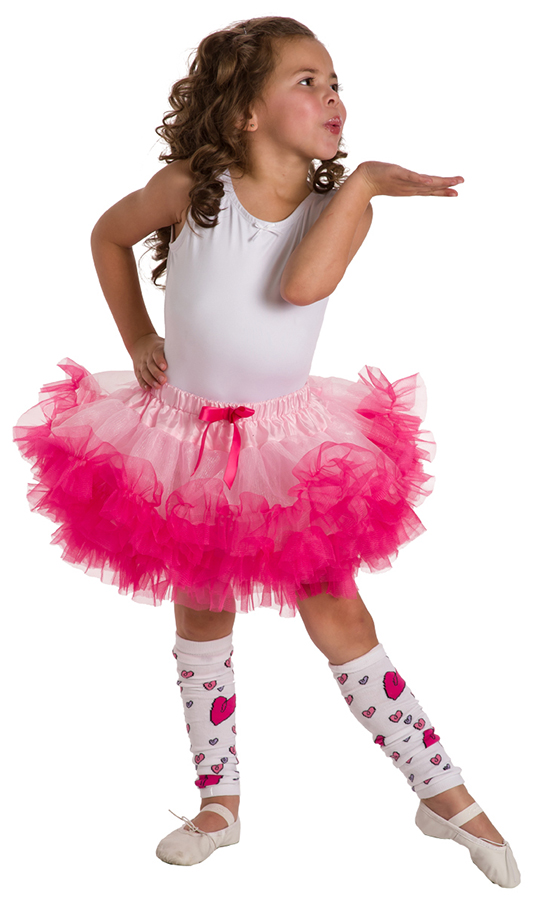 Little Diva is another manufacturer that makes the top five list when it comes to newborn baby dresses. Little Diva baby girl designs fit any mood ranging from ones that are chic and classy to ones that are fun and flirty, like Little Diva tutus. There a variety of Little Diva Tutu dresses that feature fun slogans such as "Daddy's Little Diva". This style of tutu dress is of the halter variety and popular for dance practices. The halter-style tutu comes in materials like Lycra that stretches comfortably for big movements. The tutu portion is often tulle and comes in single solid colours or multicoloured designs.
---
| | |
| --- | --- |
| 4 | Gymboree Newborn Dresses |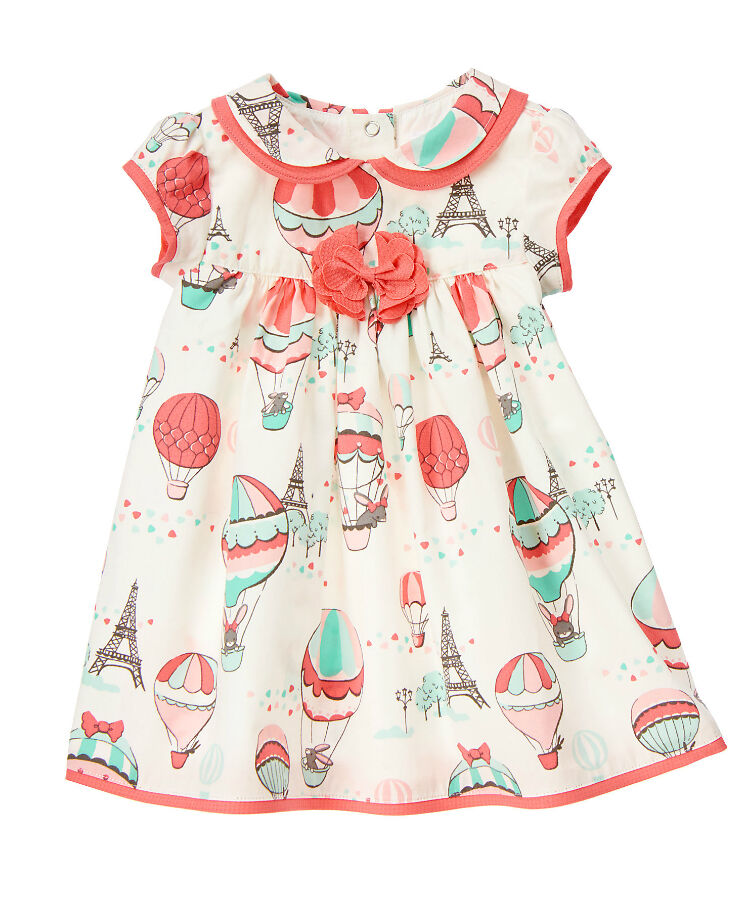 Another designer of top dresses for newborns is Gymboree. Gymboree dresses for newborns come in a range of styles which includes elegant ones that make suitable dress wear for holiday time and other special occasions. Newborn babies experience large growth spurts and some parents find that their newborns quickly outgrow the standard newborn size range of 0 to 3 months earlier than expected. It is not uncommon for newborns at the age of 2 months to fit into dresses that are in the 3 to 6 month size range. When this happens, it is a good idea to buy larger sizes in styles like the Gymboree baby girl knitted dresses, which do not have tight gathers that bind or pinch.
---
| | |
| --- | --- |
| 5 | Mud Pie Newborn Dresses |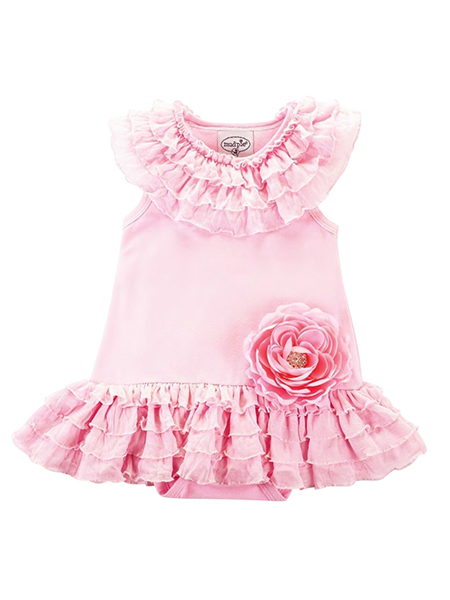 Mud Pie dresses are another popular brand amongst parents. Mud Pie baby girl clothing has a distinct style that is very feminine and fun. Made to last, these dresses hold up well wash after wash. These dresses come in a variety of materials so it is easy to find ones suitable for any season. Dresses made from 100 per cent cotton are good choices for the warmer months as this type of material is more breathable than other types of fabrics. When the weather begins to turn cooler, adding some trousers to the outfit keeps baby warmer. The pleated and ruffled Mud Pie Baby Tres Jolie dress with trousers makes a suitable combination for early morning or late afternoon summer wear.
---
Tips for Buying Dresses for Newborns
Typically manufacturers label clothing as being a newborn if the child is between 0 to 3 months of age, which is a helpful guide for parents to use when buying clothes before the baby arrives. It is always a good idea to choose clothing that fits baby in a comfortable manner so that gathers and seams do not bind or cut into the delicate skin. The best way to buy dresses for newborns is to go by the height and weight of the baby, then find clothes to match.
How to Buy Dresses for Newborns on eBay
When looking for dresses for a newborn, shopping on eBay to fill this need is a standard many parents do not veer away from. The selection of items is great and there is a wide range of prices to choose from. Buy used newborn dresses in mint condition or buy them in bundles to save money. It is easy to find the right items by typing terms into the search box located on any eBay web page. There are many top designers when it comes to newborn baby dresses. These brands are fashionable, practical, and durable choices. Knowing what to look for in baby dresses makes shopping easier.