Drive bay caddies
often come as a 5.25-inch device to fit in most computer drive bays on the market. When buying a drive bay caddy, buyers must consider its drive support capabilities: some hold three
3.5-inch drives
, others support four 2.5-inch drives, and still others accommodate a combination of drive sizes. It is also important to look for cooling-efficient drive bay caddies, which often have a heat-dissipating metal construction and a fan. Some caddies that feature ports for USB and memory card, and some include a display for real-time monitoring and overheating alarms. To ensure the best choice, buyers benefit from knowing the top drive bay caddies to fit 5.25-inch drives on the market.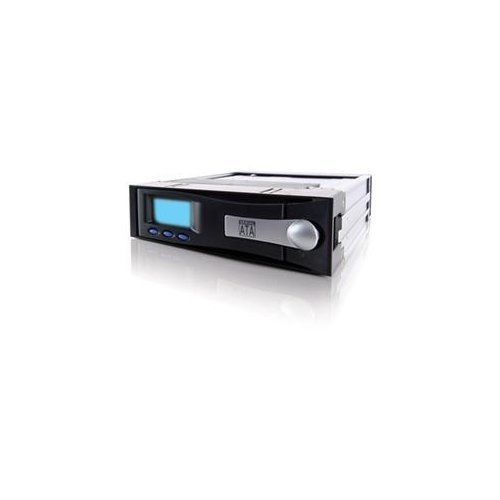 Maximising space and an LCD make Icy Dock MB122SKGF-1B a popular product on online sites. Its LCD allows users real-time monitoring of the health of the drive, with the device notifying users with visual and sound alarms in case of fan failure and temperature exceeding the preset level. MB122SKGF-1B fits a standard 5.25-inch drive bay and can hold a 3.5-inch SATA I or SATA II drive. Icy Dock MB122SKGF-1B offers the convenience of a removable tray system and hot-swap capability, allowing users to manage multi-drive exchange and maintenance smoothly. The device has a stylish design, and its aluminium construction dissipates heat efficiently. To augment its cooling capability, the drive bay caddy also includes a 40-millimetre rear warm air outtake fan.
---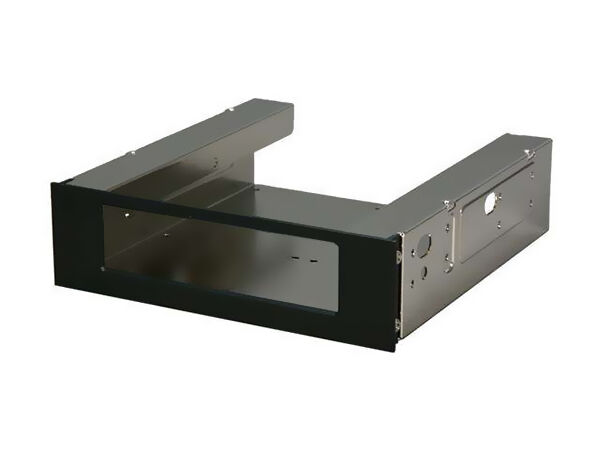 With its capacity for two 2.5-inch drives in addition to a 3.5-inch drive, SilverStone FP55B is a good value for the money. This well-rated drive bay caddy fits a 5.25-inch drive while accommodating two sizes of hard drives. In addition, the drive bay caddy can support either an internal or external 3.5-inch hard drive. With the two mounting holes of the caddy, users can install with the bezel either exposed or hidden behind the existing case. Users find no trouble in installing this drive bay caddy as it has the right size to fit the standard drive bay. The FP55B sports a black or silver brushed aluminium front panel that matches well with most computers on the market.
---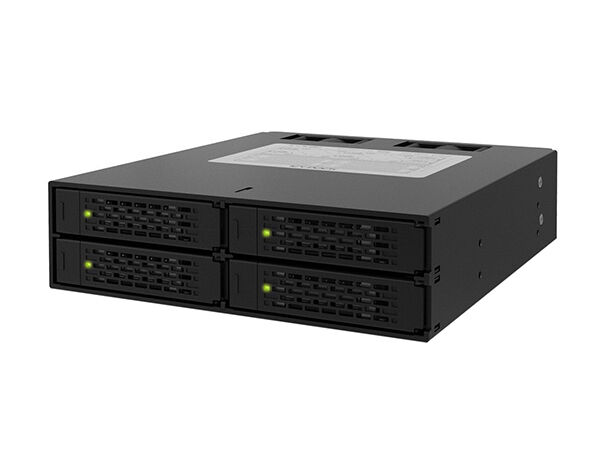 With heavy-duty metal construction and capacity for 2.5-inch hard drives, the Icy Dock MB994SP-4S is popular amongst buyers. The drive bay caddy fits a 5.25-inch drive bay while able to support SAS, SATA SSD, or HDD drives. The caddy also includes ventilations slots on all four sides, as well as a 40-millimetre cooling fan, for efficient cooling. The MB994SP-4S even has an LED on the front panel to provide users real-time monitoring. With its consistent power supply to each drive with its four-pin power connectors, users need not worry about the power supply whether for low-power SSDs or high-power 15,000 RPM SAS drive. Users benefit from the EZ Slide Mini Trays of this drive bay caddy as they allow efficient interchangeability and maintenance. And with the tray able to accommodate 9.5-,12.5-, and 15-millimetre drives, users can truly call Icy Dock MB994SP-4S a truly universal 2.5-inch hot-swap bay..
---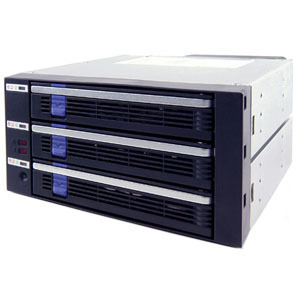 For those looking to fit three 3.5-inch drives into a caddy, the Icy Dock MB453SPF-B model is a great choice. This drive bay caddy model has a 5.25-inch size and is able to support three SATA 1.5, SATA 3.6, SATA 6 hard drives. Depending on the hard drive speed, the MB453SPF-B allows a transfer rate of up to 6 GB per second. It also sports a stylish aluminum construction and a removable fan for efficient cooling. Users benefit from the tool-free and hot-swap installation that Icy Dock MB453SPF-B offers, as well as its LED, which notifies the users in case of fan failure or overheating. The space-saving Icy Dock MB453SPF-B is a wise choice, especially for mass storage and industrialized system solutions.
---
| | |
| --- | --- |
| 5 | Cooler Master STB-3T4-E3-GP |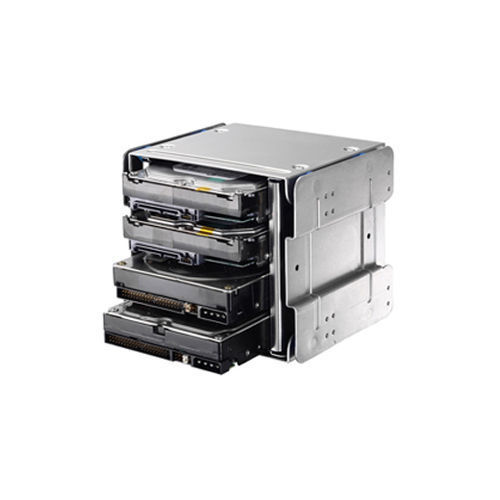 As its name suggests, Cooler Master STB-3T4-E3-GP takes seriously the job of having the hard drives running cool. The drive bay caddy features a 12-centimetre sleeve bearing fan to keep drives cool even when running for 24 hours. It also has an aluminium construction that is great for dissipating heat. The caddy converts three 5.25-inch drive bays into a four 3.5-inch drive module, and its application ranges from COSMOS to CM Stacker 83X to Centurion 534 to CM690. Cooler Master STB-3T4-E3-GP, with its cooling solutions and mass storage capacity, is a good investment.
---
How to Buy Drive Bay Caddies to Fit 5.25-Inch Drives
Buyers can find a variety of drive bay caddies on eBay, including the top caddies to fit 5.25 drives. Buyers should actively look for listings with free postage, as well as listings from top-rated sellers. To save money, buyers can even visit eBay's Deals page to see discounted items. Of course, buyers can always opt for used drive bay caddies, which cost a fraction of the new items. There are a lot of ways to learn more about a product, and one good way is to post a question on eBay's Talk page and get answers from other eBay members. Buyers should read the product description and postage details carefully before completing a purchase. Knowing the top drive bay caddies out there takes the guesswork out of buying.