Broken shower? Fear not!
Many of us have a shower in our homes that we use everyday without thought, but how many of you have a niggling problem that you haven't got round to fixing yet? Well this guide is designed to give you confidence in yourself - You don't need a professional plumber to fix most of the common shower problems.

This list is provided as a quick rundown of jobs that you can do yourself in less time than you'd think - All you need are a few basic tools and a little patience.
1. Shower Door Rollers
If you have a shower with sliding glass doors, there's a chance that you've got a set of door rollers at the top and bottom. Over time, these can be become stiff or even break. Replacing these is an easy task often only requiring a spanner or screwdriver - Just make sure you buy the correct compatible replacements.
2. Shower Door Handles
Think how many times your shower doors have been opened and closed - They can take quite a bit of use before they start giving in! But if your door handle is on it's last legs, replace it with a new one within minutes. If your door handle is held in place with two bolts, make sure you measure the distance between them carefully.
3. Shower Seals
Most shower enclosures come complete with a transparent silicone seal in some shape or form, often fitted along the side or bottom of a glass screen door. If your seal has split or has become unsightly, replace it quickly and easily by fitting a new one in it's place.
4. Showerheads
Is the water coming from your shower head coming out of just a few nozzles? Chances are you've had limescale build up within the shower head or an internal seal has perished. With a vast variety of different shower heads available, replacing it has never been easier.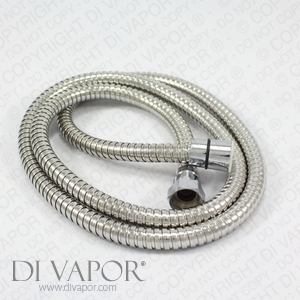 5. Shower hose
If you've got a handheld shower head you may have experienced some issues with the shower hose. Common problems include leaking around connecting gaskets and material surface failure. It'll take you five minutes at the most to get a new one fitted - What are waiting for?
Di Vapor stock over a 1000 different variations of bathroom spares, including parts for shower enclosures, whirlpool baths, saunas and steam rooms. Visit our main shop or website to see our full range.