Just because that factory stereo came with the car does not mean it should stay. Indeed, as discerning audiophiles know, a good sound system does not consist of a mere manufacturer-made model; rather, it is a collection of hand-selected components, with as much consideration given to subwoofers, bass, amplifiers, and
speakers
as to tuning and inputs. Because in-cabin space is limited, automobile owners often seek enclosed non-powered car subwoofers for their added oomph. An enclosed subwoofer pairs sub and box, cradling and protecting the cone while ensuring optimal sound output. For best performance, buyers should match the RMS power handling ratings of the enclosed sub and amplifier. eBay has one of the largest, all-in-one-place inventories of audio equipment, including
enclosed subwoofers
.
| | |
| --- | --- |
| 1 | Kicker TCompS 40TCWS104 |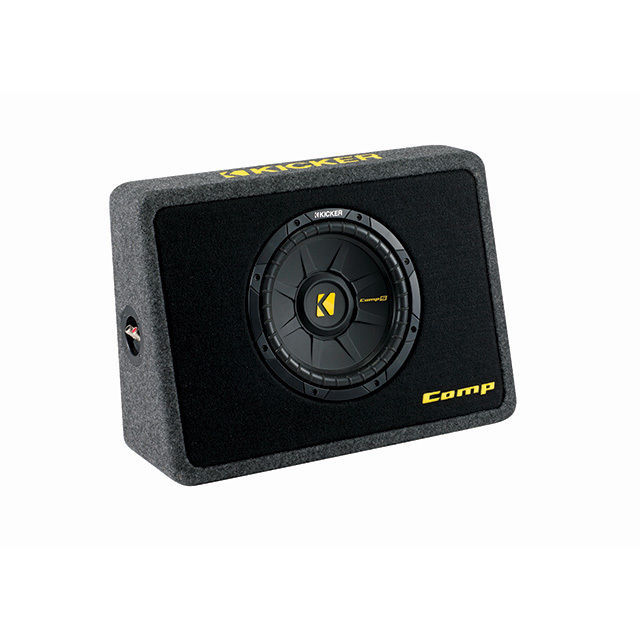 The Kicker TCompS 40TCWS104 is big on sound but small on space. The 25.4-cm subwoofer tucks neatly behind a car or truck seat, lending thumping bass to the vehicle's cabin. Low sounds hit hard with the TCompS, as a flex-resistant polypropylene cone erases distortion and a ribbed foam surround extends the note. Big bass sound has found its home with the Kicker TCompS's steel basket; extensive venting is both long-lasting and true. Also of rugged construction is the subwoofer's sturdy, 1.9-cm, medium-density fibreboard exterior, which is covered with carpet. The powerful component handles a standard 50 to 300 watts RMS, with peak power of 600 watts; the frequency response is 30-500 Hz. Amplifier compatibility is not a problem, thanks to the TCompS's 4-ohm impedance.
---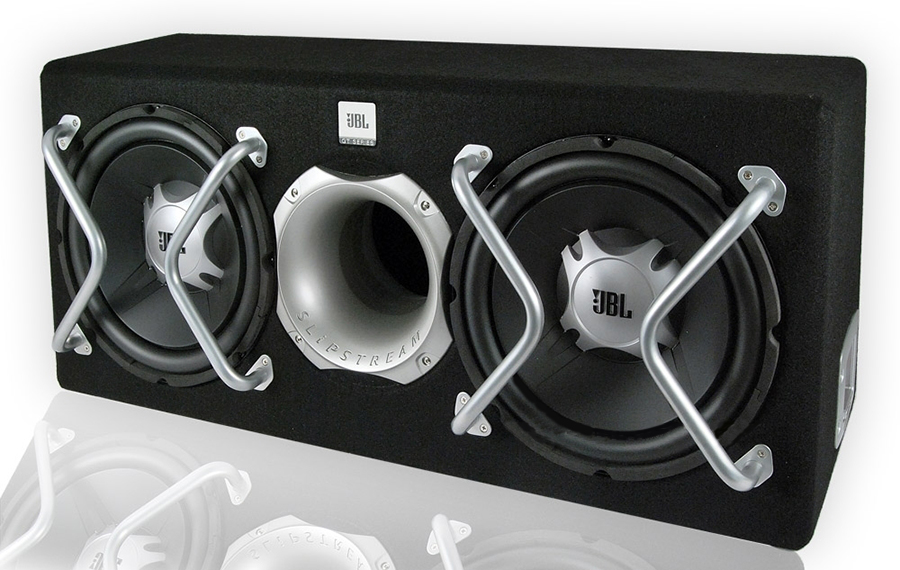 Twin 30.5-cm GT5 subwoofers comprise the JBL GT5-2402BR, boasting a range of up to 550 watts RMS. The subcompact component is for a passenger car environment, delivering just the right low bass tones to enhance the listening experience. JBL's proprietary Slipstream port is for tight confines, delivering optimum notes through a wide-mouthed opening. This unique design not only cuts back on distortion and unwanted noise, but also allows the subwoofer's true power to shine. Protected by a layer of carpet and an attractive aluminium grill, the 1.9-cm, medium-density fibreboard construct is tough enough to withstand a bit of adversity. JBL GT5 2402BR subwoofers bring welcome noise with 2-ohm total impedance and a frequency response of 40-200 Hz. This component is suited for 200-550 watts TMS total, with a peak power of 1,600 watts.
---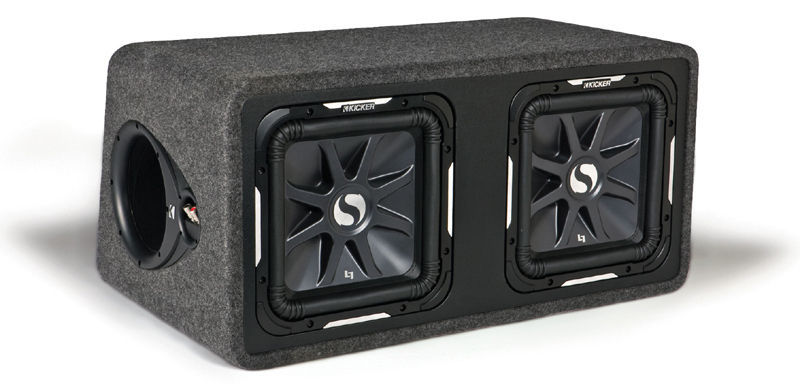 Kicker has made a name for itself in the car subwoofer arena, and its DS12L7 is no exception. This model is highlighted as delivering an intense bass experience, which it does through power handling of 200-1500 watts RMS, up to a whopping 3000 watts at peak power; the model has a 2-ohm total impedance that coaxes the most from a mono amplifier, with a frequency response of between 20-100 Hz. Two Kicker Solo-Baric L7 subwoofers are housed in the DS12L7's 1.9-cm, sturdy, medium-density fibreboard exterior. An injection-moulded polypropylene SoloKon one-piece square cone, found inside each Solo Baric L7 subs, moves more freely, resulting in louder, truer bass sounds. Rugged Santoprene rubber surround accents the extra-large cone, combining with the DS12L7's durable aluminium basket for a distortion-free sound. A single set of speaker terminals allows for easy amplifier hook-up.
---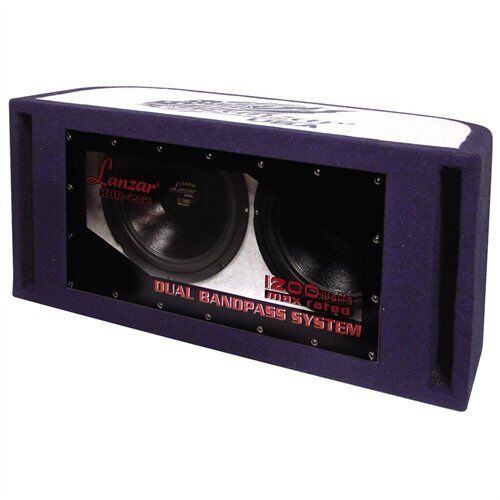 People who want thumping, in-your-face bass sounds opt for Lanzar. The Lanzar HBP212 is a dual bandpass subwoofer system with two 30.5-cm drivers and a 4-ohm impedance. High-quality MDF construction ensures the reliability and longevity of the component, while an appealing Plexiglass front window protects the non-press paper cone and 6.4-cm aluminium voice coil. The subwoofer's box is dual chambered, one sealed, one ported, to deliver a low frequency sound with a high-level punch. By the numbers, the Lanzar HBP212 boasts a frequency response of 37-1KHz and maximum-rated watts of 1200. All in all, these bandpass subwoofers deliver richness of sound, good vibrations, and an attractive package, all in a compact space.
---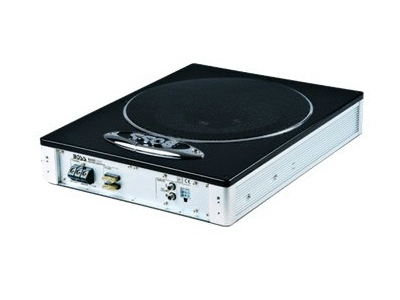 The Boss Bass 1200 is aptly named, given that it delivers a total power output of 1200 watts; the unit's RMS power is 600 watts, with impedance of 4 ohms. The low-profile, amplified subwoofer presents deep tones and thumping bass sounds through a 25.4-cm speaker, with a frequency response of 20Hz-150Hz. An additional soft delay remote turn-on eases on-the-go sound adjustments and level controls. The Boss Bass 1200's compact size allows it to fit almost anywhere, even under the front footwell. High-end terminals facilitate simple connections with amplifiers and speakers, while high- and low-level inputs make the unit universally compatible.
---
How to Buy Enclosed Non-Powered Car Subwoofers
You do not have to be an audio electronics expert to achieve noteworthy sound in your automobile. Because it is important to align amplifiers and subwoofers with regard to RMS power handling ratings, make sure first to assess power and sound capacities between existing and desired components. Enclosed non-powered car subwoofers are for when space is a concern, in other words, inside most auto interiors. eBay is the ideal place for a subwoofer shopping excursion, as the site's large photos and detailed product descriptions make it easy to identify features, price, and condition. With their combined cone and box, enclosed subwoofers are durable, simple to install, and easy to tuck away.