Historical reenactments offer men the chance to act out a specific event in the past. Generally, these require period fancy dress as well as accessories, such as
facial hair
to simulate how men looked in that historical period. Some of the best ways to recreate those looks are to use artificial facial hair. Facial hair kits are simple to use and often inexpensive, but add authenticity to a historical costume look. Performed by a group or a club, historical reenactments are often a hobby for men who enjoy history. Adding the right facial hair makes the costume come alive. Before purchasing, buyers should check out the top facial hair kits on the market.

No matter what era men decide to reenact, moustaches were a big part of the way men looked in the past. Consumers purchase stand-alone moustaches to add that bit of facial hair above the chin. Fake moustaches come in a wide array of colours, shapes, and sizes, from long fringe to short, stubby moustaches in black, brown, or even a blonde. There are handlebar designs, shaggy professor type moustaches, and kits which offer a variety of options for users to pick from. Generally, moustaches affix to the face with self-adhesive backing. Alternately, users apply fake facial hair with spirit gum, an adhesive used by theatre actors. Realistic looking moustaches may cost more than the simple ones typically worn for Halloween or fancy dress. Some common brands are Rubie's and Smiffy's.
---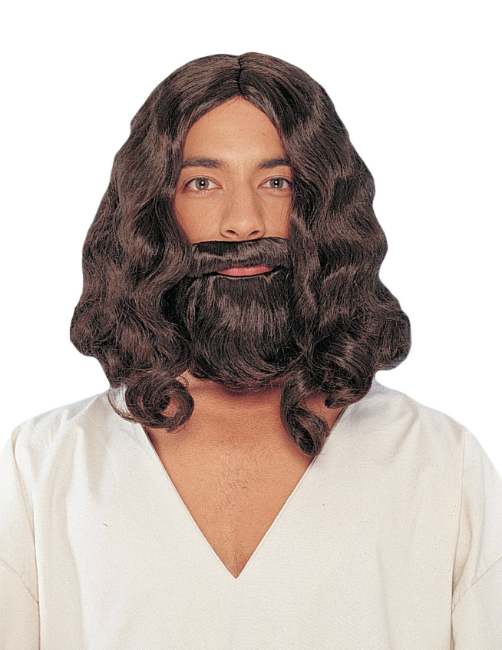 Nothing looks more vintage than a long, fluffy, full beard. A full beard calls to mind a wizard or gnome, but this look also works for historical reenactments. Full beards typically come with an attached matching moustache for a full kit of facial hair. The beards come in a variety of hairstyles, such as curly or thin, as well as colours, such as white, grey, or black. A popular brand is California Costumes. One type of full beard that works well for reenactments is the curly Henry VIII style beard. Full beards typically adhere to the face with an elastic band which slips over the head. Other types of beards useful for a retro historical look are wizard beards and Father Christmas beards, which double as beards for Halloween or Christmas.
---

Men wore beards long in older times, and a long beard is an accurate look for historical reenactments. Long beards come down to the chest, and sometimes almost to the belly. These dramatic beards come in colours like white, grey, black, and brown, and sometimes come with a long wig and moustache for the complete look. Rubie's is one brand that makes long beards. Long beards come in straight or curly textures, and slip over the head easily with elastic. Consumer wearing long beards that are very different from their natural hair colour may opt for eyebrows to match, too. Some long beards are not as fluffy and have thin hair that comes to a point for a unique look. Some long beards also include details like small braids woven in for a medieval look.
---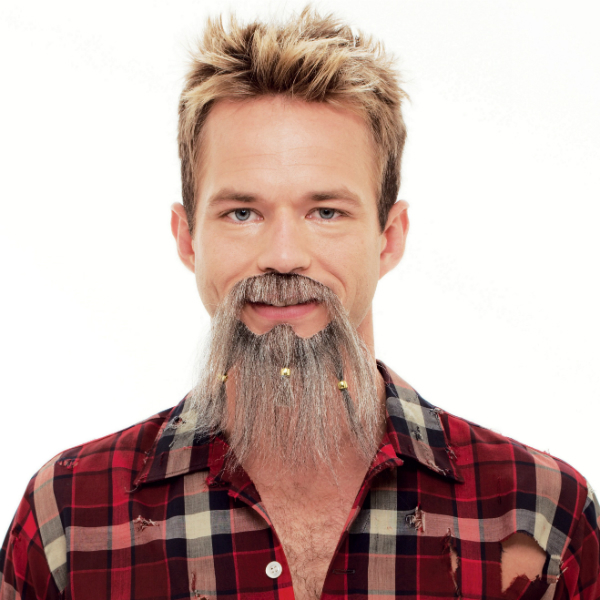 A goatee is a small, short beard trimmed close to the face. Sometimes the goatee connects to a moustache. Consumers copy this look by purchasing an artificial goatee in a variety of colours and styles. Some goatees are fluffy and a bit longer than others are, while some secure to the face and do not extend past the chin. Goatees affix to the chin with self-adhesive or spirit gum,, and users may or may not want to add a moustache to the look. Goatees come in different shapes like pointed, curly, fluffy, or wispy, and all varieties of colours are available, such as black, brown, red, and blonde. Some goatees are merely a hint of hair while some are thick and cover the whole chin area. Some retro goatees tie up with a ponytail or have beads added for a pirate style.
---

Long sideburns are one of the hallmarks of past facial hair. Sideburns are sometimes associated with beards, but users may or may not wear a beard in conjunction with sideburns. Artificial sideburns stick on with self-adhesive, and come in many styles such as long and fluffy or curly and thick. Sideburns may blend into a beard or moustache or stand alone. For a more antique look, sideburns and a beard or moustache is the common look. Men who are trying to achieve a true historical look may want to purchase two sets of sideburns and layer them on top of each other for more depth and accuracy. Men of days past often had extremely long sideburns all the way down their faces.
---
How to Buy Facial Hair Kits on eBay
Find everything you need to dress the part for your next historical reenactment on
eBay
. Type your search into the user-friendly bar on any page to bring up a variety of results, such as "
moustache
", and filter the results by size, price, brand, or colour, to get to what you are looking for. For the best experience, buy facial hair kits and other costume supplies from sellers who have excellent feedback. Dramatic reenactments are a lot of fun and often educational, but you need the right look to pull off the little details of your costume. Facial hair kits often provide the finishing touch to the perfect historical fancy dress costume to make you look realistic.