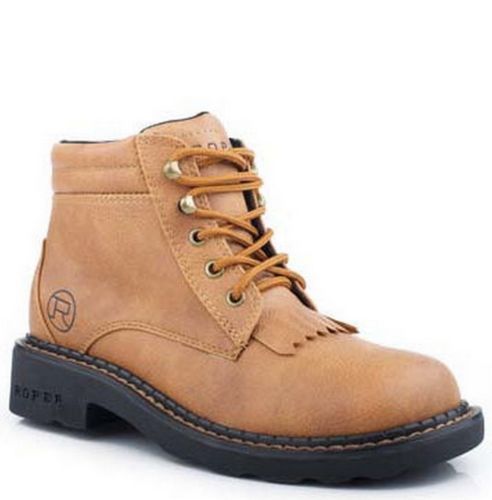 Hiking boots are one of the most important pieces of hiking equipment. Hiking involves an enormous amount of working over ground that can often be rough, uneven or slippery from rain and snow. These boots are designed to provide strong, fully enclosed protection for the feet of hikers, and are frequently made out of waterproof materials. They are also designed to sit higher on the ankle than other types of shoe, which means they provide a good deal of support. This can help to prevent injuries such as sprains.
A variety of hiking boots available for children are also available, and these can offer numerous different features, designs and materials. There are a number of factors to consider when purchasing a pair of hiking boots for children to ensure a comfortable hiking experience, and a wide variety of different boots are available on eBay.
Parts of the Hiking Boot
Hiking boots are made up of a number of different parts, and it can be useful when looking at purchasing a pair of boots to know about the construction of the boot.
* The 'upper' of a boot provides all over protection for the foot. They are generally made out of material that is waterproof and breathable.
* The 'soles' of the boot make up the bottom, and are designed to be thicker than those of other types of shoe. This protects the feet from thorns and other potential hazards, as well as cushioning them.
* Most hiking boots feature tongues made out of flaps of material. This covers the uppermost forward part of the shoe, and prevents dirt and debris from getting inside.
* The insoles are the interior parts of the sole, and are often designed out of a material that will mould to the users feet over time. Insole inserts are also available, which add additional padding and can help a shoe that is too large to fit properly.
* Lining and padding cover the inside of a shoe, to provide extra comfort and protect from the cold.
Factors to Consider When Buying Hiking Boots for Children
The Style and Size of the Boots
When purchasing a pair of hiking boots for a child, an important factor to consider is the size and style of a boot.
* Hiking shoes are available in a wide range of sizes. Hiking shoes should offer extra space from the toes, as feet can swell up in warmer weather. In addition, this will provide growing room for the children, meaning that the shoe will not have to be replaced as quickly.
* The thickness of hiking socks should also be taken into account.
* Different styles are available, including different colours and patterns, which can appeal to children. A variety of boots are available which are designed specifically for both boys and girls..
* It is often recommended to wear new boots regularly before a hike, as this can help to break them in, and make them more comfortable to wear.
The Type of Hiking Boot
Another important factor to consider is the type of hiking boot. There are a number of different types of hiking boot or shoe which are widely available, and they can be suitable for different terrain and climates.
| | |
| --- | --- |
| Boot Type | Specifications |
| | Trail shoes have a design which is similar to that of an ordinary shoe, and they sit lower on the ankle than other types of hiking boot. These are ideal for short hiking walks, and are suited to less rugged, better trodden paths, which are an ideal way to get children started with hiking. These shoes are not suitable for rougher terrain, as they provide less ankle support, and are often less effective at keeping water out. |
| Trail Hikers | Trail hikers are the most widely used type of hiking boot,, and are available in a wide array of colours, materials and sizes. These boots offer greater ankle support, and are designed for use upon rougher ground and for longer hikes. These boots are often made of stronger material, and are generally designed to be waterproof. |
| Mountaineering Boots | Mountaineering boots are designed for use on long hikes over very rough terrain. These boots are designed to be extremely strong and durable, are very good at keeping out water and often include crampons to offer excellent grip, particularly on ice or packed snow. They also offer a great deal of ankle support, and have very stiff, strong soles. |
| Sandals | The hiking sandal is only suited to short hikes over even, well trodden routes in dry warm weather. In hot weather, these shoes can provide a great deal of comfort, keeping the feet cool. However, they offer little protection, have no additional ankle support and are unsuitable for wet conditions. |
Hiking Boot Materials
The material of a hiking boot is another key element to take into consideration. There are a few different materials which are commonly used.
* Leather is the material that is most traditionally used for hiking boots. Boots made out of leather are strong, durable and often highly waterproof. However, they are more expensive and hard to clean than other boots. As children can grow out of shoes quickly, less expensive to replace options may be preferable.
* Among the most common types of boot are those made out of plastics, polyester, nylon and other synthetic materials. These are more affordable, and are available in an enormous range of colours and styles.
* Some boots are made out of rubber. These 'mucking boots' are among the most waterproof available, though can be uncomfortable to wear for prolonged periods of walking.
Features of the Hiking Boot
The features of a specific hiking boot should also be considered when buying a pair for children.
* The majority of hiking boots and shoes are lace up.. These shoes are typically much more secure on the feet than other types, and as they fit snugly onto the foot, are better at keeping out water. Undone shoe laces can be a risk, however, and younger children may struggle to do them up.
* Slip on shoes are easier and faster to put on, simply slipping onto the foot. They are comfortable and simple, though less suited for longer hikes as they are more likely to rub. They can also often be less effective at keeping out water.
* Some boots feature, or have the capacity to be fitted with crampons, which are spikes that can help offer additional grip.
Hiking Boots for Sports
Some hiking boots are designed specifically for use in specific sports. These can be useful both for hiking, and for sport.
* Some hiking boots are designed specifically for climbing.. These boots are designed to offer flexibility, as well as extra support and a greater deal of grip.
* Hiking boots that are designed primarily for hunting are also available. These are often similar in design to hiking boots; they are waterproof, provide a great deal of foot and ankle support, and offer thick, protective soles.
* Some boots are designed for use in fishing. These boots place a greater emphasis on being waterproof, and are often designed for use with waders.
How to Buy Hiking Boots for Children on eBay
A wide array of hiking equipment is available on eBay, including shoes, backpacks and clothing items. The full listing of available hiking boots can be found under Boots & Shoes,, in the Hiking category of the Sporting Goods portal. Items can be arranged by category such as type, sport, brand, price, condition and distance to seller. The Auction and Buy it Now buying options, offering flexibility in how a pair of hiking boots can be purchased.
The key information about a pair of boots, such as the size and material, will generally be displayed in the item listing, making it easy to quickly see if an item meets any specific requirements. Further information about an item can be found on the item page, along with information about the seller such as feedback ratings and item reviews, helping to ensure that a purchase can be made with confidence. The item page will also generally offer details about the condition of a pair of hiking boots, often along with pictures. If further details about an item are required, it is also possible here to ask the seller a question regarding the item.
If a specific pair of boots for children is required, it may be easier and faster to use the search function, which can be found at the top of every page. Searches can be made to return results from across the whole site, or from within a particular category. Further information on using the search function can be found on the Search Tips page.
Conclusion
Hiking boots are specifically designed to aid in ensuring that a hiking trip is comfortable and safe. They are designed to offer a great deal of support for the ankles and feet, and are often designed to be waterproof,, ensuring that feet remain warm and dry. Many different types of hiking boots are available which are suitable for children, and they can all be found on eBay.