A fur lining serves two purposes in a
pair of slippers
. First, a fur lining keeps the wearer's feet warm during cold mornings and evenings. Secondly, fur lining also adds extra cushioning in a style of shoe that often has none. Quality
fur-lined slippers
have quality stitching and contain top-quality materials, often real animal skins and lining. A good-quality slipper should be comfortable, practical, and also fit the wearer's style. Fur-lined slippers make an ideal gift for any man, especially around the holidays. Department stores, discount retailers, and shoe shops are common places to find men's fur-lined slippers, as is eBay. On eBay, consumers can search through a multitude of slipper options to find the ideal pair.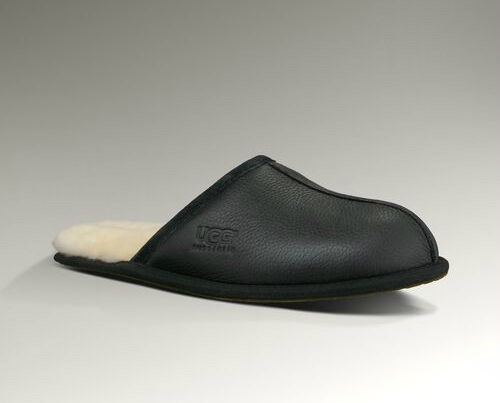 The UGG Scuff features leather and suede uppers along with genuine sheepskin lining that lines the entire inside of the slipper. The UGG Scuff is available in what UGG Australia refers to as heritage colours, which are black, chestnut, and espresso. The UGG Scuff is a slip-on slipper, so there is nothing that covers the heel. This easy-to-wear slipper has a suede outsole and features the UGG logo on the side. For men, the UGG Scuff is available in full sizes only, from 6 to 17.
---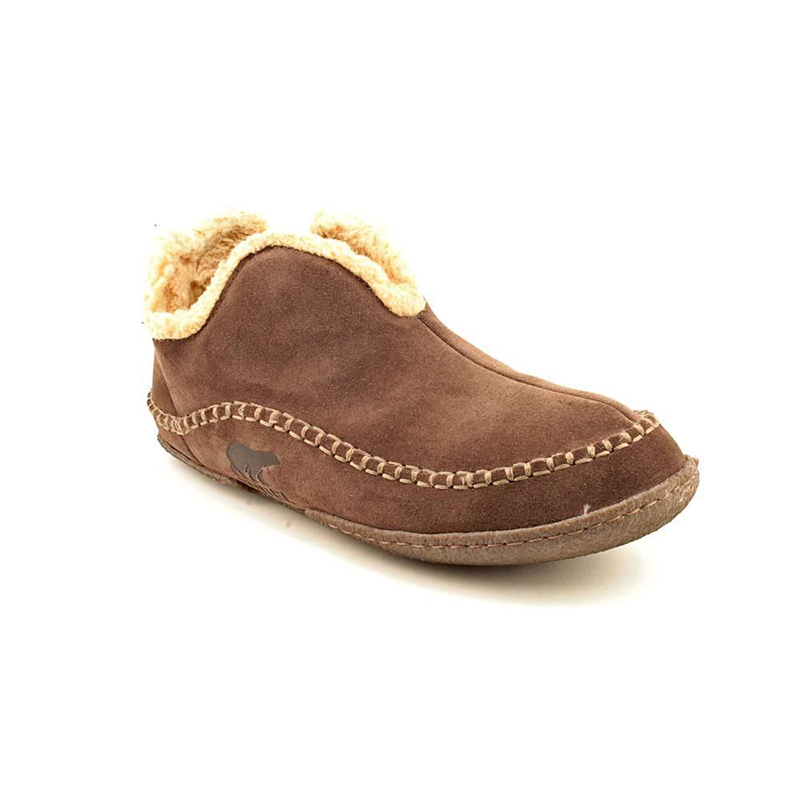 For men seeking a plush fur-lined slipper, the Sorel Manawan Slipper is the way to go. The Sorel Manawan Slipper features a suede upper with a wool and acrylic blend fur lining, and an outsole made from natural rubber and a footbed of moulded EVA. The natural rubber sole makes it ideal for indoor wear and those quick trips outside. As a result, the Sorel Manawan Slipper is more like a slipper shoe than just a regular house slipper. The slipper is available in either marsh or bark in sizes 7 through 15.
---
| | |
| --- | --- |
| 3 | Harpley Sheepskin Slippers |
Another slipper with a slip-resistant sole is the Harpley Sheepskin Slippers. According to Harley, these slippers are 100 per cent sheepskin and have detailed stitching all around the slipper. The Harpley Sheepskin Slippers are available in only three colours: chestnut, chocolate, and midnight. The slippers only have a limited size range of between size 7 and 11.
---
| | |
| --- | --- |
| 4 | Minnetonka Sheepskin Softsole Moccasin Slipper |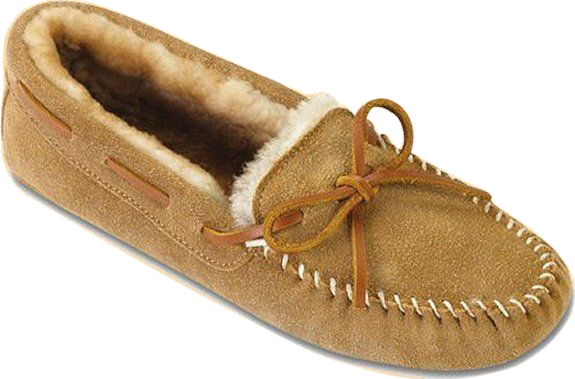 Another 100 per cent sheepskin men's fur-lined slipper is the Minnetonka Sheepskin Softsole Moccasin Slipper. This slipper, which only comes in tan, features a padded cushion insole and a stitched-on suede insole. Minnetonka Sheepskin Softsole Moccasin Slipper is available in sizes 7 to 16 and features a cinch-adjustable tie on the top and around the sides of the slipper. Known for their breathability, these slippers do not have a rugged bottom, so men should only wear them inside.
---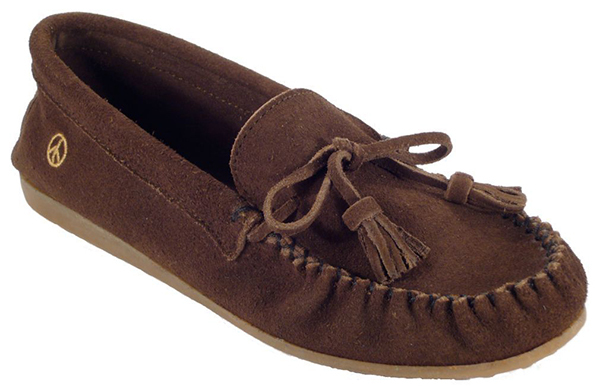 The Old Friend Moccasin is more of a loafer than a slipper, but easily does the job of both. The Old Friend Moccasin is available in chestnut with a stony fleece or dark brown with a dark brown fleece. Unlike many slippers, the Old Friend Moccasin has a built-up toe area that allows for some wiggle room. These fur-lined slippers are hand-stitched, have a cinch-adjustable tie, and a cushioned midsole section. Another nice feature is the insole, which is easily removable if needed. It also has a 100 per cent sheepskin lining and features a thick, non-skid bottom. They are a perfect example of a slipper that can transition into everyday footwear. The Old Friend Loafer Moccasin is available in a number of sizes. The chestnut-coloured moccasin comes in sizes 7 to 16 in regular, 8 to 16 in wide, and 9 to 14 in extra wide. The dark brown moccasin is available only in regular sizes from 7 to 16.
---
How to Buy the Top 5 Fur-lined Slippers for Men on eBay
Fur-lined slippers should be both comfortable and practical. Slippers are ideal for everyday wear around the house or even for a quick trip to the corner shop. Searching for the top fur-lined slippers for men is as simple as checking eBay. Each page on the site has a search bar that allows users to insert keyword terms, such as "men's fur-lined slippers". Clicking on certain categories, like size, style, brand, and main colour, makes it easy to narrow the selection further. Review the seller's feedback rating and consider shipping costs when deciding on a pair of slippers to purchase. Although not often something a man may buy for himself, a pair of fur-lined slippers is a gift that every man loves to receive.