Laptop docking stations
enhance laptop functionality by providing portability. The benefits of docking stations include ease of use, improved ergonomic form, and the capability to operate multiple devices at once.
Laptop
users who must operate several electronic devices at one time should consider docking stations that include at least four ports. Consumers can find a wide variety of name brand docking stations on one of the leading ecommerce sites, eBay. Before buyers go on eBay to search for docking stations, they should first learn about docking station ports and the four types of docking stations, as well as review the top five laptop docking stations.
| | |
| --- | --- |
| 1 | Belkin Hi-Speed USB 2.0 Dockstation |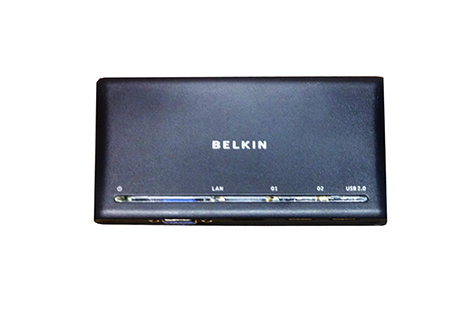 Users of the Belkin Hi-Speed USB 2.0 Dockstation can connect to serial, parallel, and USB Ethernet peripherals. Belkin includes a PSU that allows users to power USB ports and prevent the overloading caused by using a webcam, scanner, or other USB-powered devices. A mini-jack audio port provides users with a convenient way to connect notebooks whenever a laptop computer USB port connects to a set of speakers. With ports on both sides, Belkin includes LED display to indicate which peripherals connect to the Hi-Speed USB 2.0 Dockstation.
---
| | |
| --- | --- |
| 2 | Toshiba Dynadock U3.0 Universal USB Docking Station |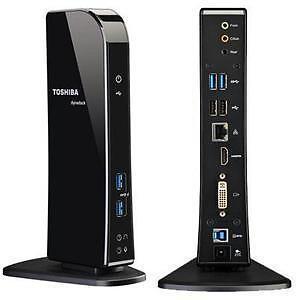 The Toshiba Dynadock U3.0 Universal USB Docking Station links multiple electronic devices to user laptop computers. With one cable, users can connect monitors, stereo speakers, external hard drives, printers, and keyboards to their computers. The Dynadock possesses an in-built, high definition, 2048x1152 video card that supports the multiple connection output and allows users to view three different video displays simultaneously. Toshiba includes a 3.5 mm audio port and HDMI out port to project pristine surround sound, which provides users with a rich multimedia experience. The manufacturer constructs the Dynadock to operate with any type of Windows-based operating system.
---
| | |
| --- | --- |
| 3 | Targus Universal USB Docking Station |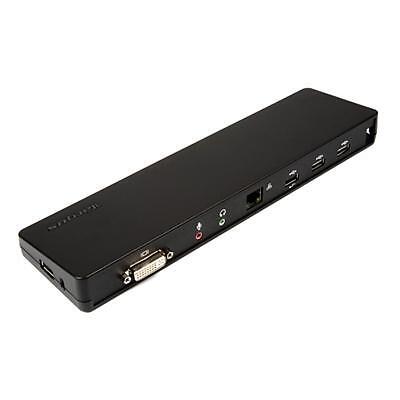 Working with both Mac and Windows operating systems, the Targus Universal USB Docking Station provides users with increased connection speeds and more data transfer power through the implementation of the latest 3.0 technology. Targus provides dual video ports that contain high definition video and graphics up to 2048x1152 resolution on two computer monitors. The manufacturer also includes a DVI-to-VGA adapter, HDMI-to-DVI adapter, and two USB 3.0 ports to connect USB 3.0 peripherals. The uniqueness of the Targus Universal stems from the addition of four USB 2.0 ports that connect all types of USB 2.0 peripherals.
---
| | |
| --- | --- |
| 4 | ASUS Universal USB 3.0 Docking Station |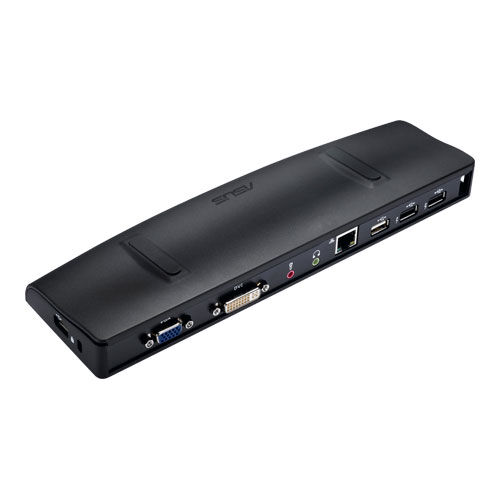 Multiple video outputs allow users to connect two external screens to a notebook, which allows users to multitask by working on more powerful laptop computers. HDMI, DVI, and VGA ports drive the flow of data on the dual screens. Users can connect microphones, headphones, speakers, and MP3 players. Headphones connect to the 3.5-mm out port, while the microphone connects to the 3.5 mm mic in port. ASUS constructs the Universal USB 3.0 for compatibility with the Windows XP, Vista, 7, and 8 operating systems. Users can download three USB 3.0 downstream ports and upload files by using the one USB 3.0 upstream port.
---
| | |
| --- | --- |
| 5 | StarTech Universal USB 3.0 Laptop Docking Station |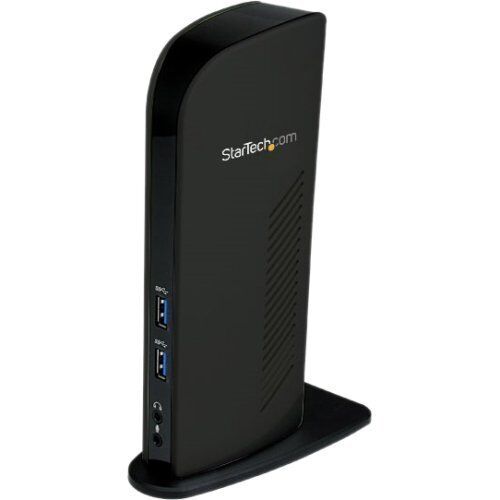 Lauded as one of the most versatile docking stations, the StarTech Universal USB 3.0 Laptop Docking Station features two independently operated external monitor outputs that expand the video capability of a laptop computer. With resolutions up to 2048x1156, users enjoy rich high definition video playback and high-quality audio projected from multiple ports. The USB 3.0 port replicators include Gigabit Ethernet networking from one electronic device. Users enjoy fast data transmission speeds from the 10/100/1000 Mbps compatible RJ45 Ethernet port.
---
The Ports Defined
Docking station ports connect extension cables to several types of electronic devices. The cables plug in and out of the ports, with many docking station ports including electrical adapters that change from one pinout to another pinout. One example of the use of electrical adapters involves switching the Micro-DVI pinout to the normal DVI pinout from one of the USB 3.0 ports. The number of docking station ports determines how many electronics devices a user can connect simultaneously.
Docking Stations: The Four Different Types
Consumers have four options when it comes to buying docking stations. A breakout dock acts as an extension of a traditional port, except it replicates both of the ports located on a laptop computer and additional ports. Universal docking stations produce multiple connections from one port. Instead of extracting data from internal chipsets, universal docking stations use a converter to create data transmission connections. A computer stand does not perform as a typical docking station connection. Mobile docking stations operate inside of vehicles, which mean they must be highly portable and small enough to sit securely in a vehicle's seat. Port replicator docking stations function in the same manner as a bundle of extension cables.
How to Buy Laptop Docking Stations on eBay
You can find eBay sellers who sell virtually new laptop docking stations at discounted prices. The sellers may have changed their minds about a specific brand, such as IBM or Dell, and they offer discounts because they removed the docking stations from their original packaging. To vet eBay sellers who offer discounted, almost new docking stations, examine the enlarged product photograph on each seller's product page. Review seller accepted payment methods and delivery terms to ensure prospective sellers accept your preferred credit card and deliver the docking station within a reasonable period. Finally, read the customer reviews eBay places on seller product pages. Consider sellers who have amassed myriad favourable reviews over the past year for selling electronic devices.