People all over the world use lead acid batteries as a backup in the event of power loss; industrial batteries act as a backup for telephone systems. On a small scale, individuals also use lead acid batteries in boats, industrial vehicles, and automobiles. These batteries work best at a room temperature of about 25 degrees C, though many vehicle batteries provide power at freezing temperatures. When choosing a lead acid battery, select one that meets the needs of the vehicle and climate.
| | |
| --- | --- |
| 1 | Alphaline 063 Automotive Battery |
The Alphaline 063 battery hardens with lead calcium for durability and comes in a sealed container to protect against vibration and shock better than other batteries. The Alphaline 063 battery is 207 mm long, 175 mm wide, and 175 mm high. The 12-volt car battery produces 340 cold-cranking amps (amps provided at freezing temperatures) and 44 amp hours (AH). The Alphaline battery has a "magic eye indicator", which allows users to check the battery's charge at a glance. Furthermore, the Alphaline 063 car battery is maintenance free for added convenience.
---
| | |
| --- | --- |
| 2 | Optima YELLOWTOP D34 Automotive Battery |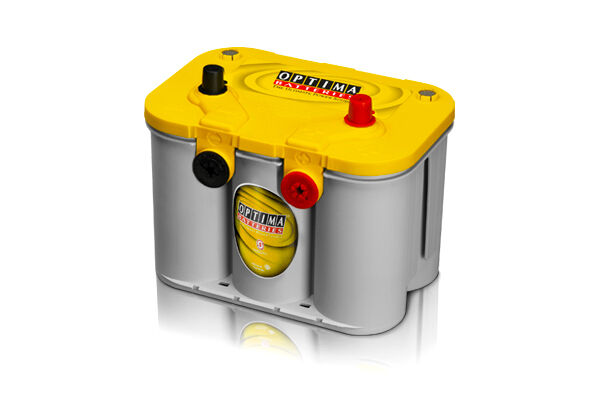 Optima designs the 12-volt YELLOWTOP battery to withstand up to 15 times more vibration than other automotive batteries. Optima's YELLOWTOP D34 battery offers 750 cold-cranking amps. The recharge time on the YELLOWTOP D34 varies depending on the amps and the ambient temperature; at the recommended temperature of 25 degrees C, the battery recharges to 90 per cent in 35 minutes with 100 amps, 75 minutes at 50 amps, and 140 minutes at 25 amps. The battery weighs 20.8 kg and measures 200 mm high, 260 mm long, and 173 mm wide.
---
| | |
| --- | --- |
| 3 | Numax Premium Silver 053 Automotive Battery |
The Numax 053 car battery is maintenance-free and spill-proof up to 180 degrees, making it a safer battery to transport when users need to keep a spare in their vehicle. It weighs 13 kg and measures 234 mm long, 128 mm wide, and 220 mm high. The battery provides 12 volts, 45 AH, and 330 cold-cranking amps. Numax bills its Premium Silver battery as providing a 20 per cent longer life than other comparable batteries, while still offering a value for users looking to replace their standard automotive battery.
---
| | |
| --- | --- |
| 4 | Yuasa 100 Elite Automotive Battery |
The Yuasa 100 Elite battery provides higher performance at cold temperatures, offering 680 cold-cranking amps, 70 AH, and 130 minutes of reserve power. It measures 278 mm long, 175 mm wide, and 175 mm high and weighs just under 19 kg. The negative terminal is on the left side of the battery, with both terminals on the front edge of the battery. Yuasa batteries are not maintenance free; the company recommends checking electrolyte levels and looking inside the battery for sulphur build-up monthly to ensure the best possible battery life.
---
| | |
| --- | --- |
| 5 | Exide Excell Type 027 EB620 Automotive Battery |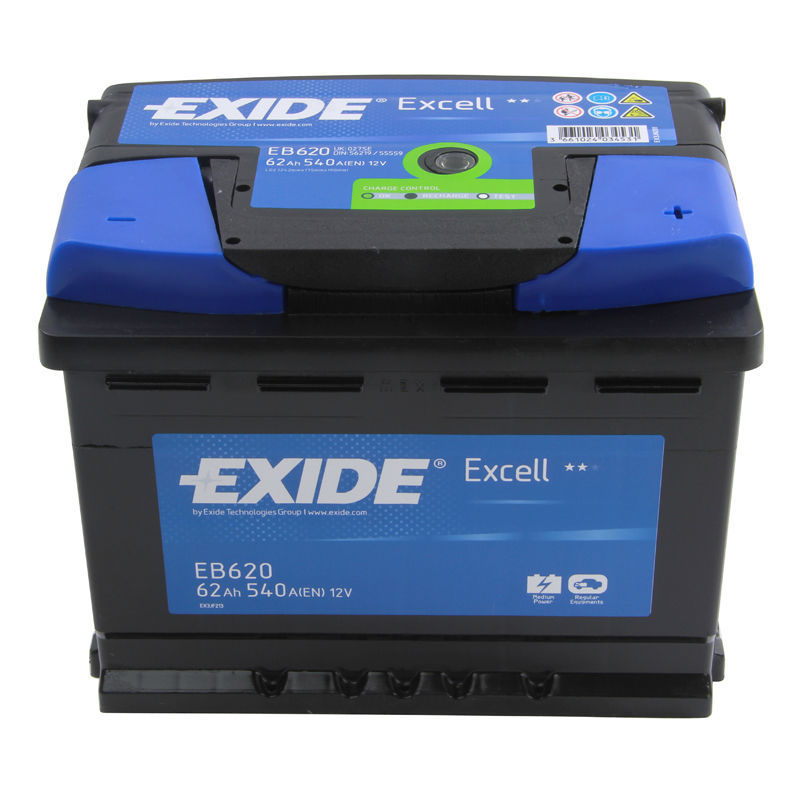 Exide's Excell Type 027 EB620 is a 12-volt battery with 62 AH, providing up to 540 cold-cranking amps. The 242-mm long, 175-mm wide, and 190-mm high battery uses proprietary additives for a longer battery life. The Exide Excell batteries work for standard vehicles with normal electric systems. Exide's Type 027 car battery comes sealed, meaning users do not have to maintain the fluids within the battery.
---
Types of Lead Acid Rechargeable Batteries
The grids and electrodes in lead acid batteries use lead along with another element mixed in to maintain the battery's strength. These batteries contain a chemical that is proprietary to the manufacturer and sulphuric acid, which gives the batteries the "lead acid" name. These batteries charge as the vehicle turns on and maintain a charge for several months even without use.
Recycling Lead Acid Rechargeable Batteries
When replacing an old lead acid battery, consumers should recycle it. The lead acid within batteries is easy to recycle for use in new batteries, and bad for the environment should the battery leak. Many shops offer battery recycling programmes, especially those that sell batteries. Consumers can inquire at their local automotive shop about recycling batteries as well.
How to Buy a Lead Acid Battery
You can find a variety of lead acid batteries on eBay. With an item as heavy as a lead acid automotive battery, consider looking for local items that you can pick up in person. Look for new batteries whenever possible. While used batteries offer a bargain, there is no guarantee on the age or condition of the battery. Lead acid batteries build up sulphation, which decreases the charge and effectiveness of the battery. Batteries also lose effectiveness over time. Finally, look for top sellers with a history of good feedback; this shows that the seller consistently offers quality products that match the description.