Cool, casual and comfortable,
linen trousers
for women are a necessary component to every busy consumer's wardrobe. The trousers come in many colours, from basic black to bright orange, and complement all types of outfits from lazy beach print tops to stylish chiffon blouses. Linen trousers are true multi-taskers, and often look great when paired with high heels or sandals. Lightweight and perfect for travel, linen trousers are affordable, flattering, and often loose enough to feel comfortable yet sleek enough to flatter the figure. Buyers looking for the right pair of trousers for a long workday, warm vacation afternoon, or airplane ride should compare some of the top brands and what they offer before purchasing.
| | |
| --- | --- |
| 1 | Marks and Spencer Per Una Roma Linen Trousers |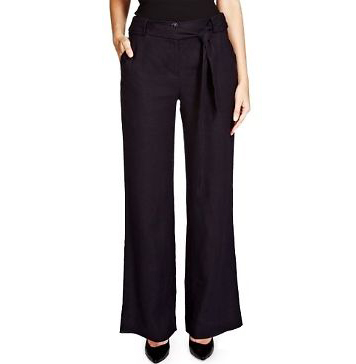 Popular department store Marks and Spencer (M&S) offers consumers the perfect pair of trousers from its Per Una women's line. The M&S Per Una Roma linen trousers offer a straight-leg silhouette that is figure flattering, and the trousers offer a comfortable, wide-leg fit. Made of 100 per cent flax linen, the trousers offer a high rise and front pockets. The Roma line of trousers comes in regular length and cropped styles, and offers several colours such as navy, cream, black, and white. Per Una Roma linen trousers are machine washable and easy to care for. The trousers include a bit of stretch to make them easier to wear all day long, and have soft cotton and polyester lining. Per Una trousers come in straight leg or wide leg varieties, and pair well with a blouse and jacket, or a simple sweater or knit top.
---
| | |
| --- | --- |
| 2 | Boden Crop Linen Trousers |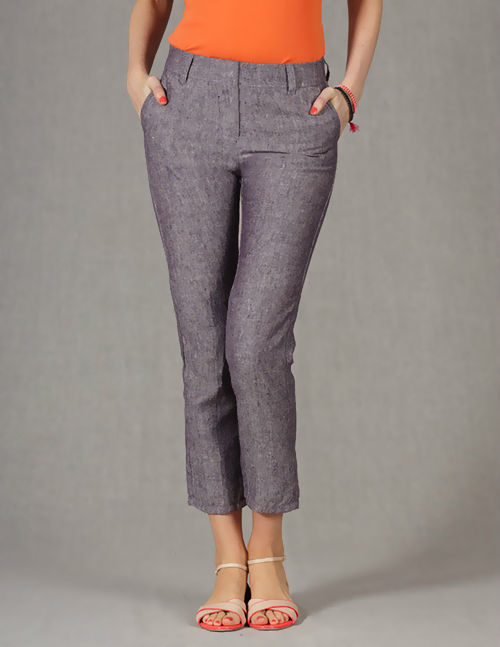 Featuring patterns like stripes and checks or solid shades like white, grey, violet, and tan, Boden crop linen trousers look stylish and professional when paired with a button-up, collared blouse. Boden trousers are made of pure linen and offer a straight-leg fit. The cropped trousers secure with a hook and eye closure, and there are pockets on the front and back of the trousers for added embellishment. The Boden trousers sit comfortably at the waist for a mid-rise fit, and the trousers come in lengths to fit every woman, including petite and tall inseams.Lightweight and excellent for travel, the Boden crop linen trousers are easy to care for, made well, and offer a timeless, classic style for busy women. Consumers add a belt for a polished look, and Boden trousers go up to size 20. The affordable trousers made by the popular Boden brand are a bestseller.
---
| | |
| --- | --- |
| 3 | New Look Linen Wide Leg Trousers |
Affordable and chic, New Look linen wide leg trousers work well for warm months when consumers feel like something a bit more casual. Made from a linen and viscose blend for softness and stretch, the fitted waist creates a flattering hourglass silhouette. Worn to work or for a dinner out, New Look trousers look tailored and professional. The trousers come in necessary neutral shades like grey, black, brown, and white. These New Look linen blend trousers include front pockets with a button closure, and come in sizes up to 22. There are lengths for regular inseam, long, and extra long, and the trousers also come in drawstring styles for casual comfort. The wide-leg fit keeps wearers cool in warm weather, and the blended material ensures a soft fit.
---
| | |
| --- | --- |
| 4 | River Island Wide Leg Linen Trousers |
Comfort, style, and quality come together with River Island wide leg linen trousers. River Island trousers include a comfortable drawstring waist, two side pockets, and 100 per cent linen for cool, comfortable style. The trousers are machine washable, and come in a variety of colours such as beige, black, and white. River Island trousers go up to size 18 and come in various lengths such as short and long. The trousers offer back pockets for style and shape, and complete the look of these casual, simple trousers. River Island trousers offer affordable trousers meant to work with all types of looks, from laid back to attire that is more formal.
---
| | |
| --- | --- |
| 5 | Kaleidoscope Pomodoro Linen Trousers |
Available in many colours such as bright red, green, khaki, white, and lilac, Kaleidoscope Pomodoro linen trousers are the perfect go-to pants for any occasion. The trousers, made of washable linen fabric, offer a slim, wide-leg design with a hook and bar closure. The trousers have an inner lining for privacy and comfort, and the Pomodoro design includes a high-waisted fit and comes in a cropped style. The Kaleidoscope Pomodoro linen trousers go up to size 18, and also come in earthy shades like 'Stone' and 'Pebble', which are neutrals made to complement every woman's wardrobe. The trousers include two front pockets and are the perfect length for warm weather wear.
---
How to Buy Linen Trousers on eBay
Every woman's closet should include at least one pair of versatile linen trousers, and if your closet does not, find the best pair for your body on eBay. Check for brands you like, such as Boden, or look for a specific pair of pants, like Per Una Roma linen trousers. Narrow your search results by size, colour, and price, and find the perfect pair in no time. Ensure the seller has positive feedback from other buyers before purchasing. Lightweight, casual, carefree, and comfortable linen trousers are almost the perfect pair of trousers. Consumers wear them during daytime or night-time activities, and they work well for vacations due to their easy fit and machine washability.