Whether planning and hosting a baby shower or simply searching for that perfect shower gift,
nappy cake
s make the perfect choice. These unique and versatile gifts not only provide new parents with items that they need for a baby, but make terrific centrepieces as well. Nappy cakes, whether homemade or purchased, include such useful items as nappies, baby soaps, lotions,
pacifiers
,
teethers
, and cute toys. Nappy Cakes can be made either for boys, girls, or gender-neutral. To get the imagination started, taking a look at the top five nappy cake ideas of 2013 may help party planners and guests alike choose the perfect style.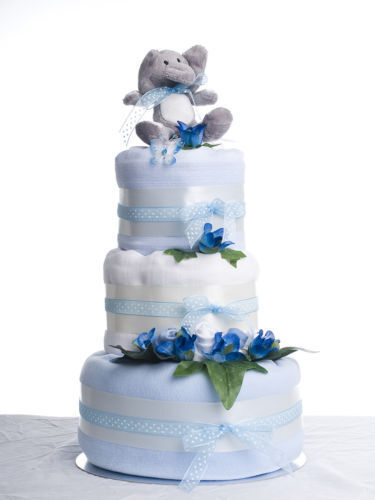 The original design of the nappy cake remains the most popular: the three-tier nappy cake. The body of each tier is made of 50 to 60 disposable nappies arranged to resemble a traditional three-tier cake. Three-tier nappy cakes can range from the very simply decorated pieces with a few products added to it to extravagant displays with everything from blankets and nappy pins to stuffed animals and baby shoes. Ribbon wraps each tier of the three-tier nappy cake to create a smoothly attractive look, and the top of the cake adorned with something special, such as a stuffed animal or a cute pair of shoes that match the colour theme. Many crafty people opt to make their own nappy cakes, making these unique, personalised decorations quite affordable.
---
If a three-tier cake seems ostentatious, a single-tier nappy cake may fit the bill quite nicely. Made in the same manner, this single tier requires about half the number of nappies to create, but decorated to the hilt. In fact, because the top of this cake is larger, it is often more fun to create a desired look. People can wrap the cake, itself, with ribbon or even a receiving blanket to create a smooth look. Cute, but useful items, such as baby rattles, teethers, and baby spoons decorate the outside. Decorators can top a single-tier nappy cake with stuffed animals, a rubber ducky, blankets, or even baby shoes. Using nappy pins to secure the ribbon or blanket wrapper is a great idea, and small items, such as baby spoons, hold the larger cake-toppers in place.
---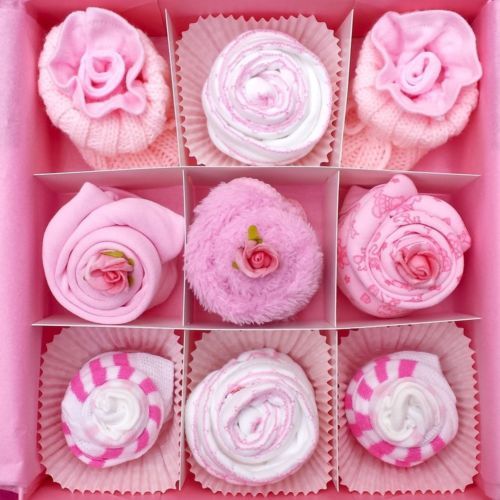 When a large nappy cake seems out of scale, but a cute gift is still in order, nappy cupcakes come to the rescue. Again, these may be pre-made, but they are also easy and inexpensive to make. Nappy cupcakes do not include nappies, but baby flannels or socks, and decorated with tiny ornaments not meant for a baby. To make nappy cupcakes at home, decorators can simply roll up coloured washcloths around white washcloths and place them in a new cupcake tin or inside individual silicone cups. The white creates the look of frosting.
---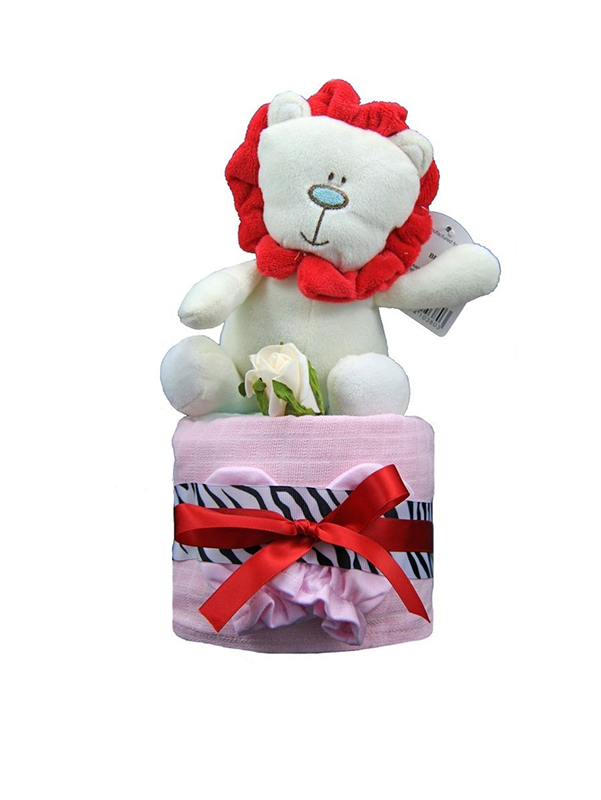 There is a whole new concept born of the nappy cake: the animal nappy cake or nappy animal. Rather than creating an animal-themed cake, nappies are rolled up and placed together to look like animals. Gifters may purchase nappy animals where nappy cakes are for sale, or make them at home. They are not limited to living creatures. In addition to caterpillars, bears, and butterflies, baby carriages, airplanes, and bathtubs make terrific nappy cakes.
---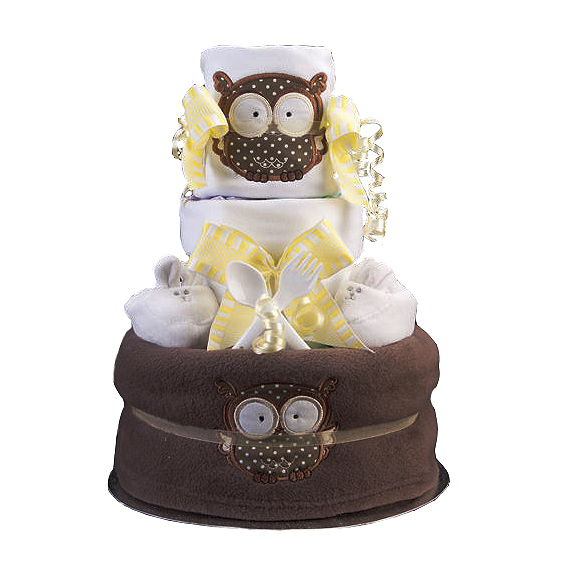 A blanket nappy cake is a version of the standard nappy cake, but integrates baby blankets in some way as an extra gift. Many nappy cakes utilise baby blankets, especially lightweight receiving blankets, to wrap around the circles of nappies, which give the cake a fondant look. Gifters can secure these blankets with pins hidden by a ribbon. Alternatively, they can arrange blankets with a decorative edge in such a way as to resemble a fall of wide ribbon, or simply folded and integrated into the other gifts festooning the cake's layers.
---
How to Buy Nappy Cakes on eBay
Shopping for a baby shower is one of the most enjoyable of shopping experiences. Often it is difficult to choose between items the new parents need, and the cute items the baby surely wants. Nappy cakes are an adorable way to bridge the gap between needs and wants, and they make great decorations for the party as well. Whether you are shopping for a pre-made nappy cake, or are building one yourself, you are sure to find what you need at great prices on eBay. From individual supplies, such as nappies, stuffed toys, and baby rattles to a beautiful three-tier nappy cake, look for products sold by eBay's Top-Rated Sellers.