With everything to get for a new baby, shopping for different outfits can seem overwhelming. Parents may find it easier to start with some basic
outfit sets
. Although people often fuss over dresses for baby girls, there are also a lot of fun options for baby boys. Some great outfits include Carter's three piece bodysuit, Oshkosh B'Gosh overalls, and a Garanimals fleece set. After figuring out some great outfits, a buyer can select some great accessories for a baby boy, including a hat, gloves, and socks. Finding clothes for a new baby does not have to be an impossible or difficult task with some of these great outfits.
| | |
| --- | --- |
| 1 | Carter's Three Piece Bodysuit Set |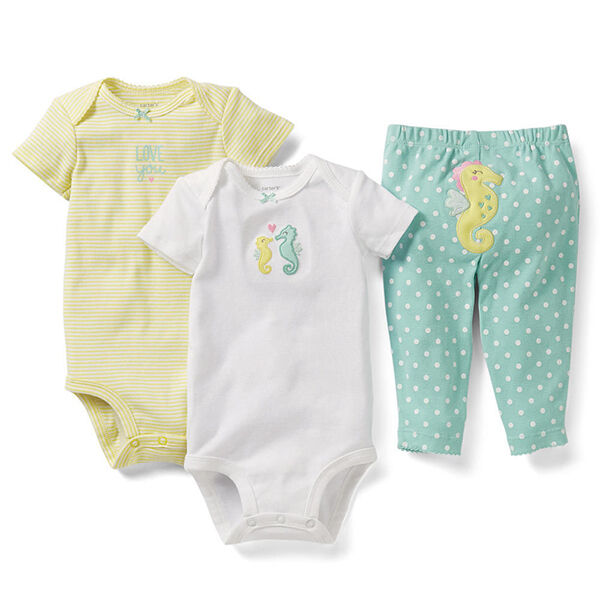 The Carter's 3-piece bodysuit set is great because it allows a parent to dress a new baby boy easily. Each pair comes with two bodysuits as well as a pair of pants. Some options have a long sleeve bodysuit and a short sleeve one, so it works for different seasons or even just on chilly days. A parent can even take the pants along just in case the weather does get colder. The nice thing is that these pieces coordinate, so the pants work with either bodysuit. The outfits are made of 100 per cent cotton, so they are comfortable for a newborn, and they are machine washable.
---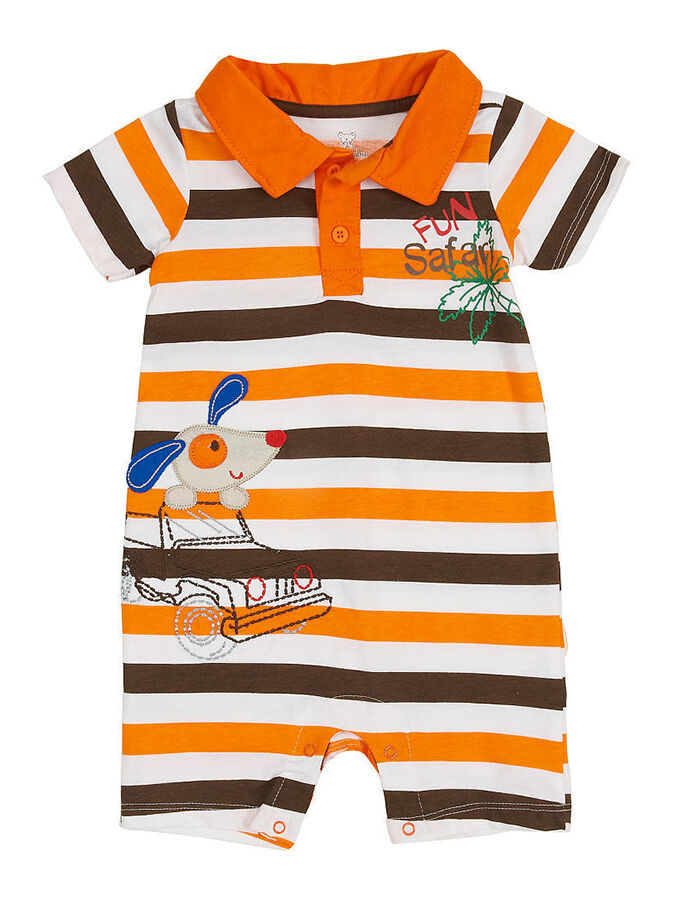 Another option for a baby boy's outfit is the Koala baby boy romper.. A new parent may be surprised by the sheer number of times one has to change a baby in a day. That is why this outfit with easy snaps is so handy. The romper is similar to a body suit, but it has shorts, providing a bit more coverage for a baby that is starting to crawl or walk. This outfit is very colourful and also has options, such as vivid orange or blue stripes.
---
| | |
| --- | --- |
| 3 | Oshkosh B'Gosh Baby Boy Overalls |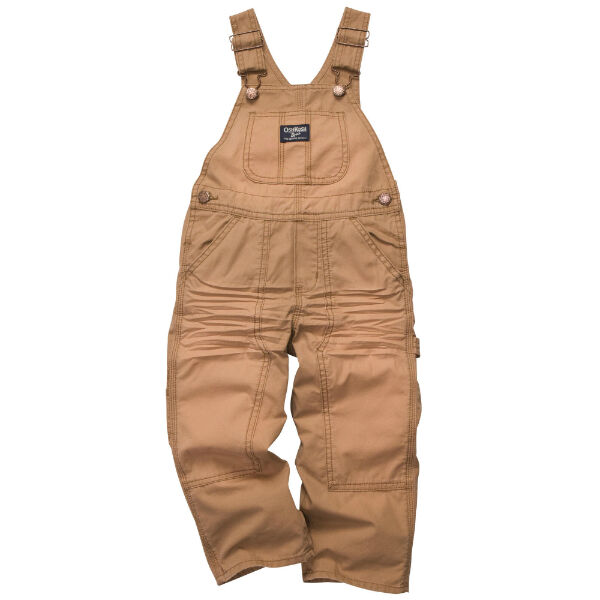 Oshkosh is a classic name when it comes to baby clothing and other items for babies. Oshkosh B'Gosh Baby Boy Overalls are a great option for any baby, and parents are going to love the simple design. These overalls come in a variety of different colours while maintaining a classic design. Many of these overalls are 100 per cent cotton, although some are made of heavier fabrics. Some of the colours include neutrals like camel, black, or denim. One can also buy Oshkosh overalls lined with warm flannel or fleece for cold weather.
---
| | |
| --- | --- |
| 4 | Ralph Lauren Baby Boy Sweatsuit |
Another great option to consider for a newborn boy is a Ralph Lauren sweatsuit.. This sweatsuit is great for layering when it is a bit chillier. These outfits come in both solid colours and patterns. The top also has a hood to protect a baby's head, and the sweatsuit is 100 per cent cotton.
---
| | |
| --- | --- |
| 5 | Garanimals Two Piece Fleece Boy's Outfit |
When it comes to cold weather clothing, the Garanimals two-piece fleece outfit is an excellent choice. The outfit includes a long sleeve shirt and pants made of fleece. This outfit is easy to put on because it has no closures or snaps. In addition to being very warm, these outfits come with fun graphics on the front of the shirt.
---
Accessories for Newborn Boys
Although one may think of girls when it comes to accessories, there are actually many options for boys as well. Some of the options include cold weather accessories, but there are also accessories for the summer too. A knit cap does a great job protecting an infant in cold weather, and a lot of them come in sets with
mittens
. A parent may also want to purchase swaddling blankets to protect a new infant as well. Even during warmer weather, it is useful to have accessories for a baby boy. Some of the options include socks and
baseball caps
as well as small shoes or
booties
. Booties are a cross between socks and shoes and are ideal for babies who are not walking yet.
How to Buy Outfits for Newborn Boys
If you need some outfits for a new baby boy, you cannot go wrong when shopping on eBay. To narrow down your search try typing keywords like " baby boy sweatsuit" into the search box. If you are unsure about a specific product, see if anyone left feedback about it. This is a great chance to see what other buyers thought of the item. You can also see if any of the sellers offer free shipping for baby clothes. It is also good to see what the Top Sellers have to offer because they have excellent ratings. It is possible to find many great outfits for a newborn baby boy when shopping on eBay.