It seems that nowadays just about everyone has a
cellphone
, but that does not mean that home phones are no longer valuable for many consumers. Modern cordless phones come with a wide variety of features, and Panasonic produces some excellent models to choose from. Before making a purchase, buyers should consider whether they need certain features from their phone, such as intercoms, compatibility with cellphones, and number of handsets the consumer can use. Some popular options include the Panasonic KX-TG7732S Cordless Telephone, the Panasonic KX-TG7643M Cordless Telephone, and the Panasonic KX-TG6545B Cordless Telephone. With all these available phones, a buyer can find one that is perfect for his or her needs.
| | |
| --- | --- |
| 1 | Panasonic KX-TG7732S Cordless Telephone |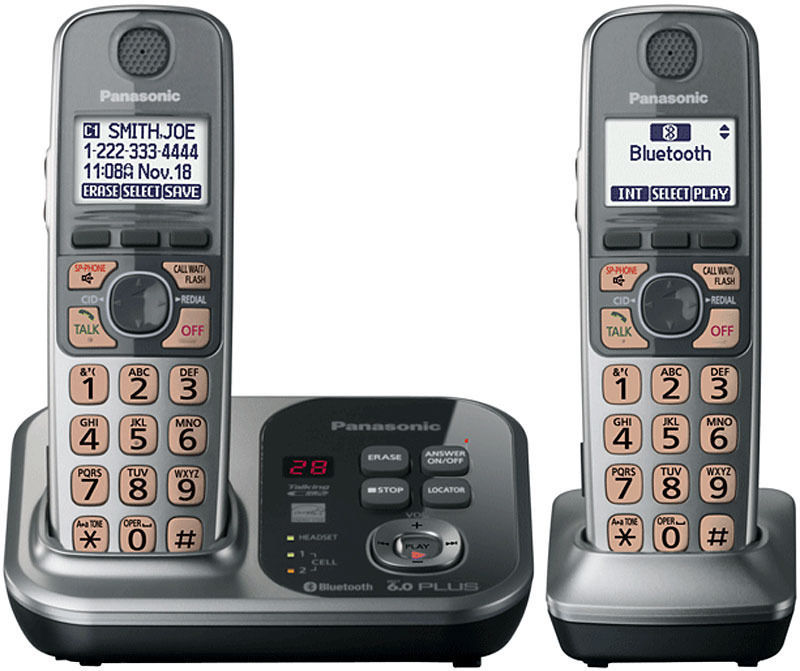 The Panasonic KX-TG7732S Cordless Telephone telephone model comes with two cordless handsets and has a feature called Link2Cell that lets the user receive calls from a cellphone at home with the help of Bluetooth technology. This telephone has a talk time of 13 hours before the user has to charge it again and has an answering service as well. The phone has a number of different features, such as a talking alarm clock, a phonebook transfer tool, and talking caller ID. It has a 4.5-cm LCD screen, making it easy for the user to see who is calling. The system's technology has excellent sound quality and reduces errors.
---
| | |
| --- | --- |
| 2 | Panasonic KX-TG1032S Cordless Telephone |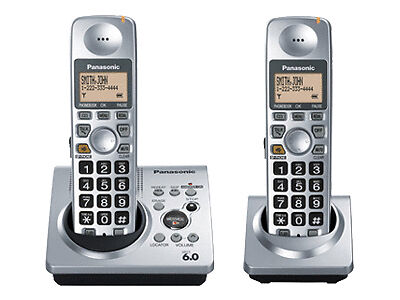 The Panasonic KX-TG1032S comes with two handsets, and users can add four more phones on the single phone jack. The system has a built-in answering system too, which can record up to 16 minutes of dialogue. Users can use the phone for up to 17 hours before they have to charge it again. This Panasonic phone also has a ton of great features to enjoy, such as a handset locator, the intercom, selectable ringtones, and call waiting.
---
| | |
| --- | --- |
| 3 | Panasonic KX-TG7643M Cordless Telephone |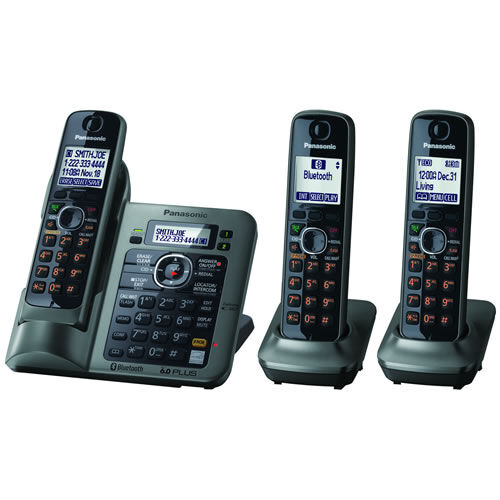 The Panasonic KX-TG7643M comes with three handsets. The DECT 6.0 technology provides crystal clear sound quality and other technology does not interfere with the signal. In Eco mode, the phone can get up to 13 hours of talk time as well as 11 days of standby time. Some of the wonderful features the phone has include an intercom, a keypad on the main base, a call block function, and a silent mode. The phonebook copy feature allows a user to copy up to 600 numbers into the phone using Bluetooth. It also uses Bluetooth to link up with one's cellphone.
---
| | |
| --- | --- |
| 4 | Panasonic KX-TG7644M Cordless Telephone |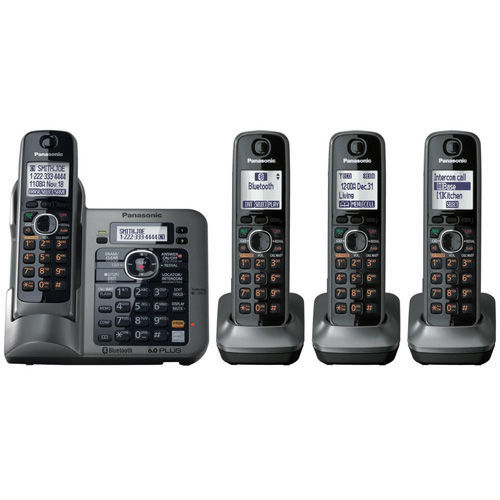 The Panasonic KX-TG7644M cordless phone comes with four handsets, although up to six phones work with the one phone jack. The phone lasts as long as 11 days on standby between charges and up to 13 hours of talk time. The Bluetooth technology links this phone with a cellphone, so as soon as the user gets home, he or she can make or receive calls on the Panasonic phone around the house. Another Bluetooth feature lets the user transfer up to 600 numbers from a different phone, making it easy to take care of business from home. Some of the many features of this phone include an answering machine, call waiting, call block, intercom, and an alarm
---
| | |
| --- | --- |
| 5 | Panasonic KX-TG6545B Cordless Telephone |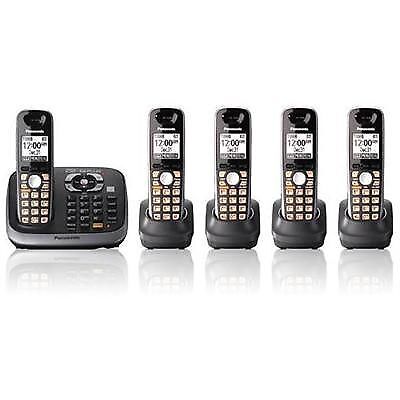 The Panasonic KX-TG6545B cordless phone is good for someone who needs a lot of phones because it comes with five handsets in black. If the buyer really wants, he or she can add another because it supports six with a single jack. The phone has a number of modern features to make the user's life easier. For instance, there is talking caller ID that lets the user know who it is between rings. The bases have a design that is easy to attach to a wall and looks just as good sitting on a desk or counter. Some of these great features include the clock alarm, a nonslip grip, a digital answering system, and talking caller ID.
---
How to Buy a Panasonic Cordless Telephone on eBay
If you are looking for a cordless phone for home or the office, you can find some great ones on eBay. A keyword search is an easy place to start shopping. Try typing keywords like " Panasonic cordless telephone" into the search box and browse through the results. When you are shopping for the perfect phone, you should consider reading what some of the other buyers have said about a specific model of Panasonic phone. Your feedback can help future buyers after you have settled on a phone. Also check out what options top sellers have because buyers gave them high ratings, and some may offer free shipping. By using eBay's tools, you can find a great phone that suits your needs.