Having a secure place for baby to play and sleep helps parents when there are other children to take care of and things to do around the house. Many
playpens
come made for travelling and double as an alternate crib both away and at home. Others act as colourful toddler havens and a place to put an active child with a variety of his or her toys. Parents look for safety and convenience when purchasing playpens and have many choices from a variety of manufacturers. In 2013, five playpens stand above the rest and shoppers can find all five on eBay for affordable prices and from the convenience of home.
| | |
| --- | --- |
| 1 | Graco TotBloc Pack 'n Play with Carry Bag |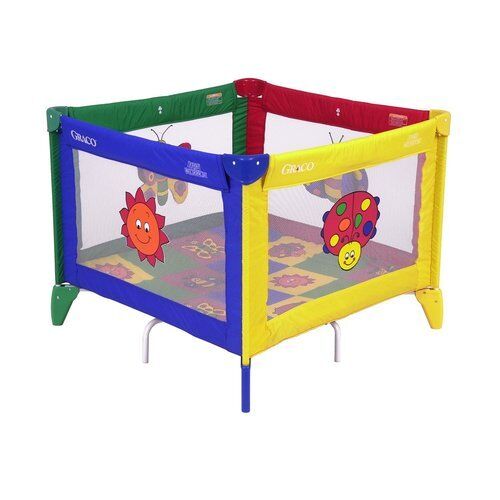 This classic playpen from Graco features primary colours that attract the eyes of infants as their vision grows and matures during their first few months of life. Images of butterflies, ladybugs, happy suns, and bees line the Graco TotBloc Pack 'n Play in shades of red, blue, yellow, and green. A soft bottom mat makes this playpen a comfortable place for baby to sleep, as well as a place to learn to roll around and explore. The TotBloc comes with breathable mesh sides, as well as easy folding mechanisms. Once folded down, it fits in a handy travel bag parents can store in closets or take on holiday as baby's travel cot.
---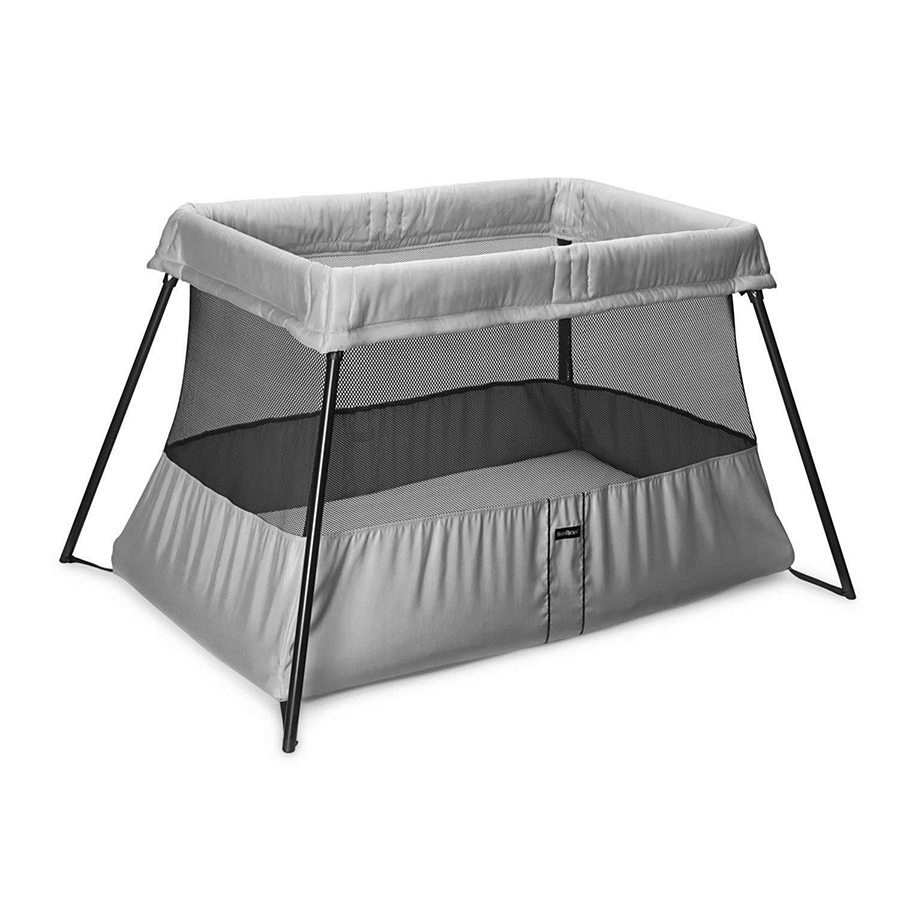 The BabyBjörn Travel Crib Light 2 comes in shades of grey and blue, offering baby a safe haven to sleep and play when on holiday. This crib also works well as an alternative to cots and bassinets in living rooms or bedrooms. Weighing in at only 5 kg, the BabyBjörn Travel Crib features a soft and sturdy polyester mattress for sleeping, as well as breathable mesh polyester sides. All materials tested safe for a baby's sensitive skin, offering a safe haven for children from birth to age 3.
---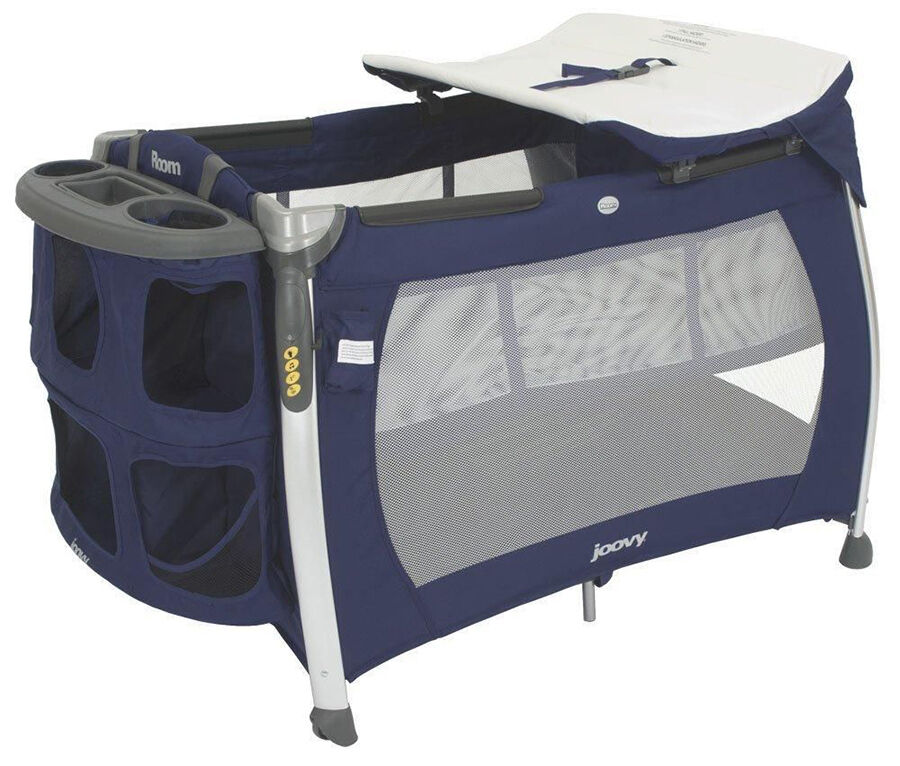 The Joovy Room Playard acts as an all-in-one baby station, meeting a variety of parent and baby needs. A bassinet insert with a soft, but sturdy, mattress fit over the top end of the playpen. In addition, a side changing station features a removable mattress and large side storage area that holds nappies, wipes, and other changing needs. The Joovy Room Playard weighs 15 kg and the bassinet section holds babies up to 6 kg.
---
| | |
| --- | --- |
| 4 | Chicco Lullaby LX Playard |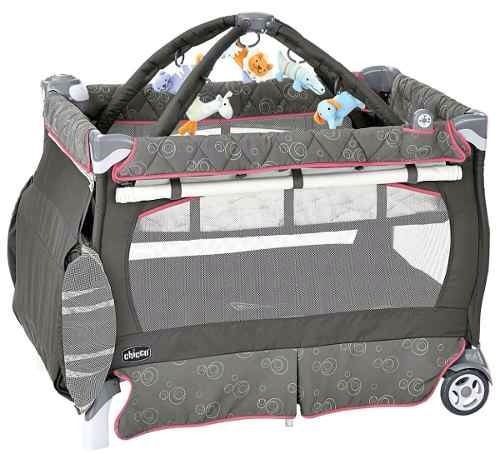 Made for both infants and toddlers, the Chicco Lullaby LX Playard features a removable bassinet and changing station. This playard comes in a variety of Earth tone choices, including tan and orange, grey and green, black and slate, and red and grey. The quilted mattress offers comfort and safety with a sturdy, but soft, design. The changing station holds most baby needs, including nappies, wipes, and baby lotion. Push button action helps the Chico Lullaby LX fold for storage and fit in a bag for travel.
---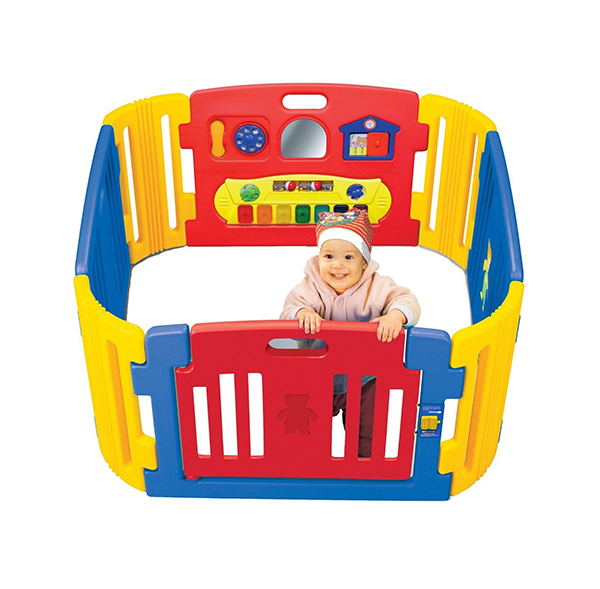 The Friendly Toys Little Playzone is made more for play than for sleep and acts as a fun and safe haven for toddlers who need to be contained and entertained at the same time. The bright primary colours delight babies' eyes, while the toys on the side walls keep them busy with balls, a light up musical keyboard, and toy phone. Babies practise their crawling and pulling up skills in the Playzone, while toddlers practise their new walking and fine motor skills.
---
Top 5 Playpens Comparison
Some of 2013's top playpens act as substitutes for cots when travelling, with bassinet inserts for sleeping babies and removable changing stations. The Baby Bjorn Travel Crib, Joovy Room Playard, and Chicco Lullaby LX Playard offer comfortable sleep and play places for infants and toddlers. Changing stations come with the Joovy Room and Chicco Lullaby, while the Baby Bjorn acts as a compact playard for travel purposes. The Graco Tot Bloc and Friendly Toys Playzone both feature primary colours for babies and toddlers to learn to roll, crawl, pull up, and walk.