Every woman needs to have a
dressing gown
, whether it be to relax at home or to have on business trips, it serves a wide variety of uses. A dressing gown has the ability to be a fashion statement in itself or simply something comfortable to wear on one's down time. When selecting a dressing gown, there are a few factors to consider such as style, material, colour, and length. Since there are so many options and brands, learning about some of the top dressing gowns is always a good way to start. Dressing gowns are available at clothing shop, as well as online through retail sites like eBay, which offer a wide selection and competitive prices.
| | |
| --- | --- |
| 1 | Figleaves Snuggle Shawl Collar Robe |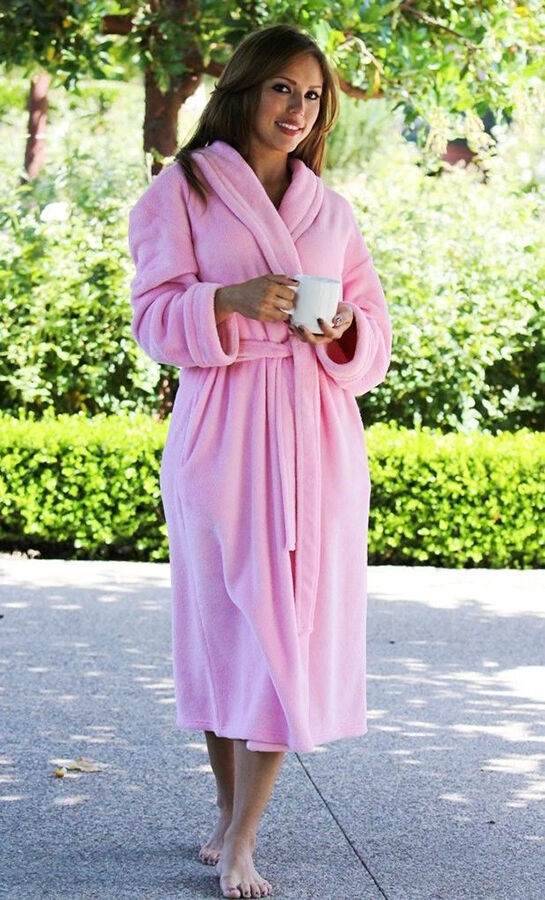 Figleaves offers a large selection of dressing gowns like the Snuggle Shawl Collar Robe. This machine washable robe comes in berry, cappuccino, aubergine, ivory, and raspberry to fit anyone's colour preference. It is made of 100 per cent polyester and is trimmed with satin for an additional feeling of luxury. The Snuggle Shawl Collar Robe comes with a matching waist tie and even has large side pockets to keep one's knick-knacks in. This super cosy robe is available in sizes small (S) to extra large (XL) and is designed to hang at or right below the knees.
---
| | |
| --- | --- |
| 2 | Marks and Spencer Pure Cotton Waffle Dressing Gown |
Shoppers looking for a waffle design dressing gown are likely to love the Marks and Spencer Pure Cotton Waffle Dressing Gown. Made from cotton, this dressing gown sells in both purple and white colours. It features a matching waist tie and long sleeves, as well as patch side pockets to maximise utility as well as comfort. It measures 105 cm in length and comes in sizes 8 to 22. This Marks and Spencer waffle dressing gown can be worn after a bath or just to relax at home and is machine washable.
---
| | |
| --- | --- |
| 3 | B by Ted Baker Moleskin Long Robe |
For a luxurious feeling dressing gown, buyers are encouraged to check out the B by Ted Baker Moleskin Long Robe. It is made of moleskin fabric for an extra soft feel and comfort to wear at home. This long robe has a hood with shawl collar and two pockets for a complete dressing gown experience. The moleskin long robe comes in grey or dark purple, but B by Ted Baker also offers a similar short robe in black as well. This robe is machine washable and is available in sizes 8 to 18.
---
| | |
| --- | --- |
| 4 | Calvin Klein White Fluffy Fleece Dressing Gown |
Buyers in search of a dressing gown with a classic look and feel more than satisfied with the Calvin Klein White Fluffy Ladies Dressing Gown made with soft fleece. The white material and softness helps one feel especially clean and comfortable. This knee-length dressing gown features a shawl collar and two pockets, as well as a matching white waist tie. It comes in sizes extra small/small and medium/large. For a sexier look, Calvin Klein has the same dressing gown in the colour black.
---
| | |
| --- | --- |
| 5 | GAP Cozy Sherpa-Lined Robe |
Budget-conscious customers do not have to sacrifice comfort for savings with the GAP Cozy Sherpa-Lined Robe. This robe made of 100 per cent polyester jersey with plush sherpa lining for added luxury. It has long sleeves, hood, and matching waist tie for an overall feel of comfort. The Cozy Sherpa-Lined Robe also has two pockets and hits mid-thigh. This dressing gown sells only an oatmeal heather colour and comes in sizes XS/S and M/L. Best of all, this robe is machine washable so one is able to keep the softness without having to take it to the dry cleaners.
---
How to Buy Women's Dressing Gowns
With just a few simple steps, women can be on their way to wearing a dressing gown that fits their idea of comfort and style. eBay offers dressing gowns to fit all kinds of tastes and budgets without the need of leaving the comfort of your home. To begin, enter a keyword like " women's dressing gown" into the Search field of any eBay page to return with all the matching product listings. You can narrow down the results by clicking on any of the correspondent filters located in the sidebar or by price and postage. Shopping for Top Rated sellers help to ensure you receive the best quality product and service, but it also important to read all product descriptions before making an investment.