Baby car seats
and infant car seats are reasonably heavy and have protruding plastic ridges. This damages vehicle upholstery with repeated use, leaving depressions, marks from scuffs and abrasions, and pressure damage. This results in an unsightly vehicle interior or a costly repair bill for reupholstery. Additionally, transporting youngsters in the car inevitably results in spills and stains. Combat all of these issues with a
baby car seat protector
. These tough, durable products provide protection against damage from baby car seats and booster seats, along with stain and spill protection. Some of the top models provide tight fittings and non-slip surfaces to offer additional security, keeping the car seat from sliding around during travel.
| | |
| --- | --- |
| 1 | Britax Vehicle Seat Protector |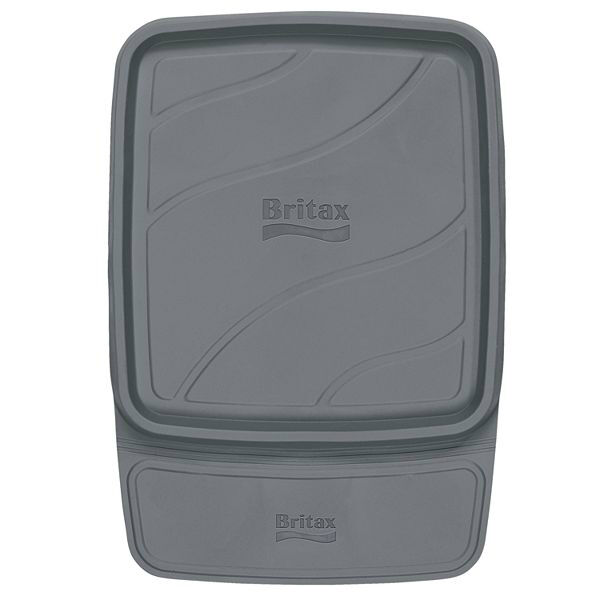 The Britax vehicle seat protector is a compact, convenient item that protects car seats from imprints and pressure damage caused by kiddies car seats along with spills and stains. Made from leather-look fabric, this car seat protector is stain and spill resistant and offers long lasting durability. It also prevents the car seat slipping, providing extra security and safety for the child. For added versatility and convenience it has a large storage pocket on the front that sits beneath the car seat, allowing users to neatly store baby essentials when on the go.
---
| | |
| --- | --- |
| 2 | Recaro Car Seat Protector |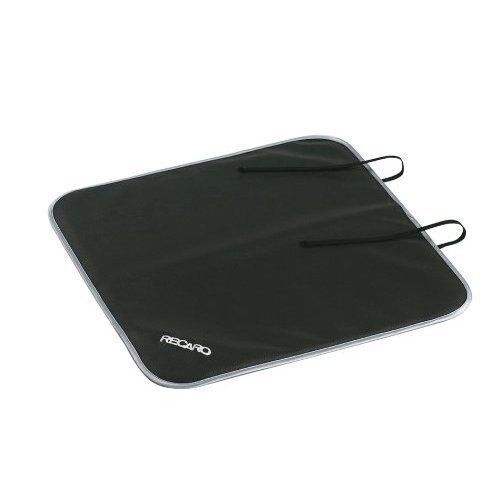 The Recaro car seat protector is a simple, inexpensive option for those on a budget. This protective mat is made from tough, durable synthetic fabric and protects the car seat from pressure damage, abrasions, and scuffs from a baby car seat. The tough, stain resistant fabric also protects against spills and stains and easily wipes clean. It simply sits beneath the child car seat, on top of the vehicle upholstery, offering straightforward and effective protection. The non-slip mat also provides enhanced safety, preventing the child seat from slipping while the vehicle is in motion.
---
| | |
| --- | --- |
| 3 | Diono Car Seat Protectors |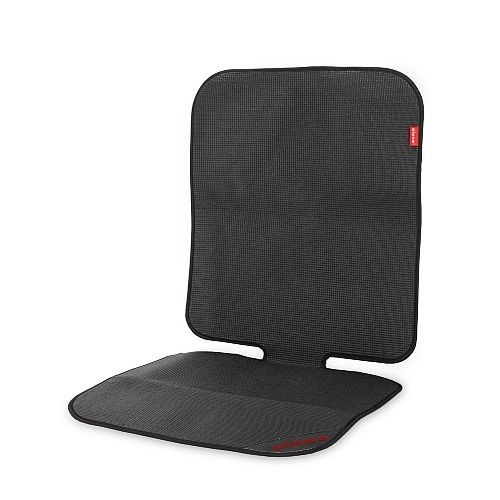 The <Diono Ultra Mat seat protector offers superior fitting, stability, and protection. Consumers can protect their vehicle upholstery from the rigours of using a baby car seat or child booster seat with ease. The Diono Ultra Mat fixes securely to the car seat at the head rest and the base of the seat for extra security and stability. It is moderately priced but offers rugged durability, with a Nylon and PVC outer and EPE foam inner, effectively protecting the upholstery from imprints and abrasions caused by a baby car seat or a child booster seat. The tough, wipe-clean exterior offers further protection against spills and stains and is easy to clean. It is also machine washable for extra convenience and ease of use. Hanging over the front of the seat is a sturdy organiser pocket, allowing parents to store toys and essentials without them rolling under the seat and out of sight. This particular model is compatible with both front and rear facing baby car seats.
---
| | |
| --- | --- |
| 4 | Lindam Car Seat Protector |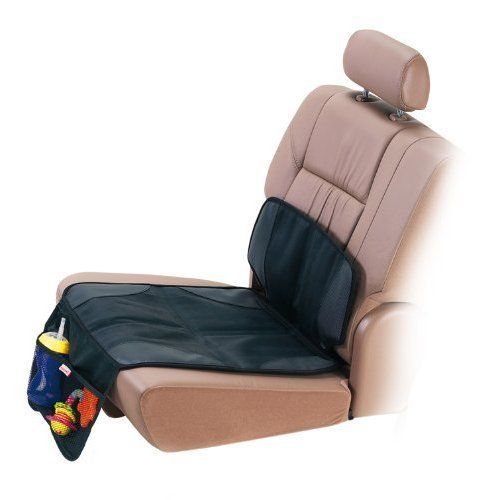 The Lindam car seat protector offers cushioned protection against depression damage, scuffs, abrasions, and plucking from baby car seats and booster seats. Not only is the seat protector stain and spill resistant, it offers further upholstery protection in the form of anti-stain fabric, meaning colour won't transfer from the seat or the protector onto the vehicle upholstery. It fits snuggly to the vehicle seat and has a non-slip surface, offering increased stability, preventing the car seat or booster seat sliding about. It also has easy access seat belt slots, allowing parents to attach it to the seat and fix the car seat or booster seat neatly in place, without having to ruck up the seat protector. The useful front storage pocket saves space and provides a convenient place to store toys and on-the-go essentials.
---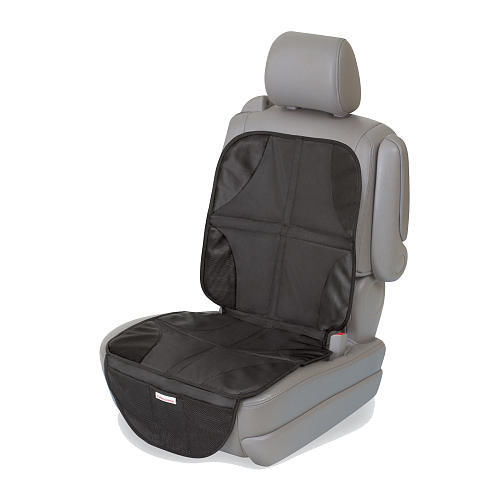 The Summer Duomat provides a high level of protection for vehicle seats from infant seats, car seats, and booster seats. This award-winning seat protector folds down for small infant seats and unfolds for use with larger car seats and booster seats, offering complete protection. The seat protector has secure and well-padded side slots to slip the seat belt connectors through, conforming to the contours of the vehicle seat and protecting against dents, scratches, and other damage with a well-padded interior. The padding extends across the entire seat protector, allowing it to conform to the shape of the vehicle seat, offering protection, security, and safety. As well as conforming padding and a durable outer, the Summer Duomat has a stabilising wedge to keep the car seat firmly in place, offering additional stability.
---
How to Buy Car Seat Protectors
Buy car seat protectors from eBay sellers with ease, enjoy a smooth transaction, and wait for your new car seat protectors to arrive at your door. Search from any eBay page or the search bars located on every page to quickly identify the best baby car seat protector for your vehicle and purchase from a reputable eBay seller for a quality product and fast, efficient service. Baby car seat protectors are reasonably inexpensive and protect your vehicle upholstery from the rigours of car seats and carrying a young child. They also help ensure your little one is safe and secure, preventing the car seat from moving around while the car is in motion. Choose from some of the most popular models to get a car seat protector that offers quality, durability, and value for money.