On the outside, the noticeable difference between a professional-grade appliance and an appliance for home use, such as an
oven
, is negligible. The true difference, however, is on the inside. Professional-grade appliances like ovens tend to be made of higher-quality parts, because professional ovens are in constant use and take much more abuse than a typical home kitchen oven does. Many professional-grade ovens, such as deck or pizza ovens, are also much larger than a standard freestanding or wall oven. However, several top appliance manufacturers do offer smaller versions of professional-grade ovens that consumers can place in own their homes. These ovens, called wall ovens or built-in ovens, do not have a cooker attached and offer options like convection cooking capabilities.
| | |
| --- | --- |
| 1 | Baumatic P619BS 60 cm Fan Oven |
The Baumatic P619BS 60 cm Fan Oven is an electric four-function wall oven that has an energy efficiency rating of "A", comes in black, and has a gross capacity of 59 litres. This built-in oven includes a mirrored glass door that is triple glazed and is removable, as is the inner glass door. It also features a cooling fan, an LED timer, and enamelled baking trays with handles, trivet, and removable side racks.
---
| | |
| --- | --- |
| 2 | Neff U16E74N3GB Series 5 Double Oven |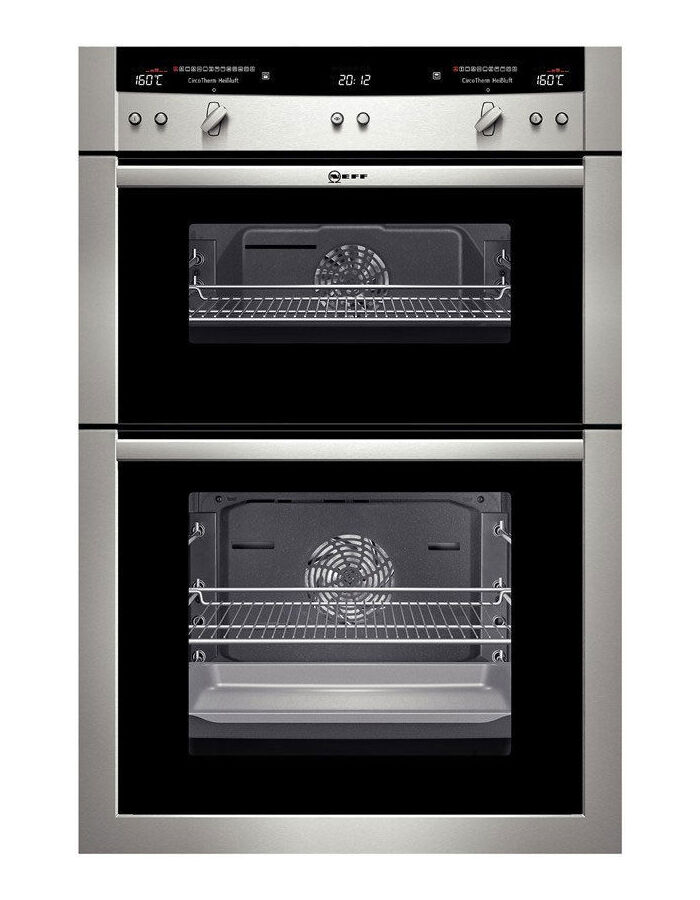 The Neff U16E74N3GB Series 5 Double Oven is a 97-litre total capacity built-in professional-grade oven that rates as an "A" for energy efficiency. This Neff oven has a stainless steel exterior, colour-coordinated handles and knobs, and extra wide viewing windows to make keeping an eye on what's cooking much easier. In addition, it features Neff's Circotherm cooking system that delivers top and bottom heat or just bottom heat, depending on what is needed for a specific dish. It also has a full surface grill, a smooth enamel floor and walls, a CermiClean roof, and back liners for easy cleaning.
---
| | |
| --- | --- |
| 3 | Indesit FIMD 23 IX S Built-in Electric Double Oven |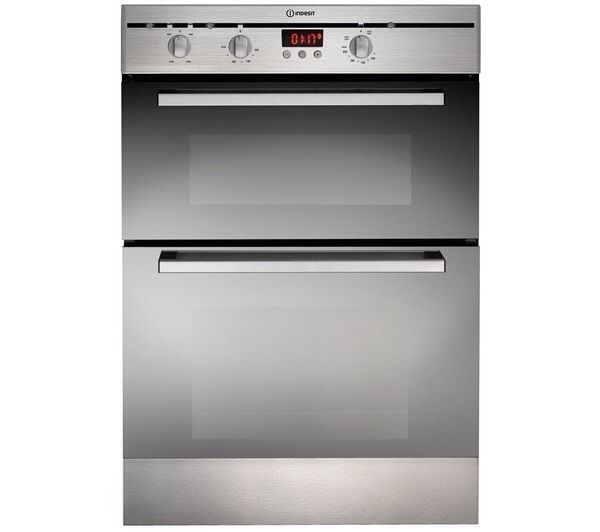 Another top-quality commercial-grade double oven is the Indesit FIMD 23 IX S BBuilt-in Electric Double Oven. This professional-grade appliance has stainless steel surfaces and handles, along with providing a total capacity of 100 litres. It features a fan-heated main oven and conventional secondary oven, while its main oven doors are double-glazed glass. Additionally, its secondary oven door utilises tempered glass, and features a variable heat grill in the top oven.
---
| | |
| --- | --- |
| 4 | Beko ODF21300B/W Double Fan Oven |
The Beko ODF21300B/W Double Fan Oven is a high-specification double oven that has an oven capacity of 100 litres. Its energy rating is "AA," making it 20 per cent more efficient in its main oven than even "A"-rated units are. This Beko professional-grade oven comes in either black or white, with a fan oven for the main oven and a conventional oven for the smaller, second oven, which also features a full-width variable grill with a recessed grill element. Other features of the Beko ODF21300B/W include a fully programmable LED timer, an easy-to-clean double-glazed oven door, and a full-size enamel cooking tray with an internal grill rack.
---
| | |
| --- | --- |
| 5 | AEG DC7003000M High Performance Built-in Double Oven |
Perhaps the most notable feature of the AEG DC7003000M High Performance Built-in Double Oven is its Hot Air Fan System, as this heating system ensures that hot air circulates evenly throughout the entire oven cavity. Available only in stainless steel, it features fans in both ovens, has an "A" rating for energy consumption, and has a total capacity of 111 litres. Cleaning it is easy thanks to the oven's heat-activated catalytic liner, which absorbs spilled grease that then burns away during regular use. Additionally, the oven's exteriors remain cool to the touch due to the implementation of AEG's IsoFront Plus technology.