Soft, snuggly, and cosy,
pyjama sets
offer multiple options for young girls 4 and up. No matter what the weather is, parents find perfect pyjama sets with matching pieces that look adorable on little girls. Some types of pyjamas, such as onesies, cover the feet for optimal warmth, while three-piece sets offer variety in the form of shorts or pants to wear with a top, or added extras like matching socks. Character pyjamas celebrate girls' love of their favourite characters, from Angry Birds to Hello Kitty. Parents find pyjamas set for their sleepy ones at retail stores or online from eBay.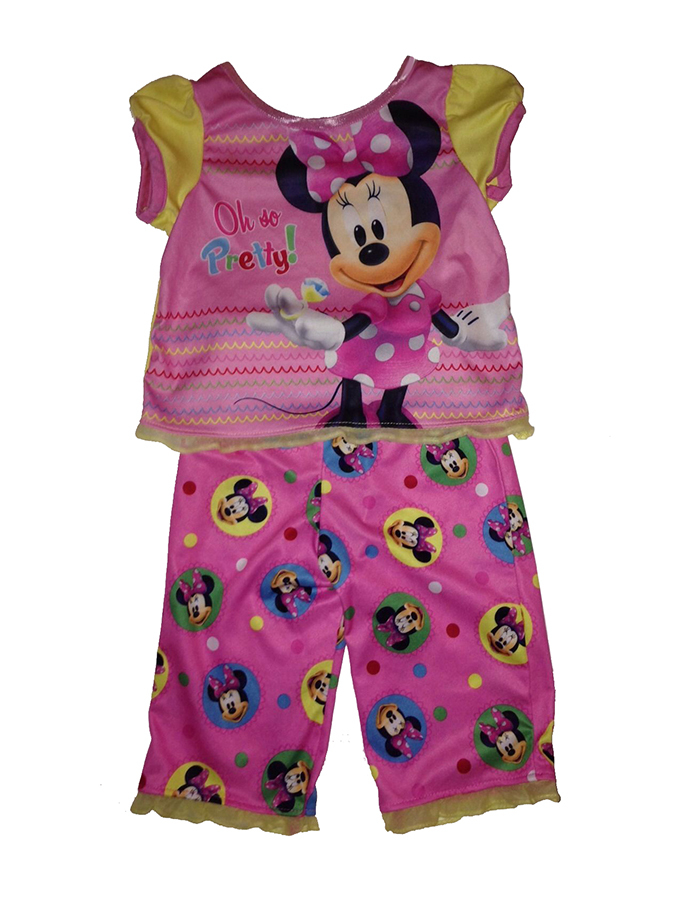 Made with matching tops and bottoms, two-piece pyjama sets keep girls comfortable and warm while sleeping. There are many options with two-piece pyjama sets, including sets with long sleeves and pants, short sets with short-sleeved tops, and sets with tank tops and pants. Matching pyjama sets offer a wide variety of design options, from basic solid colour sets such as blue or purple, to graphic designs like hearts, flowers, and stripes. For young girls, patterns are popular, such as plaid, animals such as cats, frogs, or penguins, or storybook characters like Peppa Pig or Pooh Bear. The two-piece pyjama sets come in sizes from age 4 and up, and come in different brands like Disney and Marks and Spencer.
---
| | |
| --- | --- |
| 2 | Three-Piece Pyjama Sets |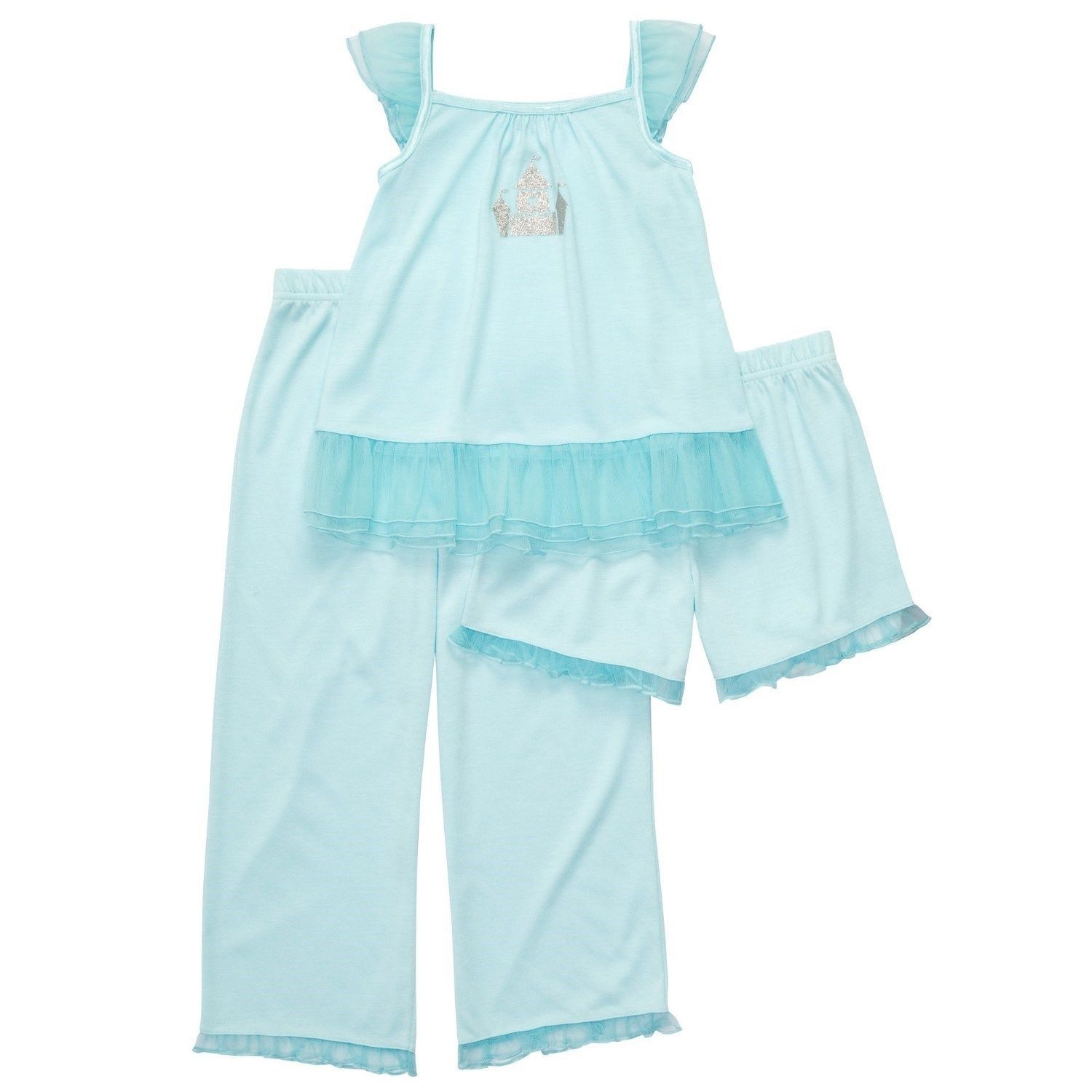 What is special about three-piece pyjama sets is the extra piece. The sets typically consist of two pieces such as a pyjama top and bottoms, or shorts and a top. The third piece is sometimes a different matching shirt to wear with the bottoms, shorts for warmer weather which complement the pyjama top, or a matching robe. Other three-piece pyjama sets for young girls include something fun like a matching tulle tutu to go over the pyjama pants, matching socks, or a hoodie to slip over a pyjama tank top. This keeps girls warm in cold temperatures or makes the set perfect for loungewear during the day.
---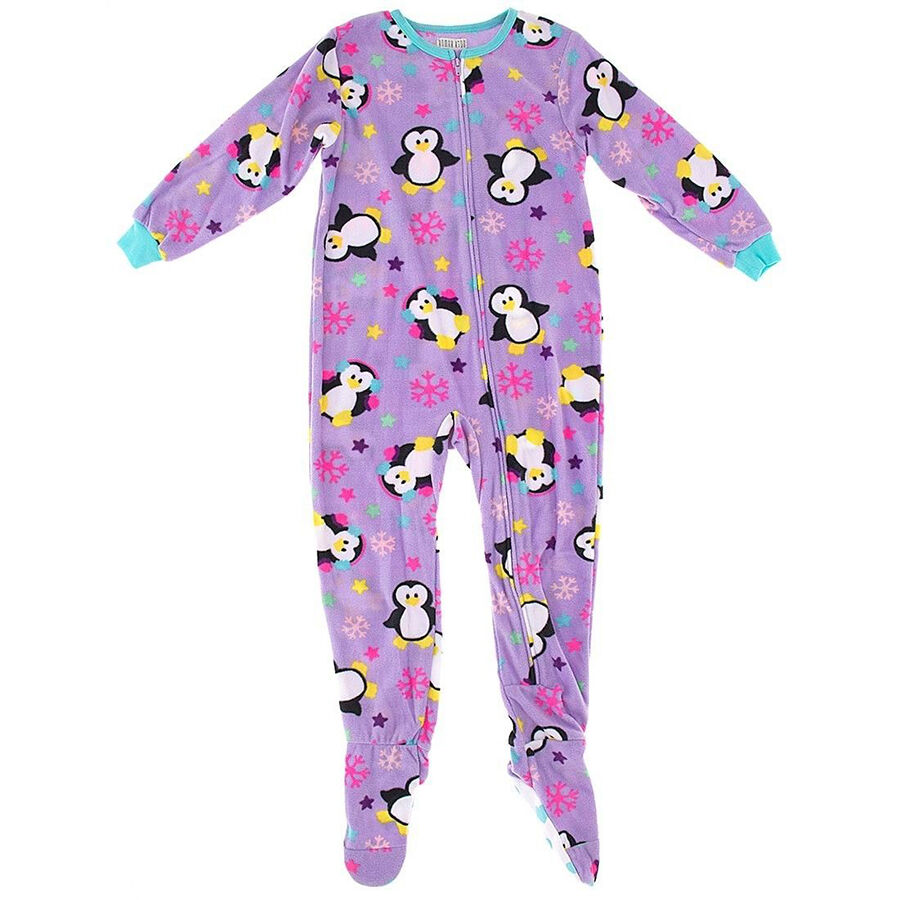 Created to keep girls' feet warm in winter, footed pyjamas generally cover the feet, legs, and arms, and zip up in the front. Made of soft, plush fleece fabric, footed pyjamas sometimes come with hoods and fit kids up to size 16. Some of the designs available include animal print pyjamas, characters like Dora the Explorer, and graphic designs such as stripes, polka dots, skulls, paw prints, and animals like dinosaurs and tigers. Some popular footie pyjama brands include Disney, Marvel, and Primark. Kids wear their favourite superheroes or animals, and footed pyjamas typically have skid-proof rubber treads on the bottom to keep them slip resistant for small children.
---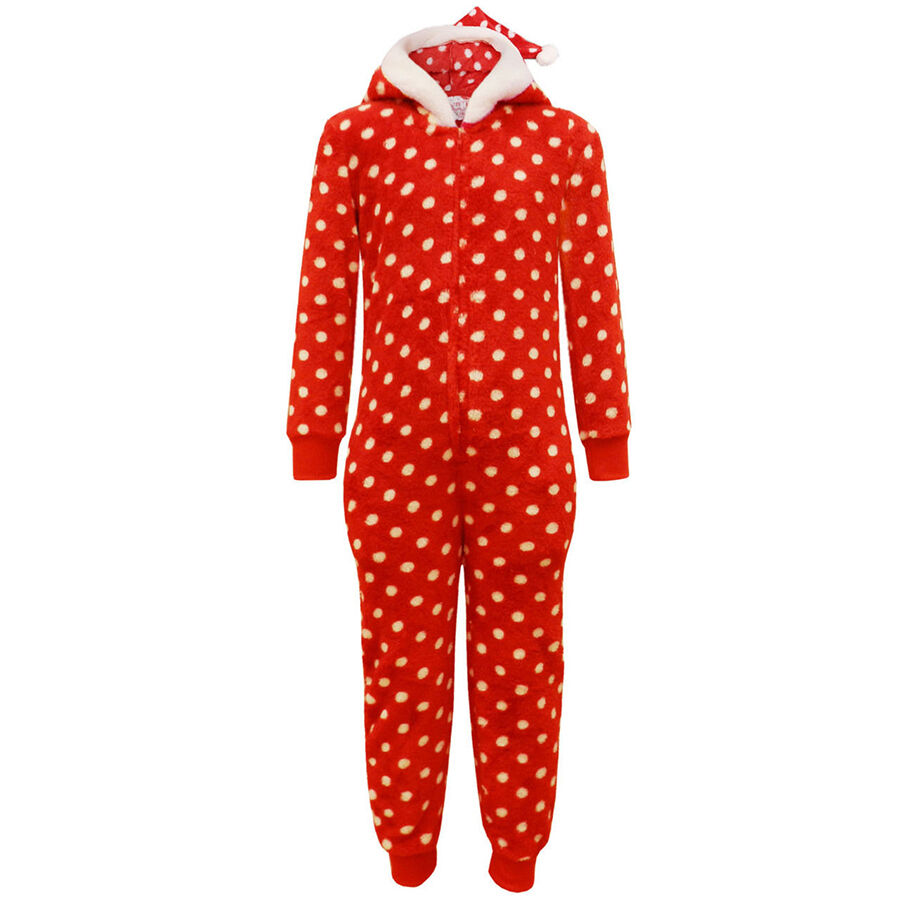 The difference between onesies and footed pyjamas is that while onesies do cover the legs and arms similar to footed pyjamas, they leave the feet open and uncovered. This makes it easier for kids to move around in their pyjamas. Some of the most popular types of onesies include animal prints with hoodies, character prints such as Hello Kitty, and even onesies depicting kids' favourite bands, like One Direction. Made of comfortable cotton or thicker fleece, onesies come covered with hearts, in graphic prints like snowflakes, stripes, and clouds, or simple stars or animals. Primark and Disney make onesies for girls of all ages, and onesies have either a zipper closure or buttons up the front.
---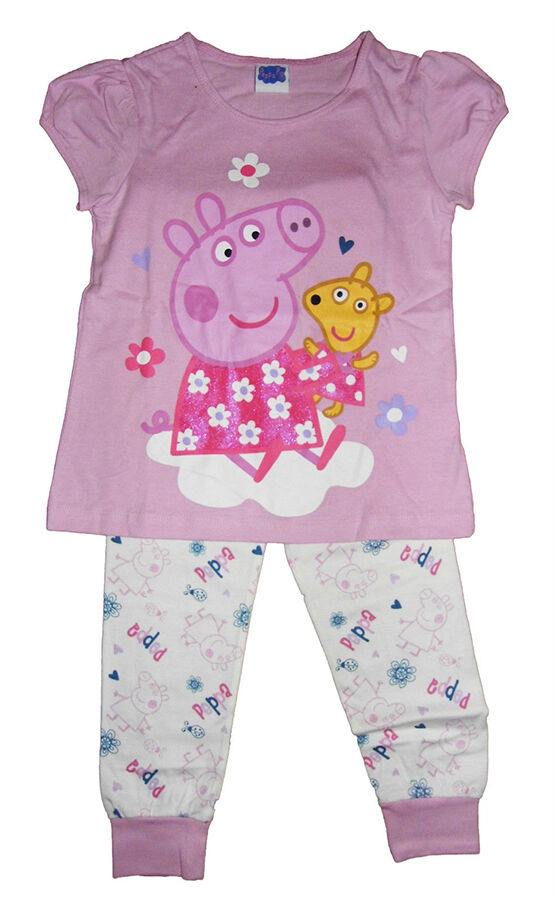 Made with tight fitting leggings and a loose sleep shirt, pyjama leggings sets are cute and comfortable for young girls. Sets come with a soft long-sleeved or short-sleeved pyjama top with matching leggings. Some popular styles include animal patterns from Primark, characters like Minnie Mouse, and cute prints with fairies, puppies, flowers, or teddy bears. Special leggings sets for holidays come with prints for the season, and there are also popular pyjama sets featuring bands, sports teams, and Barbie. Legging sets are affordable and sometimes come in a lot more than one set for mixing and matching purposes.
---
How to Buy Pyjama Sets on eBay
Pyjama sets make perfect presents, so stock up for the girls 4 and older in your life with deals on pyjama sets from eBay. Search "pyjamas" to browse a variety of styles, and filter the search results by your child's size or by brand, such as Disney. Contact the seller by clicking "Ask a Question" on the seller's page to find out if he or she is offering any other pyjamas so you can get a shipping discount on a bundled shipment. Sleep comes easier when girls wear their favourite shapes, colours, or characters on their pyjamas, whether it is Peppa the Pig or pyjamas with pink unicorns on them. Pyjama sets ensure you do not have to buy separate sleep components, since each set includes a matching top and bottoms for a complete night-time outfit.