Buying a
rack-mountable enterprise router
requires research because the router must suit the network and data requirements of the buyer. Choosing a router can be difficult without knowing exact system demands, so buyers should do their research before making a decision. However, many routers fit into a wide range of categories to offer businesses the most usability. Buyers should consider many features including VPN or firewall capabilities, UTM gateways, and expanding Ethernet ports, as well as switching, speed, and dual WAN. Knowing the top five rack-mountable enterprise routers available can help buyers choose the right enterprise router for their business.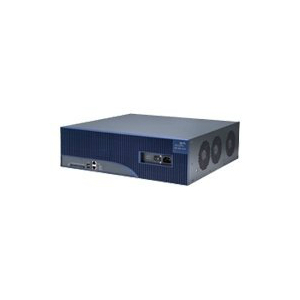 The HP MSR30 router is ideal for medium to large businesses. The MSR30 includes features such as converged routing, switching, voice control, and support for AC/DC power and PoE. Security options include embedded encryption, a firewall, password support, and traffic policing. The router has a built-in backup centre and virtual router redundancy protocol, allowing it to offer security through backing-up and mirroring. Port mirroring, STP capabilities, and the built-in Internet Group Management Protocol allow users to connect it with additional routers for a more powerful network. The MSR30 also includes congestion management through various services, weighted random early detection, and an easy management interface, as well as support for third-party applications and virtualised services.
---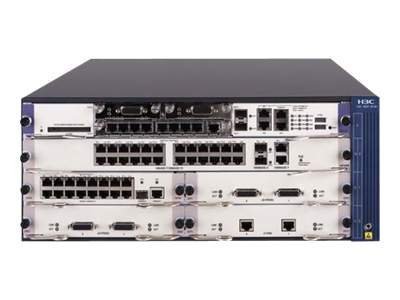 The HP MSR50 series router is a high-performance router for heavy use. The router features a full management interface, forwarding and swapping, security, and high density ports. Specific management tools include an easy U.I. for modem port and terminal interface to access logging, extensions, privacy, security, and even remote access. Security options include enhanced encryption performance and firewall. The router supports switching, network management, passwords, and traffic policing. The MSR50 has a CF card and an USB interface, as well as voice services, ipV6, and open application architecture for use with third-party software.
---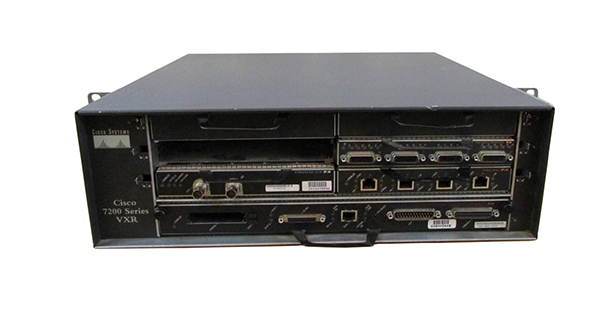 The Cisco 7200 series suits small to large businesses. The 7200 is a great option for scalability, with a full range of features, ports, slots, and options with Ethernet, Fast Ethernet, and Gigabit Ethernet ports included. The router features networking management through Cisco's EMS software, with security management, VPN device management, device management, diagnostics, SSH protocol, and HTML management tools. High density WAN and LAN interfaces, plus server aggregation and high density multi-channel services make this router perfect for heavy use on its own or in tandem with other routers.
---
| | |
| --- | --- |
| 4 | 1800 & 1900 Series Integrated Services Router |
Cisco's 1800 and 1900 series integrated services routers suit small and medium offices. Features include fast data synchronising, Ethernet, wireless capabilities, with built-in security options on both. Although features vary, both series reduce costs for smaller establishments, but do have a limited number of ports. The 1900 series features up to 11 LAN switch ports, integrated SSL VPN, and cloud service optimisation. The 1800 series features fewer ports and less security, but is more flexible for smaller businesses. Both options have their pros and cons, so buyers should consider the size and type of business before choosing a router. There are also multiple options within each series. Generally, the 1900 series is better for open networks, VPNs, cloud set-ups, and borderless networks, while the 1800 is better for internal VPN, internal networks, and small-scale office use.
---
| | |
| --- | --- |
| 5 | J-Series Service Routers |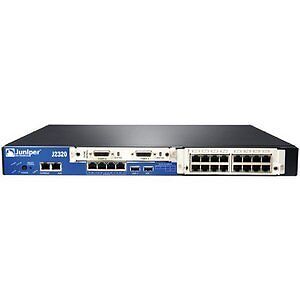 The J-Series Services routers feature top-of-the line security and software solutions for big businesses. The J-Series includes unique security functions, such as built-in encryption, auto-scanning and blocking non-legitimate traffic via a zoned firewall, session based forwarding for improved performance, and Junos OS Services Redundancy Protocol, which allows a pair of security systems to integrate with the network. Each router is also scalable, meaning that ports, DRAM, and size vary from model to model. The routers support IPv6, IPv4, and ISO through static IP management, with Dynamic Host Configuration protocol for client, server, and relay.
---
How to Buy Rack-Mountable Enterprise Routers
Most business owners can focus on the technical aspects they require, their budget, and the size of their network to choose the rack-mountable enterprise router that suits their needs. Anyone who does not know what they need can discuss their issues with a professional or their service provider in order to choose the correct router. Buyers can find most types of enterprise routers, including the ones on this list, on eBay, and in a full range of configurations. eBay sellers sometimes offer discounts and deals on routers, as well as second-hand and refurbished options for businesses who want to save money. Buyers can set a budget, consider their network requirements, and then purchase the router that fits both requirements.