A
rocking chair
or glider is an indispensable addition to the nursery. A mother can gently rock while nursing her baby, and parents, grandparents, and other family members can use it to bottle feed or comfort a fussy infant. When looking for the right nursery rocker or recliner, it is important to consider not only the immediate nursery needs, but also future uses of the chair. Once the child has grown, parents may want to move the rocker to another room without disrupting the overall decor of the home. Owners can enjoy these top rockers while their children are babies and then utilise them elsewhere later.
| | |
| --- | --- |
| 1 | Stork Craft Hoop Glider and Ottoman |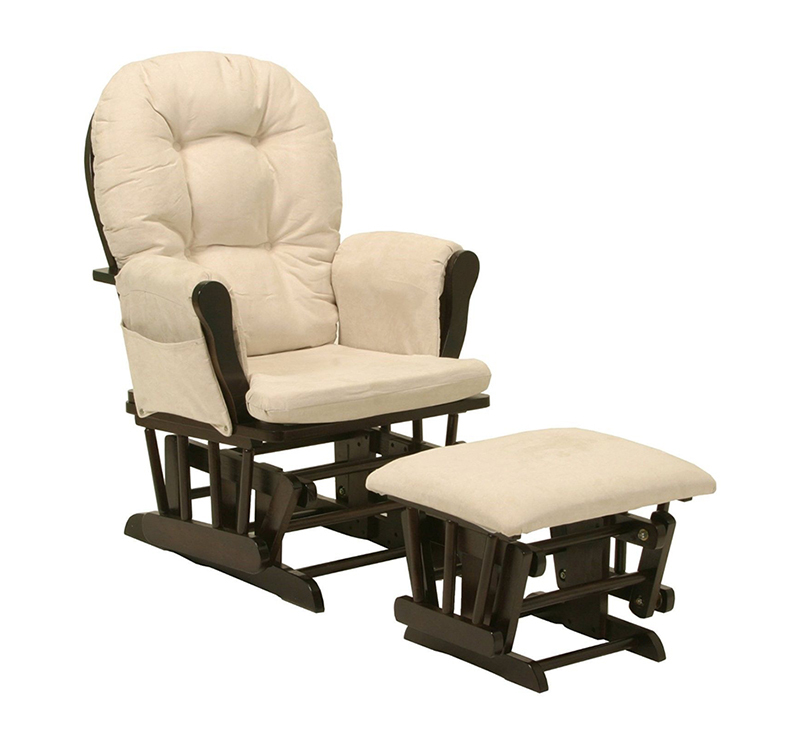 The Stork Craft Hoop Glider and Ottoman consists of a traditional, bow-back style glider and matching ottoman. Each piece features solid wood design, giving them a sturdy look and feel. This glider is large enough for both parent and a baby or a toddler to sit together, and the padded back, arms, and seat cushions make it comfortable for extended use. Both the chair and ottoman use enclosed metal ball bearings in the rocking mechanism to give a smooth, gentle movement. Microfibre fabric covers the cushions for easy spot cleaning to ensure that the glider maintains its good looks. The glider also features a convenient pocket on the arm to store baby books for story time.
---
| | |
| --- | --- |
| 2 | Sereno Glider Nursing Rocking Chair |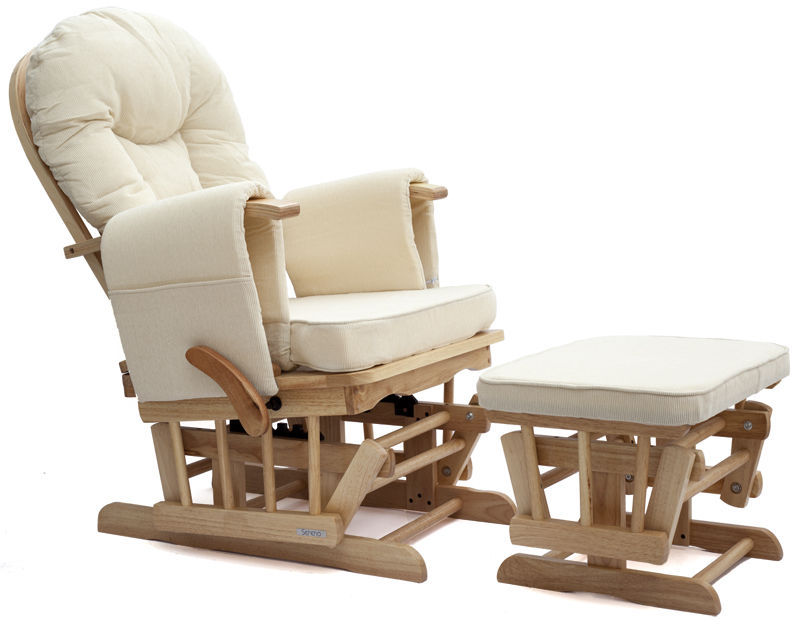 This rocking chair is useful as a nursing chair as well as comfortable to relax in, with or without baby. The Sereno Glider Nursing Rocking Chair features seven reclining positions, a double glide lock, and thick cushions, making it a good choice for mum during pregnancy, after baby is born, and while he or she grows into a toddler. The cushion fabric can be easily spot cleaned to deal with day to day stains. The chair features solid wood construction, with a spindle back design, smooth, rounded edges, and extra-high arms assist with safe and comfortable nursing positions. The chair also features convenient arm cushion pockets that parents can use to hold books for story time or other necessary items.
---
| | |
| --- | --- |
| 3 | Tutti Bambini Deluxe Reclinable Glider and Stool |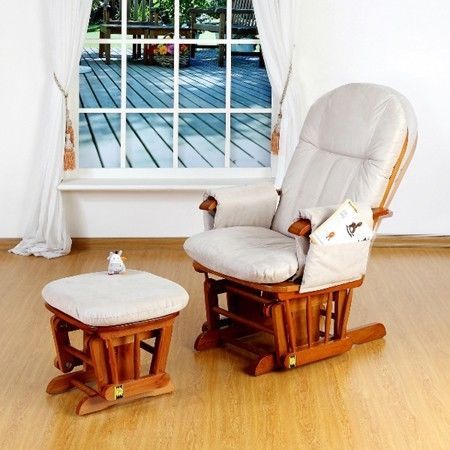 This nursery recliner has three different reclining positions designed for comfort. The Tutti Bambini Deluxe Reclinable Glider and Stool features a smooth gliding motion and comfortable cushions. With back support and three different reclining positions, this nursery chair ensures mum is comfortable while feeding or rocking baby to sleep. The cushions are covered in soft, microfibre fabric that easily spot cleans, and a plastic cover is included for the foot stool to protect it and keep it clean. Side pockets are included in the chair for convenient storage of baby's favourite toys and storybooks.
---
| | |
| --- | --- |
| 4 | Dutailier Glider and Ottoman |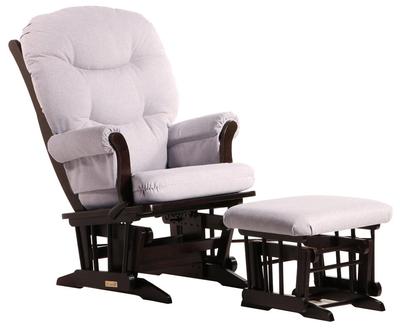 Constructed from durable, solid wood, the Dutailier Glider and Ottoman are two pieces of furniture that can last for many years. This traditional, sleigh style glider has comfortable cushions and padded arm rests made from high-density, low compression foam. Both the glider and ottoman use Glide-R-Motion technology for a long, smooth glide. The padded armrests ensure that feeding and nursing is comfortable, and that baby is safe and secure if mum falls asleep. A built-in pocket offers an ideal place to store children's books ready and available for bedtime stories.
---
| | |
| --- | --- |
| 5 | Supremo Bambino Nursing Glider and Ottoman |
Constructed with a solid wood frame and extra-thick cushions for additional comfort, the glider and Supremo Bambino Nursing Glider and Ottoman could last long enough to rock the grandchildren. The seating area allows for plenty of room for cuddling and rocking as baby grows into a toddler. This nursing glider features an adjustable multi-position reclining backrest and easy gliding mechanism for additional comfort, while the Glide N Lock system ensures that both the glider and ottoman lock in place when necessary. Owners can remove the seat and arm cushions for cleaning, and the back cushion can be spot cleaned to ensure that this glider remains in great condition for many years to come. The ottoman can also be spot cleaned if necessary; however, a protective cover is included to help keep it looking its best.
---
How to Buy Rockers on eBay
Young babies find the back and forward movement of a rocker or glider soothing and comforting. When choosing an appropriate nursery rocker, shoppers can consider the design, style, colour, and size. The trend is to buy a rocker suitable for use in another room when baby outgrows it. eBay offers a wide selection of rockers and recliners as well as other
nursery furniture
including
changing tables
and cribs. Begin searching for a nursery rocker by using the eBay search bar. From the results, narrow the search by categories such as condition, price, and delivery or postage options.