Scrubs are uniforms for a medical worker in any profession from a doctor to nurse's aid. These simply cut, standardised
scrubs
provide comfort, freedom of movement, and are easy for workers to clean. Some brands produce scrub sets for women with unique features, such as elasticity, a more feminine style, or extra pockets. The top scrub sets are affordable, durable, and available in a number of colour options for different hospitals and medical fields. Some brands also produce scrubs with designs and patterns on them that fit the work environment, such as designs geared towards babies or small children. Consumers can find scrub sets in uniform shops, through specialty uniform manufacturers, on hospital wear websites, or through sellers on eBay.
| | |
| --- | --- |
| 1 | Cherokee Uniforms Workwear Unisex Scrub Set |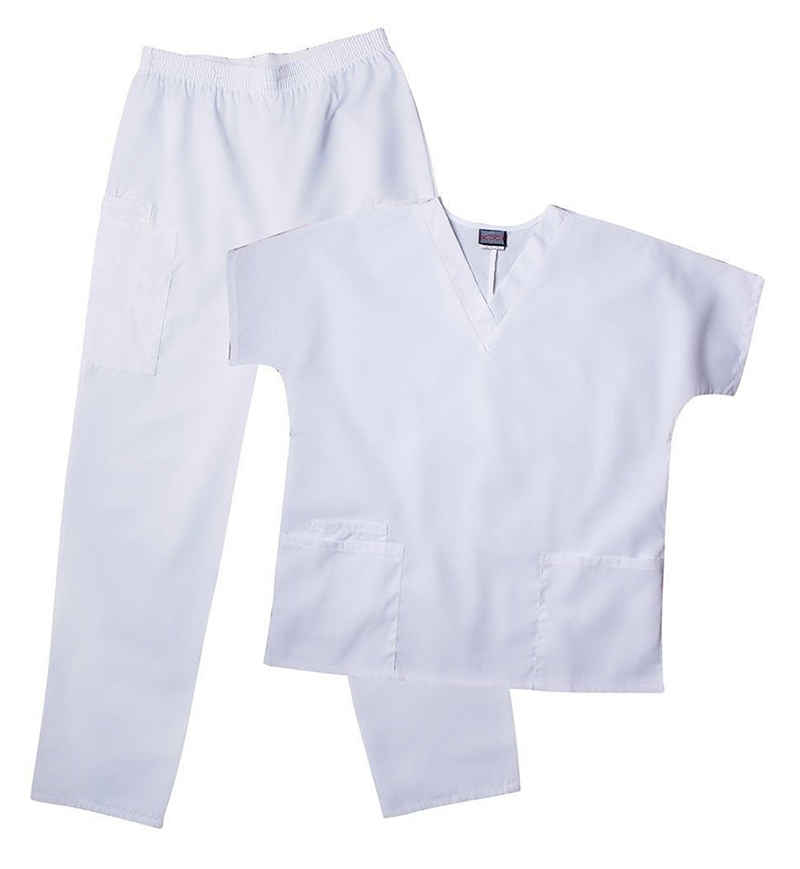 Cherokee Uniforms is a popular brand for medical work. The simple Cherokee Unisex Scrub Set works well for doctors and nurses, and in any medical environment. Available in a cotton/polyester blend, Cherokee scrubs are affordable and easy to clean. Women can choose from 20 different colours, including grape, royal blue, dandelion, and hunter green. The V-neck top features dolman sleeves with a chest pocket and pen slot. The cargo style bottoms feature an elastic waist, an outside scissors pocket, and a mobile phone pocket. A soil release finish helps keep stains from setting into the fabric.
---
| | |
| --- | --- |
| 2 | Dickies Everyday Scrub Sets |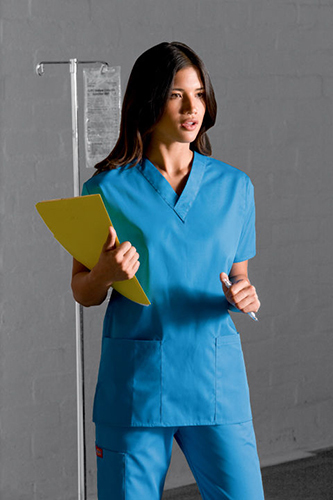 Dickies produces quality workwear and uniforms. The Everyday Scrub set is a classic unisex scrub that features tie-at-the-waist cargo style bottoms with two patch pockets on the sides of the legs, and one back patch pocket on the back. A V-neck hip pocket tunic features standard short sleeves, side vents, and two patch pockets on the front. Women can pick from 11 different colours for the scrubs, including iris, ceil, wine, and black. Dickies scrubs consist of a cotton/polyester blend for easy care and cleaning.
---
| | |
| --- | --- |
| 3 | Alexandra Unisex Theatre Scrubs |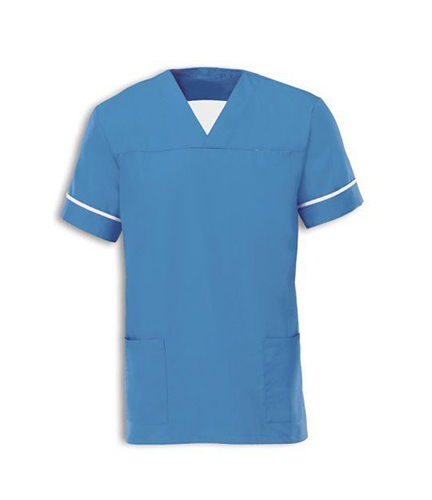 Women who work in surgery may want to look into a pair of Alexandra Unisex Theatre Scrubs. Alexandra is a UK brand that produces workwear for a wide range of professions, including dentists, nurses, physicians, veterinarians, and other medical workers. These slightly loose theatre scrubs with a long waist V-neck tunic can be comfortable for other medical settings too. Alexandra scrubs are available in seven different colours, including jade, pale blue, aqua, sailor navy, royal blue, burgundy, and white. The tunic features two hip pockets and a left breast pocket, while the bottoms feature a back pocket and elastic drawstring waist. The fabric consists of a cotton/polyester blend.
---
| | |
| --- | --- |
| 4 | Barco Scrubs with Kangaroo Pouch Pocket |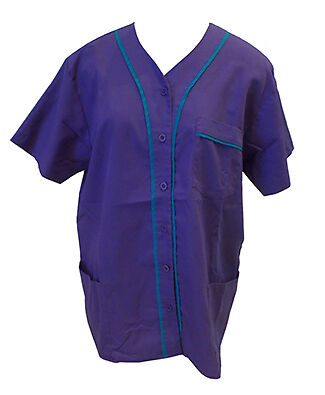 Barco Women's Scrubs are fitted for an attractive, but appropriate look in the workplace. The Kangaroo Pouch Pocket Top is part of the NrG collection. The deep V-neck has a matching colour V-neck insert and features two deep kangaroo pockets. The matching straight leg pant features four pockets, two front pockets, one change pocket, and one cargo pocket. These scrubs consist of a polyester/rayon/spandex blend for a little stretch to increase comfort. Women can choose from multiple colours, including shocking pink, aloe, thunder, melon, and toast. Barco scrubs may also be available with print patterns suitable to the work environment, including cats and dogs, flowers, or child-friendly designs.
---
| | |
| --- | --- |
| 5 | Iguanamed Unisex Med Flex II Scrub Sets |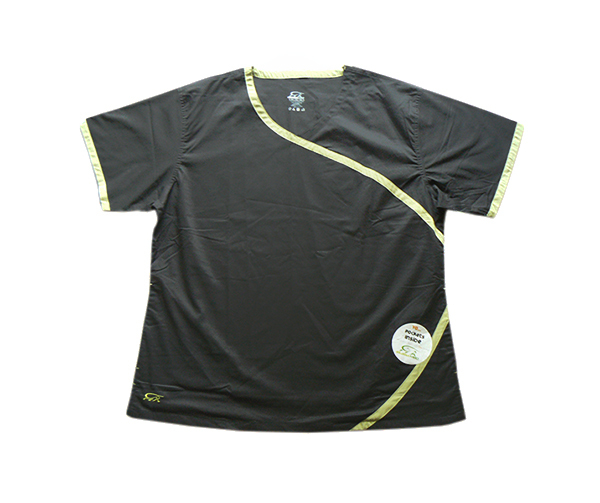 A line of scrubs for medical workers who are always on the go, Iguanamed Unisex Med Flex II Scrubs fit both men and women. The Med Flex line features comfortable stretch fabric with give and durability for long hours on the job. Three pockets in the top, including a chest pocket pen slot, and five pockets in a concealed cargo unisex pant provide plenty of storage for necessary tools of the trade. Iguanamed also offers scrubs in a range of colours with a contrasting accent colour, such as azure blue with a lime green drawstring, carbon black with a yellow drawstring, merlot with a white drawstring, and a number of other colours.
---
How to Buy Scrub Sets for Women
You can find scrub sets for women on eBay through a number of sellers. The top scrubs are stylish, durable, and easy to clean. Some brands use a mix of spandex to add stretch and flexibility. For instance, Barco and Iguanamed both produce stretch knit scrubs for women. Often, unisex scrub sets are available for both men and women that may be more affordable and provide more room for those women who prefer a relaxed fit. When using eBay to shop for scrubs, the search engine is a good tool for finding specific brands and styles. Buyers can access the search engine from any page on eBay. Scrubs are an appropriate uniform choice for medicine, dentistry, and even veterinary care.