My son has Autism and Sensory Processing Disorder! I found the following an absolute lifesaver in preventing or calming meltdowns and helping create him a space where he can feel safe and grounded when he starts to get overwhelmed. There are also some that can be carried around in pockets as well! Great for those unexpected queues and delays whilst you are out!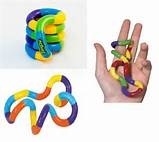 Tangle Toys!

These small fidget toys can fit easily in pockets and are super useful when out and about. They can also be attached together to make bigger ones. They come in different textures and colours and tones. There are many many options.
Room lighting
A light projector can be very soothing for my son. Personally it gives me a headache but it seems to calm him and allow him to "switch off". There are endless options available from random colour displays to whole solar system displays. If the idea works for your child it might be an idea to get a few and rotate them every now and then
Bubble Tubes!
These are fabulous and now come in all sorts of colours and sizes. You can almost definitely find one to suit your child's space!
Sensory Box

I was given the idea to fill a medium sized plastic box with all sorts of sensory things.... Different pieces of fabric, light up balls, items with different textures. This works as a great distraction and can be made cheaply and easily by searching for the items on Ebay
Weighted Blanket
I would call this a sensory piece of equipment rather than a toy but we have found it invaluable! When my son feels insecure he covers himself with it and the pressure of the weight of it makes him feel safe. In his own 8 year old words "it's a little bit like heaven". There are many people who make them, most you can find on EBay. It is an idea to try and find a local supplier due to the sheer weight for posting but ease make sure that safety standards apply.
All these ideas, whilst they work for my son, are still trial and error. After all every child, including SEN children, are unique. What may be calming to one child may be the most irritating thing ever to another. If you are thinking of trying to implement sensory ideas for your child try and see if there is a sensory room at a nearby centre you can visit first. Here your child can explore the different options and you will get a good idea of what works for your child. All my items have then been bought on eBay.

Good Luck on your sensory adventure and I hope it will help your child as much as it has my son!