Many people work jobs that require them to be on their feet for long periods of time. From waitpersons and counter personnel to construction workers and nurses, many people spend much of their day walking or standing in place for hours at a time. For these people and many others, the end of the day usually brings physical exhaustion and sore feet. Although massages, pedicures, and foot baths help soothe aching feet at the end of a long day, preventing the discomfort in the first place is the best option.
Shoe insoles
target specific parts of the feet, such as the heel or the ball of the foot, or target the full foot, depending on the insole.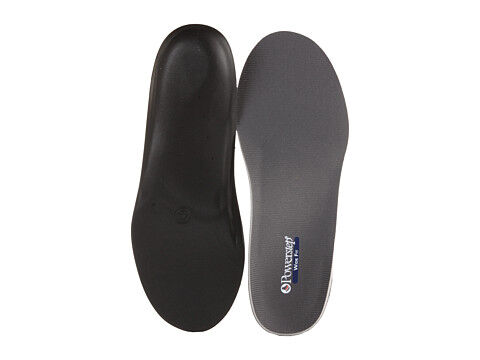 Cushioned insoles serve as an extra layer of cushioning for the entire bottom of the foot. Basic cushioned insoles fit inside a wearer's shoe and only provide a thin, equal layer of cushioning. More advanced cushioned insoles, such as Spenco Total Support Insoles, target the full foot and problem areas like the heel and the ball of the foot all at the same time. Spenco Total Support Insoles, for example, consist of a three-pod cushioning system that moulds to a wearer's feet. Wearers trim the insoles for the perfect fit and then place the inserts in the oven for a few minutes.
---
| | |
| --- | --- |
| 2 | Heel and Ball-of-Foot Cushions |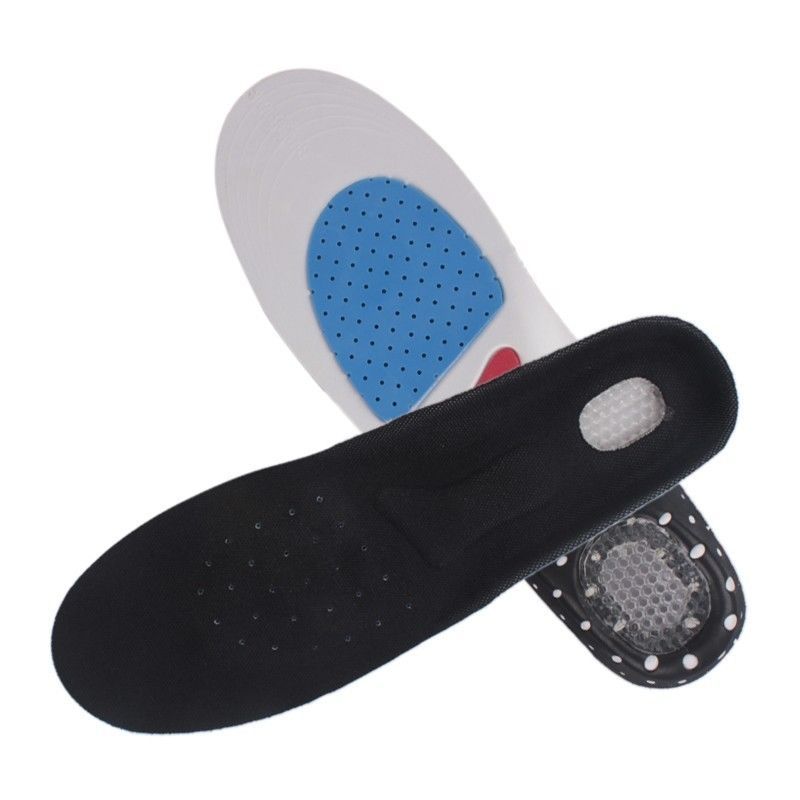 Heel cushioned insoles and ball-of-foot cushioned insoles ease the pain that often occurs in these specific parts of the feet. For people who endure frequent heel pain, Spenco Performance Gel Heel Cups and other similar brands eliminate that discomfort. When used properly, gel heel cups cause the heels to rise slightly in the shoes. Sufferers of plantar fasciitis often use heel cups. Ball-of-foot cushions are also available under the term metatarsal pads. Ball-of-foot cushions like PediFix Metatarsal Pads relieve pressure on the metatarsal bones in the ball of a person's foot. Athletes such as runners, who put tremendous pressure on the balls of their feet, commonly wear these types of pads.
---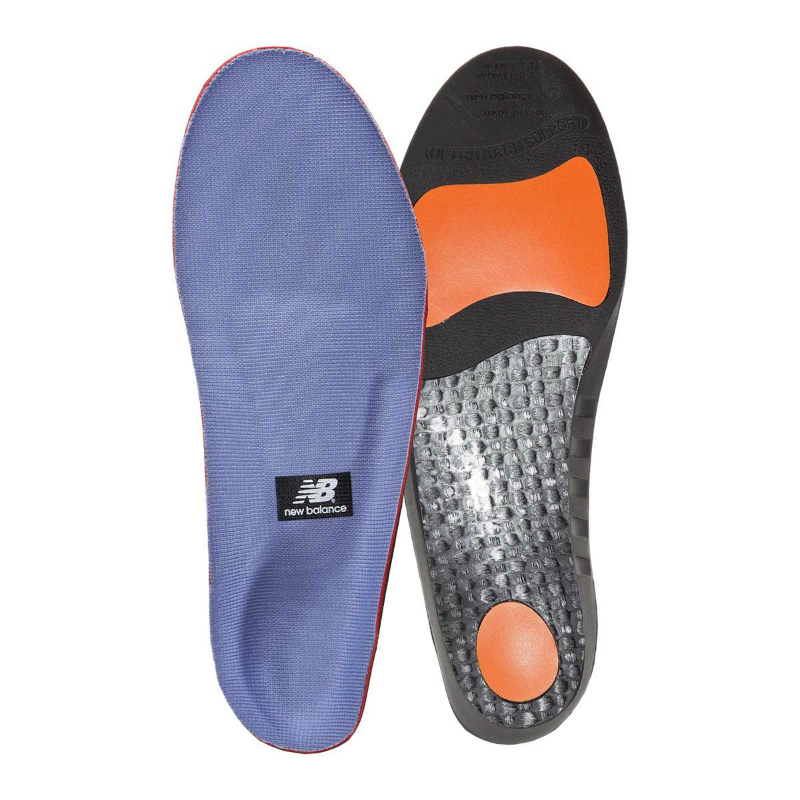 Corrective insoles are extremely similar to orthotic insoles. Although corrective insoles target foot pain, they also aid in relieving pain in other areas, such as the knees and back. Corrective insoles are usually only available through podiatrists and are typically custom made to fit a person's feet properly. However, over-the-counter brands like Orthaheel Relief Full-Length Orthotic insoles provide a less expensive option. These types of insoles offer both ball-of-foot and heel cushioning and create proper foot positioning through a process called Tri-Planar Motion control.
---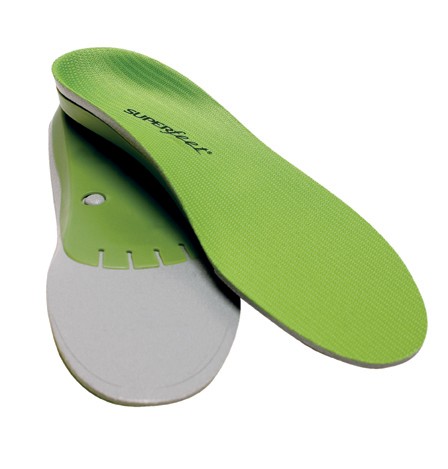 Unlike orthotic insoles prescribed by doctors that require a visit to a kiosk at a pharmacy, the Powerstep Pinnacle Orthotic Insert offers a number of different options that foot pain sufferers can purchase on their own. The development of these types of inserts evolved through a painstaking process that involved scanning thousands of patients' feet to create several different styles of insoles. Powerstep Pinnacle Orthotic Inserts, for example, feature two types of foam, EVA and Hypurcel, to provide a dense, light supportive layer for the wearer's feet. Like many shoe insoles, orthotic inserts feature materials that combat odour and wick away moisture.
---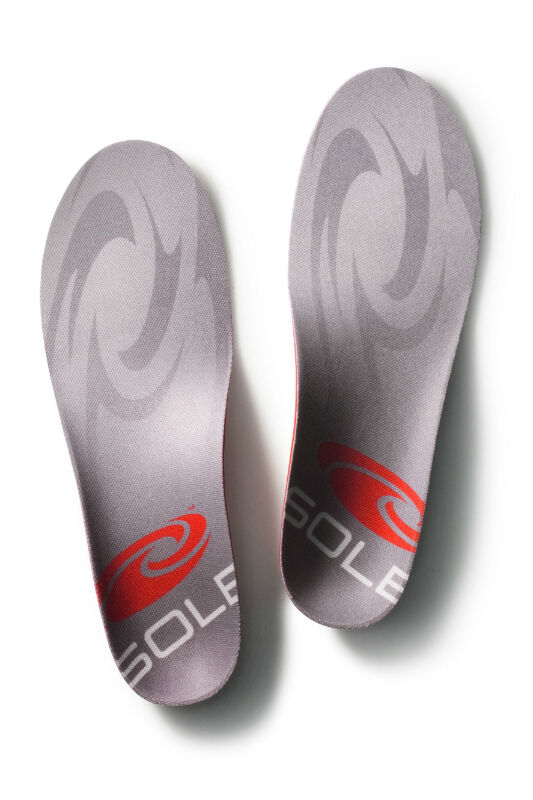 When it comes to cushioned insoles, one of the leading brand names is Dr. Scholl's. Dr. Scholl's offers a complete line of sports insoles, including the Dr. Scholl's Massaging Gel Sport Insoles. These insoles work best for active people who put additional strain and stress on their feet. The gel material found in the Dr. Scholl's Massaging Gel Sport Insoles provides extra protection in the heel area as well as the ball of the foot. The gel acts as a shock absorber of sorts and allows less pressure on the feet and more on the insert and the shoes. There is also an arch cradle, which is especially beneficial to wearers who have flat feet.
---
How to Buy Shoe Insoles on eBay
For the most part, cushioned shoe insoles are not very expensive, except when it comes to orthotic or corrective inserts. However, shoe insole buyers still love to find great deals, especially when buying insoles for several pairs of shoes. Shopping on eBay presents buyers with the opportunity to find the best deals and the largest selection of insoles. Finding the right insole is easy on eBay, and searchers only need to enter simple keywords, such as ' cushioned sport insoles', related to the types of insoles they want. Adding additional criteria like brand name or style helps narrow the search further. Many eBay sellers offer reduced or even free shipping, but buyers must remember to factor in shipping costs if that is not the case.