Many men enjoy wearing a
sport coat
. Less structured than most
suit coats
, men can wear a sport coat on many occasions, including cocktail parties, after-hour business meetings, and more. When looking for a sport coat, men should consider one in a classic style from a top
fashion
designer. This usually ensures that a man can wear the coat for several seasons. In addition, they should consider which fabric choice best meets their needs.
| | |
| --- | --- |
| 1 | Ralph Lauren's Montrose Oxford Sport Coat |
The Ralph Lauren Company chose lightweight oxford cotton for its Montrose Oxford Sport Coat. The sport coat has three genuine pearl buttons down the front. It measures 77.5 cm long and features a single vented slit in the back. It also has long sleeves that fasten with four genuine pearls at each cuff. Cupro fabric lines each sleeve, which also gives the sport coat more structure. The coat has a left patch pocket, two flap pockets, and a notched lapel. The light blue coat comes in sizes small to XXL.
---
| | |
| --- | --- |
| 2 | L.L. Bean Town and Country Corduroy Blazer |
The LL Bean Town and Country corduroy blazer is a black coffee colour. It has two buttons in the front and four buttons on each sleeve. This blazer also has self-fabric elbow patches. The LL Bean Town and Country blazer also features two front flap pockets and a left welt chest pocket. This coat is available in short, regular, and tall, in sizes ranging from 36 to 44.
---
| | |
| --- | --- |
| 3 | Oxford Jacket by Oliver Spencer |
Oliver Spencer chose a unique blend of 49 per cent cotton, 17 per cent wool, and 17 per cent silk to make this Oxford jacket. Two wooden buttons on the front and one functioning wooden button on each sleeve accent the jacket. It features a slim notch lapel, a welted chest pocket, and two patch pockets for extra detail. This jacket is available in sizes 38 to 44 in navy and grey.
---
| | |
| --- | --- |
| 4 | Billy Reid Walton Sport Coat |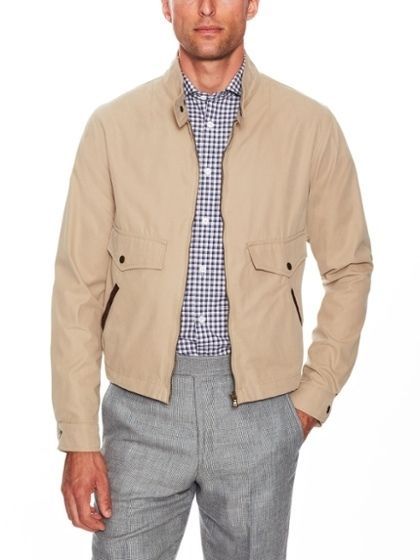 Billy Reid Walton chose taupe, blue, and orange plaid in 100 per cent linen for this sport coat. The coat features a three-horn-button rollover front lapel, and a 6.4-cm notch lapel. It also has two front patch pockets with curved horn-button flaps, and a welt pocket with a curved bottom. Each sleeve contains four horn buttons and suede elbow patches, and the back of the jacket has a single vent.
---
| | |
| --- | --- |
| 5 | Dolce & Gabbana Slim-Fit Linen Blazer |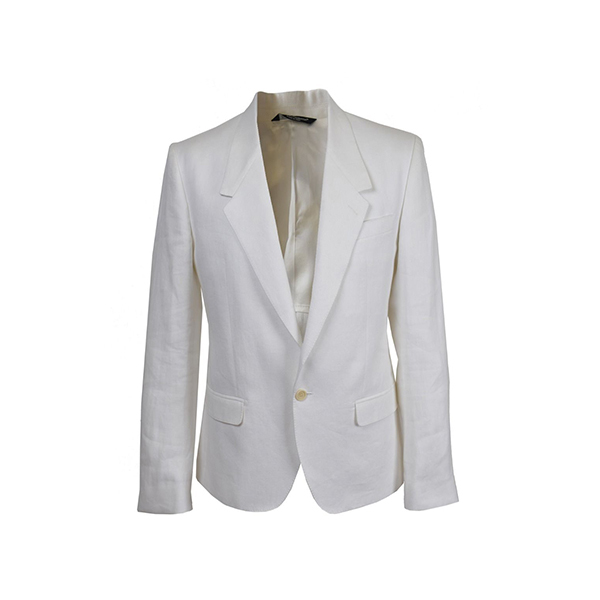 Dolce & Gabbana made this blazer from linen. The blazer features two front flap buttons, a notch lapel, and white melton stitching. This slim-cut blazer has a double vent in the back. Pure viscose fabric lines part of the jacket, making it more comfortable to wear. Each cuff on this blazer contains four buttons. The jacket contains a single back vent and is available from size XS to XL.
---
Fabric Choices for Sport Coats for Men
Designers use many types of fabric to make sport coats, including wool, mohair, corduroy, and linen. Weavers can make the wool of various animals, including sheep, muskoxen, goats, and rabbits, into wool for sport coats. Wool absorbs moisture, so it is always necessary to dry clean these sport coats. Men love
wool sport coats
for their warmth. Both tweed and houndstooth sport coats come from wool. Some manufacturers make sport coats with mohair. Weavers create this silk-like fabric from Angora goat hair. The younger the goat, the finer the thread used to create mohair fabric. A
mohair sport coat
is also very durable and resilient. Many sport coats also feature corduroy fabric. Weavers make this by weaving extra sets of fibre into the base fabric to form vertical ridges known as vales. This fabric is durable, and the vertical ridges help a man look taller. In addition, a thick
corduroy sport coat
is extremely warm. While some designers use the term linen to describe any fabric with the linen weave, weavers create linen fabric from strands of flax plants. Linen fabric is very soft, cool, and lint-free. A linen sport coat is an outstanding choice for warmer weather.
How to Buy Sport Coats on eBay
Buying a sport coat is easy when you look on eBay. Start by typing the keywords "sport coats" into the search box to browse all possible listings. You may also type specific brands, like "
LL Bean sport coats
" or "
Spencer sport coats
", for more specific results. Alternatively, you can enter your fabric choice, such as "
linen sport coats
" or "wool sport coats". When buying a sport coat, make sure to look for one from a top designer and in a fabric that meets your needs to ensure you are happy with your purchase for a long time.