A man's wardrobe is not complete without a variety of
suits
to fit various occasions. Businessmen need suits on an everyday basis, while men with more casual jobs need suits for more special occasions like luncheons, occasional work meetings, and weddings. Suits made from different materials are also necessary so one is available that works for all four seasons. Depending on the occasion, men need a choice of suits to pick from in their closet at all times. From dark-coloured suits to more bright shades for spring and summer daytime occasions, eBay has the top suits every man needs as part of his standard wardrobe.
| | |
| --- | --- |
| 1 | Wool Light Charcoal Suit |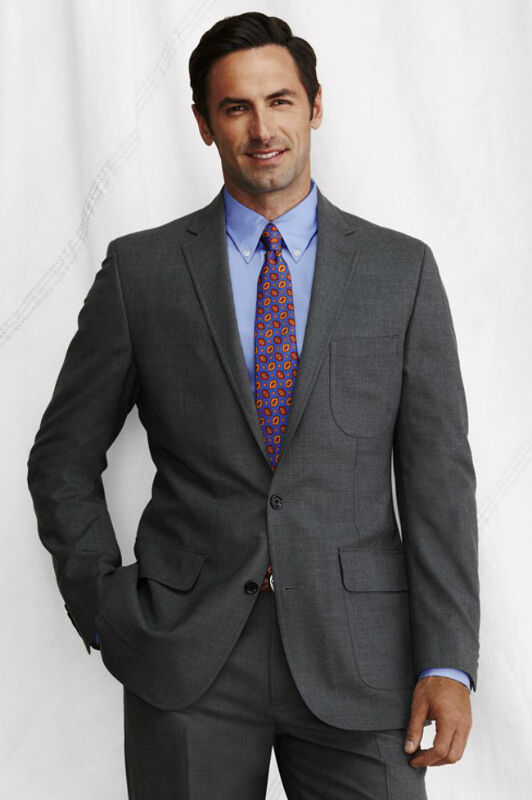 A light wool material works well for fall and spring wardrobes. The wool is heavy enough to keep a man warm, but light enough so that he does not become overheated. The grey charcoal shade matches both white and black button down shirts, as well as a variety of satin and silk neck ties. This type of wool suit works well for everyday office wear, as well as business meetings and weddings. Some popular brands of men's charcoal suits include Ludlow and Ralph Lauren, which both use Italian wool to create this classic look.
---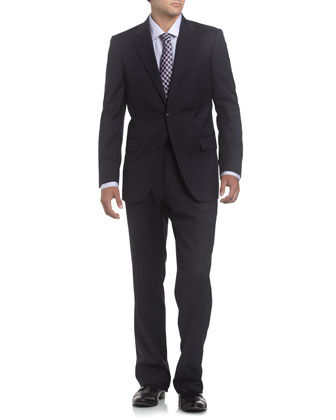 A navy wool suit works as an ideal winter suit to keep men warm, while still offering a classy look for work and special occasions. The navy blue colour matches both light blue and white button down collared shirts, accompanied by blue or black silk or satin neckties. Some wool navy suits have matching vests with three buttons, while others just come with pants and a matching blazer that can be worn buttoned or unbuttoned depending on the occasion.
---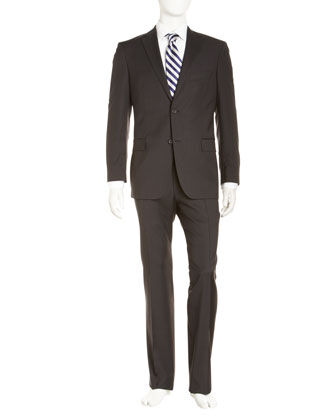 Like the little black dress in a woman's wardrobe, the black suit in a men's wardrobe is a timeless classic that never goes out of style. A man can keep this suit in his wardrobe for years and turn to it whenever an occasion for one arises. Man can choose a classic black suit made from wool, cotton, linen, or a silk-polyester blend. A variety of different coloured shirts work well with a black suit because black typically matches any shade. For contrast, men can wear a red or royal blue shirt under the suit's blazer and vest. However, some black suits do not come with vests and for more casual occasions the jacket works well unbuttoned. Black suits are ideal for everyday office wear, as well as luncheons, business meetings, and weddings.
---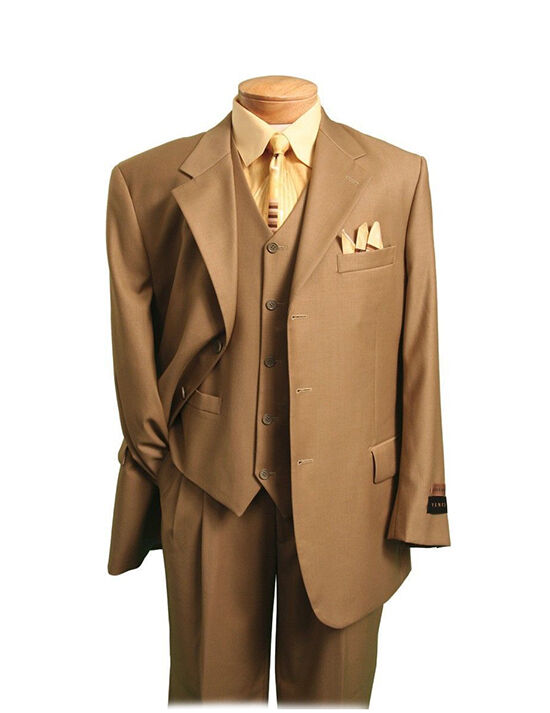 have a reserved look to them and come with thin white pinstripes on navy blue, grey, or black fabric. However, for more fun occasions, many men choose to wear suits with checkered patterns or even plaid patterns. Solid-coloured shirts work best under non-solid suits so the look is not overly busy. For a more wild look, men may choose larger black and white stripes reminiscent of the the styles from the 1930s and 1940s. A non-solid coloured suit may also feature a variety of shades, including royal blue, deep red, and emerald green. Suits with patterns and pinstripes come made from a variety of materials, including linen, cotton, silk, and polyester. Many have vests that fully button over the shirt, but others offer a more casual look with an open jacket.
---
How to Buy the Top 5 Suits Every Man Needs on eBay
When shopping for men's suits on eBay, just type the kind of suit you are looking for into the Search bar found on any eBay page. Specify whether you want a new suit in new or a
used fashion pick
, as well as a brand you may prefer. This narrows your search results and makes shopping easy. Browsing eBay stores is another way of finding the right suit for your wardrobe needs. Stores feature similar merchandise for a one-stop shopping experience. Buy a suit from one store, as well as
cufflinks
, a shirt, and a tie and possibly receive a shipping discount for multiple items purchased together. For all your men's wardrobe needs, turn to eBay for money-saving affordability.