Young boys need
suits
for a variety of occasions. Some suits work for a particular party situation, while other more casual suit designs work for an everyday event such as going to a house of worship on a weekly basis. Boys' suits come made from different fabrics with different colours that match a child's skintone or personality. Other suits work well in warmer weather, while still others come made from heavier materials suitable for cooler days. While suits are not for everyday wear, all boys should have at least one or two suits in their wardrobe collection. Whatever wardrobe needs a boy has, eBay lists the top suits for boys where affordable pricing makes shopping easy.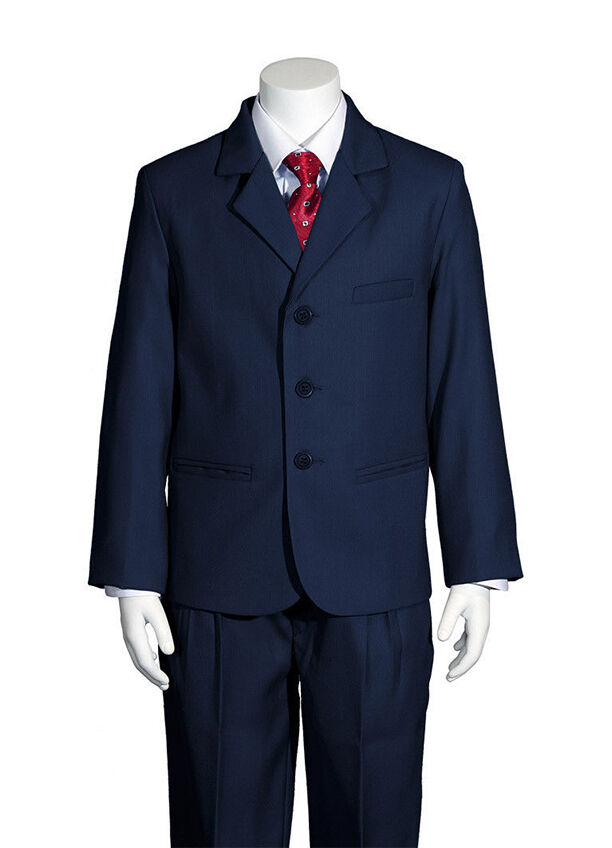 ---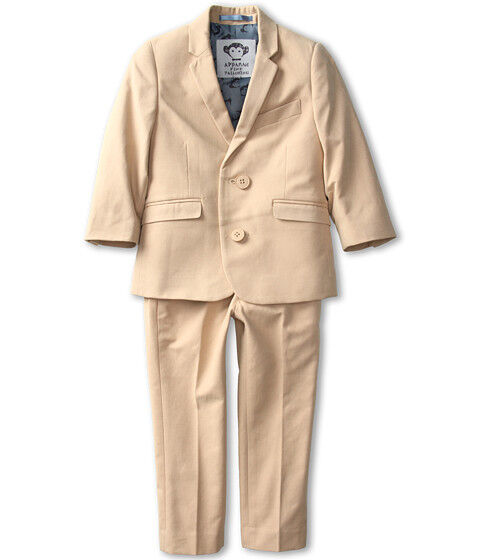 The lightweight material of cotton khaki suits makes them ideal wear for spring and summer. A beige khaki shade makes this type of suit the perfect Easter suit. A casual spring wedding or daytime family luncheon also calls for cotton khaki suits. Other shades of khaki suits include tan and green with white button downs matching any shade. Bowties or neckties in the colour of the suit show contrast over the white shirt. Some cotton khaki suits are three-piece outfits with matching vests that button up over the shirt, some boys wear their suit with the jacket open and no vest underneath for a more casual look.
---
| | |
| --- | --- |
| 3 | Suits with Patterned Fabrics |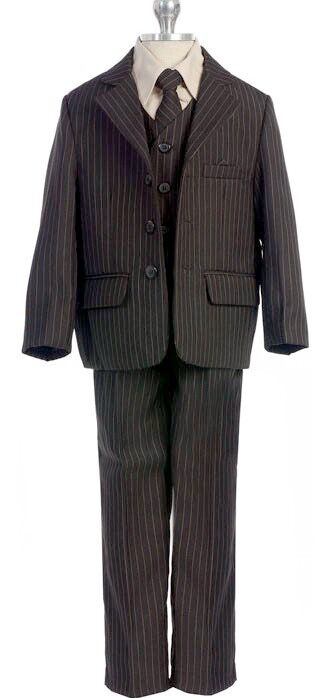 Boys' suits made with patterned fabric offers a bit more fun than khaki or wool suits. Plaid patterns made up of a variety of colours are ideal for little boys, but for a sharper look, a pinstripe pattern over a navy blue or grey background works for special occasions like weddings, bar mitzvahs, and more formal family events. Some patterned suits go with solid-coloured pants and patterned jackets with solid vests underneath to create a contrasting look. A black and white or grey and white checkered pattern also creates a fun look for a boy's suit.
---

A young boy can wear a classic black suit for nearly any occasion and match various coloured button down shirts underneath. Black matches nearly every shade, so a complete contrast includes black suits with white button downs, but green shirts, red shirts, and even pink shirts work well under a black blazer and vest on a classic black boy's suit. Classic black suits also come made from cotton or wool material so boys can have one in their wardrobe for summer and one in their wardrobe for winter. Black bow or neckties work best with a classic black suit of any material.
---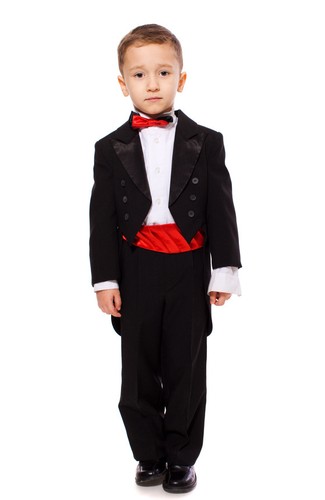 Tuxedos provide the pinnacle of dress up attire for both boys and men. Most come made with a classic black shade on a silk and polyester blend material. A white button down shirt with gold or silver cufflinks works as the standard top to match tuxedo pants and jackets. Most tuxedos also come with vests that button over the shirt or a cummerbund that wraps around the waist area. Cummerbunds and the bow or neckties that go with tuxedos often sport different shades than classic black to add some colourful contrast to the tux. The ideal suit for weddings, christenings, and other formal occasions, tuxedos make young boys look like little men with their sophisticated and handsome stylings.
---
How to Buy a Top 5 Suit on eBay
Finding boys' suits on eBay is simple. Just type the kind of suit you want into the Search bar found on any eBay page. Specify the brand you may desire, as well as whether you want a new suit or a
second hand suit
. This narrows the search results. Searching eBay Deals is another convenient way to find boys' suits. Deals are akin to one-day sales found in brick and mortar stores where items have special prices for a limited time. Buy a boy's suit and matching tie through an eBay Deal and potentially save money. Turn to eBay for all your clothing and wardrobe needs where affordability and one-stop shopping meet.