Athletes wear
sweats and hoodies
, both popular types of
athletic apparel
, during workouts, practices, and before and after competitions. Sweats and hoodies keep athletes cool, dry, and comfortable during vigorous activities. They also provide warmth and insulation when outdoors. Sweats and hoodies come in different brands, styles, materials, sizes, and colours. eBay and some retail clothing stores offer affordable, brand-name sweats and hoodies for athletes for all sports. Popular styles for athletes include Under Armour Storm fleece big logo hoodie, Adidas crew neck sweatshirt, Puma Golf V-neck pullover, Nike Athletic Department tracksuit sweats, and Jordan flight hoodie. Athletes typically select sweats and hoodies according to brand, style, material, comfort, and durability.
| | |
| --- | --- |
| 1 | Under Armour Storm Fleece Big Logo Hoodie |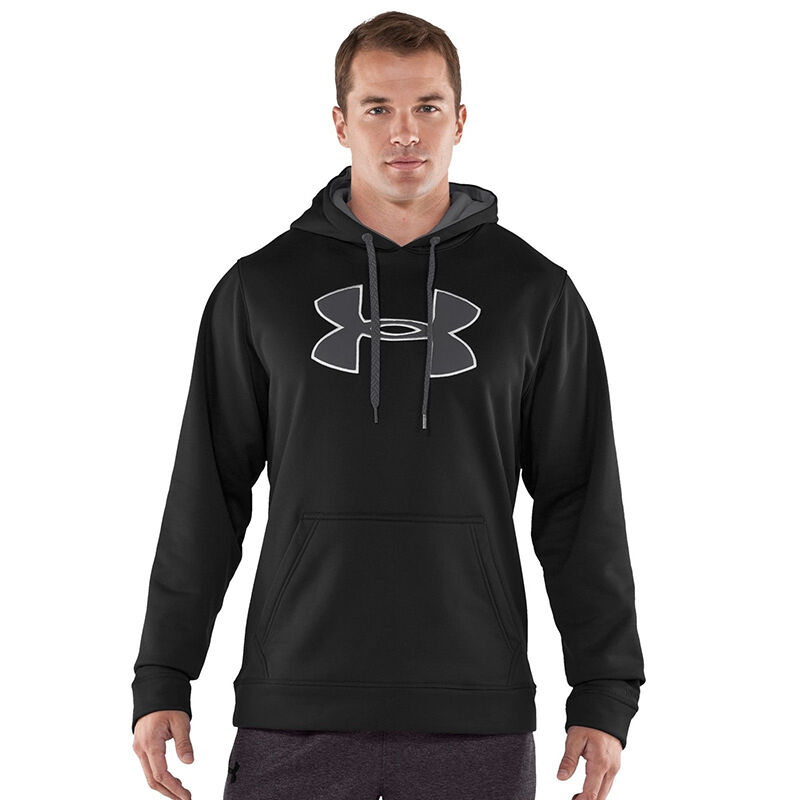 The Under Armour Storm fleece big logo hoodie outperforms the standard Under Armour cotton hoodie with its Under Armour Storm technology. The lightweight, breathable, fleece hoodie repels water to keep the athlete warm and dry. The loose-fitting style offers a three-piece hood and front kangaroo pocket for a comfortable fit. The front of the hoodie exhibits a large Under Armour logo. Choice of hoodie colours include true grey heather, carbon heather, black, taxi, midnight navy, Carolina blue, and moon shadow. The logo colour matches the hood's inner lining colour. Sizes include S, M, L, XL, XXL, and XXXL.
---
| | |
| --- | --- |
| 2 | Adidas Crew Neck Sweatshirt |
The Adidas crew neck sweatshirt comes in various styles. The original black crew neck fleece sweatshirt represents the classic Adidas sweatshirt with the Adidas logo on the left side of the chest and three horizontal stripes on the sleeves. The cotton crew neck sweatshirt exhibits the Adidas logo, two zippered side front pockets, and a felt number 72 on the right arm. Colours include white with collegiate royal blue and dark grey heather with medium grey heather. The graphic cotton crew neck sweatshirt reveals a large Adidas logo graphic on the front of the sweatshirt. Colours include grey heather and true blue. Sizes for all styles include S, M, L, and XL.
---
| | |
| --- | --- |
| 3 | Puma Golf V-Neck Pullover |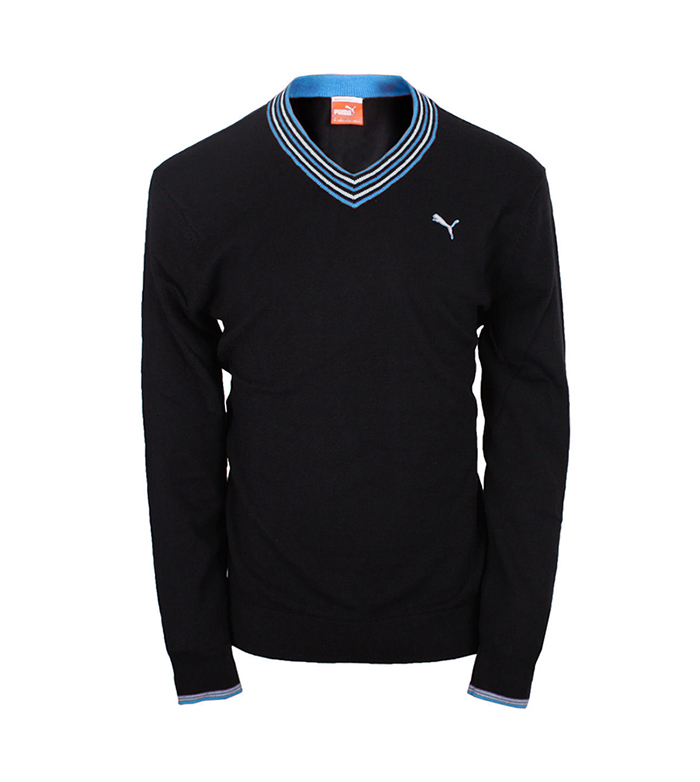 The Puma Golf V-neck pullover offers breathable cotton and Merino wool fabrics to provide comfort, style, durability, and warmth on the golf course. The long-sleeved pullover includes the Puma logo on the front left side with the Puma Golf logo on the back below the neckline. The V-neckline and elastic cuffs offer alternating colour stripes while the fitted waist provides a tailored appearance. Sizes include S, M, L, XL, and XXL.
---
| | |
| --- | --- |
| 4 | Nike Athletic Department Tracksuit Sweats |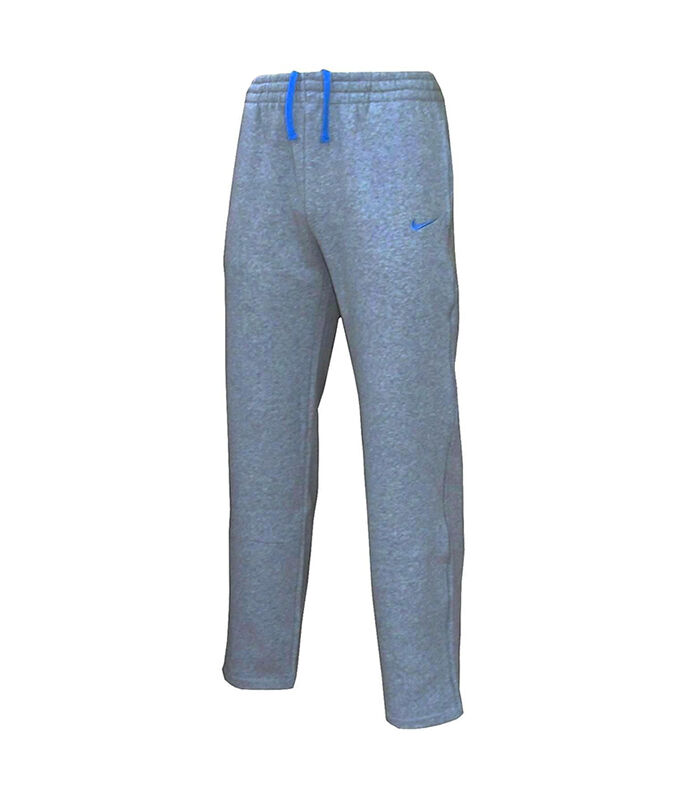 The Nike Athletic Department tracksuit sweats provide a warm, cotton, or fleece tracksuit for running or jogging. Two side-slit leg pockets and a back pocket hold small items. The coloured side drawstring and cuffed hems ensure a snug fit. Some styles offer open hems. The Nike logo appears on the top left leg with the Nike Athletic Department logo above the back pocket. Colours include black with red and light grey with blue. Another popular style offers black mesh, breathable side-leg panels with the ATHDPT logo, a zippered side pocket, and elastic cuffs. Sizes include S, M, L, and XL.
---
| | |
| --- | --- |
| 5 | Nike Air Jordan Flight Hoodie |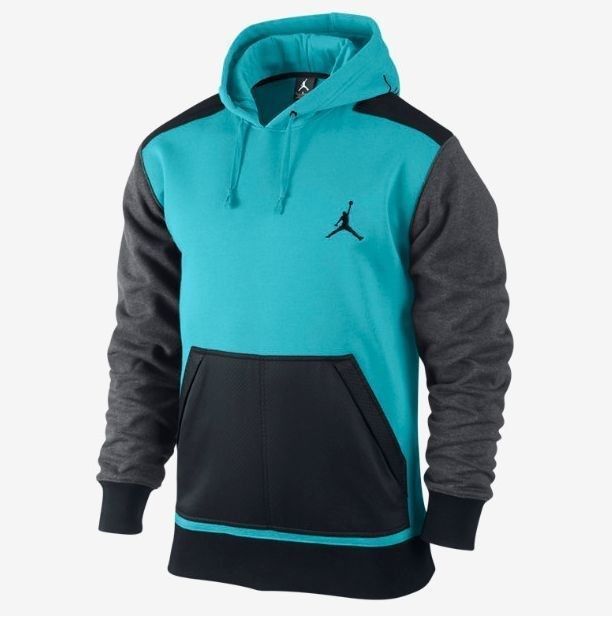 The Nike Air Jordan flight hoodie offers a cotton pullover hoodie for athletic practices and competitions with the flight and jump man logos on the front of the hoodie and the Air Jordan logo on the arm. A front pocket holds small items. Colours include royal, black, and team orange. Another popular style features a full-zip. The lightweight, Therma-FIT fleece hoodie provides warmth and insulation during outdoor practices. A front kangaroo pocket, loose sleeves, and breathable, mesh-lined hood offer comfort and durability. The hoodie's front left side exhibits the signature logo. Colours include dark grey with varsity maize and white, black with gym red and white, and gamma blue with white and black. Hoodie sizes for all styles include S, M, L, XL, XXL, and XXXL.
---
How to Buy Sweats and Hoodies for Athletes on eBay
Buyers can conveniently search for sweats and hoodies from any eBay page by entering keywords into the search bar. Another search option includes browsing categories that contain sweats and hoodies. The site offers a wide variety of popular brands of sweats and hoodies for athletes, including styles made by Under Armour, Adidas, Puma, Nike Athletic Department, and Nike Air Jordan. The selection on the site is typically extensive. eBay also offers great daily deals on men's and women's fashions. Athletes can easily search the deals for sweats and hoodies that offer comfort and durability at great prices.