Getting married is every woman's chance to be a princess for a day. Young girls dream of their perfect wedding day, planning every little detail from their wedding dress and their jewellery to the flower arrangements. That is why, when the big day finally comes, many women are anxious to live that dream, complete with a tiara on top. Luckily, there are several different types of
tiaras
available for weddings which match different style senses and fulfill different needs. Learning about each of these tiaras before commencing the shopping process allows brides to consider their particular needs, style, and budget before falling in love with a particular piece.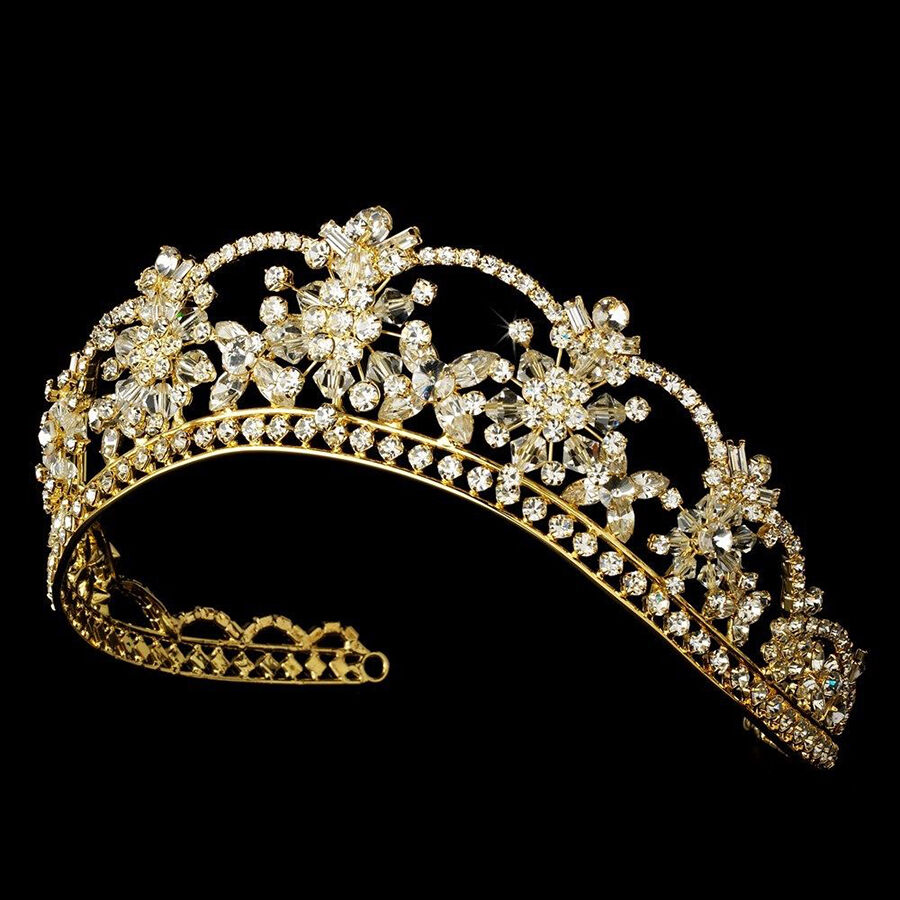 The golden crown perhaps best symbolises the regal, princess-like look that many brides crave. And, while the heavy pieces on display in the Tower of London are clearly off limits, the variety of gold accents in bridal tiaras leave women with many options. Most gold tiaras use gold leaf rather than the actual precious metal to lower cost as well as the weight of the final objects. In addition, many wedding tiaras accent the gold look with a variety of rhinestones and/or crystals of different colours ideal for those looking to coordinate their tiaras with other wedding accents.
---
| | |
| --- | --- |
| 2 | Crystal Flower Bridal Tiara |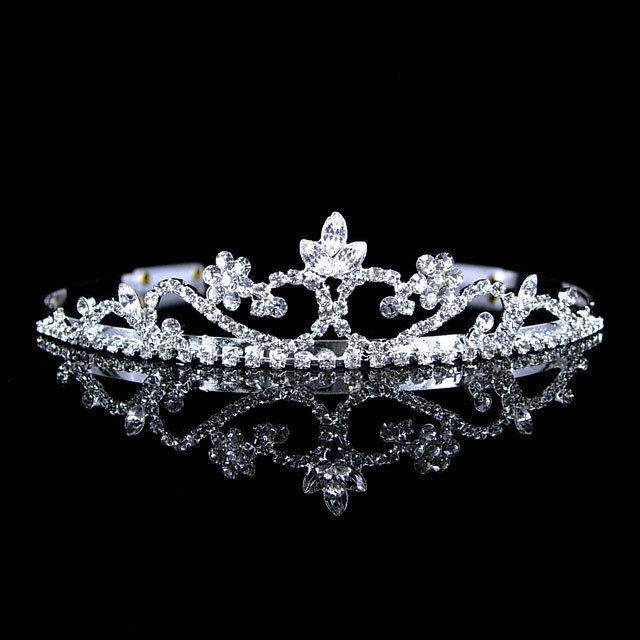 The use of floral decoration accented with crystals is popular among bridal tiaras because the delicate look of flowers and leaves creates a simple, yet noticeable sparkle. Popularised by companies such as Princess Bride Tiaras, an American company which ships extensively to the United Kingdom, brides looking for crystal flower tiaras have a lot to consider since they come in both gold and silver finishes, and as headbands as well as traditional 'halos'. Also popular within this type of tiara are pearl or pearl-like accents which contrast with the glimmer of the crystal and provide a more old-fashioned, timeless look.
---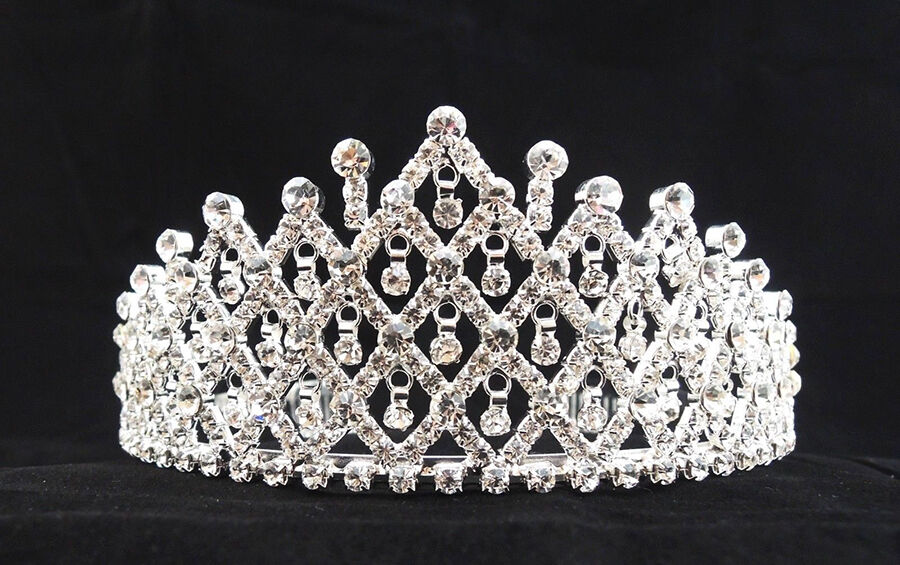 Unlike the delicate nature of crystal and the elegance of gold, a full stone tiara makes a clear statement. Characterised by one or more large stones, either real or crystal, in the crown of the piece, stone tiaras are a more daring fashion statement. Many women like the look that the large stones provide, allowing them to more accurately coordinate colours with other members of the wedding party, for example, matching bridesmaids' dresses. In addition, the full stones really accentuate the princess-like nature of a bride on her special day in the sense that these full stones more closely resemble the Queen's own jewels.
---
| | |
| --- | --- |
| 4 | Rhinestone Crown Headband |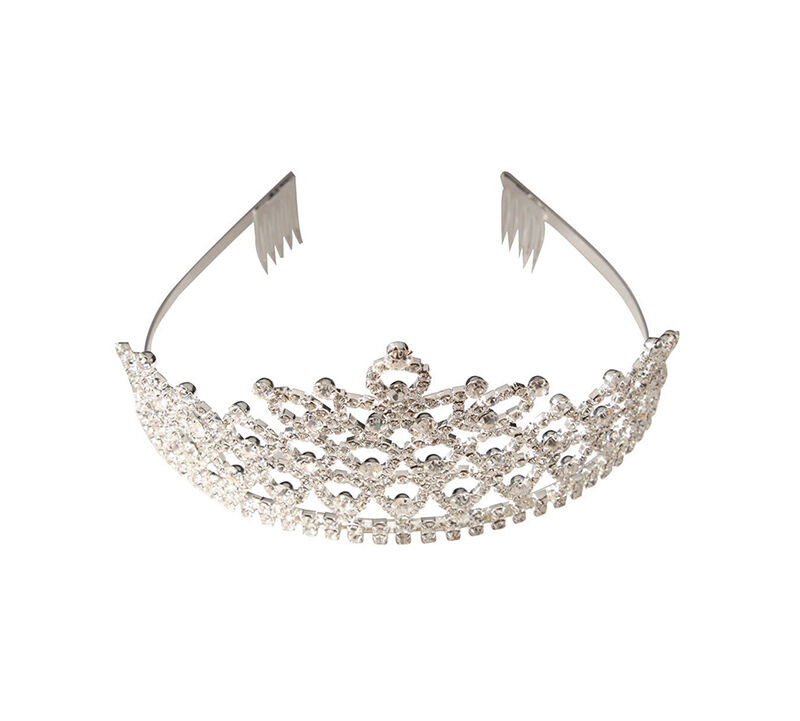 The term rhinestone crown headband encompasses a lot of options when it comes to bridal wear. This is because the term rhinestone is far more accommodating than crystal since it refers to any gemstone mock-up made of crystal, glass, or even acrylic. In general, acrylic rhinestones are the cheapest, imitation gems available, which classify a rhinestone headband among the least expensive options on this list, and therefore a great choice for brides on a budget. Depending on the quality of the rhinestones, the 'glimmer factor' may change, however. This means that brides who want the diamond-like effect of tiaras are better off with crystal, or even more specifically, Swarovski crystal in their tiaras.
---
| | |
| --- | --- |
| 5 | Kate Middleton-Inspired Tiara |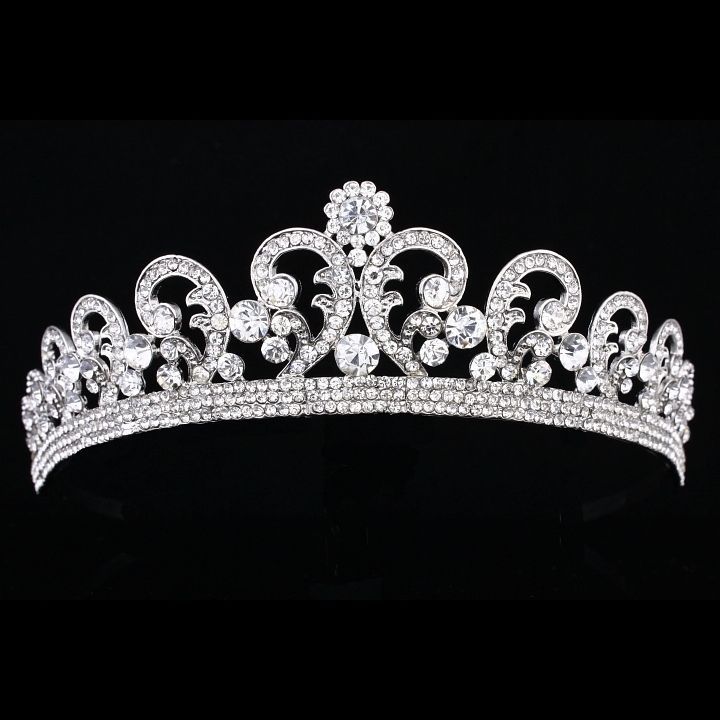 If the goal on the wedding day is to act like a princess, then it makes sense to use an actual princess for inspiration. When Kate Middleton wed Prince William on 29 April 2011, the world paid close attention to her fashion choices, especially the Cartier 'halo-style' tiara lent to her by the Queen herself. King George VI purchased this beautiful diamond-encrusted heirloom for the Queen Mother in 1936. She then gifted it to the Queen upon her 18th birthday. With such a beautiful story and beautiful women attached to the style, the Kate Middleton-inspired tiara perfectly fits into a fairy tale wedding. Brides completely recreate the Duchess' look with similar wedding dresses, or merely use this subtle addition as homage to the Royal Family. Many designers specifically market the Kate Middleton-inspired tiara and many artisans hand-produce crystal versions of it.
---
How to Buy Tiaras for Weddings on eBay
Using eBay to shop for wedding tiaras saves buyers time and money. The site features every type of the top tiaras as well as a multitude of other wedding accessories such as wedding dresses, shoes, and materials to craft favours. Getting ready for a wedding is both the most exciting and stressful time for any woman. Most ladies want everything to be perfect from the wedding dress and flowers to the arrangement of their hair and the addition of a beautiful tiara. When looking for a tiara, taking time to learn about the options available before looking for a specific piece saves time and money, helping increase that excitement and decrease that stress just a little bit.