A quality
tonearm
is an absolute necessity for getting high quality audio from record players. However good the turntable is, without a quality tonearm, the audio suffers. Therefore, purchasing the best possible tonearm is a great investment for audiophiles and those who appreciate the sound and tone of vinyl music. Consumers should choose from among the top-rated tonearms in the world to get the best possible sound quality from their treasured vinyls. Shoppers must consider their budget and what features they require from their tonearm to make the right purchasing decision. eBay offers a wide variety of tonearms in new or used condition at great prices.
The Graham Phantom Supreme is the most highly prized tonearm in the world, offering exceptional quality and balance. The removeable armwand has a superior titanium construction for strength and durability. This armwand also provides superior damping for excellent audio quality. The removable wandarm design provides far better damping and balancing than fixed wandarm models. It also makes changing cartridges with two or more armtubes simple and straightforward. It offers absolute neutral balance and boasts no changes to tracking path or tracking force when the height of the tonearm changes. The Graham Phantom Supreme provides absolute true vertical pivoting for the stylus tip major axis. This allows consumers to play warped records while still achieving good sound quality. This is impossible on most other wandarm models. The Graham Phantom Supreme uses top quality ball bearings and cutting edge technology to provide an anti-skating feature, preventing the stylus skipping and damaging the surface of the vinyl.
---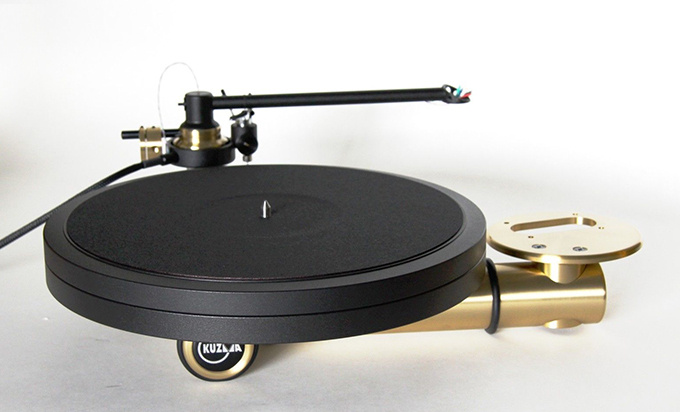 The Kuzuma Stogi S is a high quality 9-inch tonearm offering a uni-pivot bearing for optimal versatility and playback, even with damaged vinyls. It has a solid block, round, aluminium head shell with a solid brass base. This provides unsurpassed tonearm stability and absorbs all shock and vibration, offering optimal control and exquisite audio quality. All parts of the tonearm have a solid metal construction with top quality welds and fixtures, providing maximum damping and preventing resonance to enhance the audio quality. The pivot point sits in a lubricated oil well. This provides low friction, reducing the possibility of damage to the vinyl and significantly reduces vibration for better audio control. With vinyl-level bearing height, the Kuzuma Stogi S offers optimal tracking and has a silicone damping to control cartridge resonance and stability. It has a precision counter-weight with a small screw that allows for fine adjustments, giving consumers greater control.
---
The Kuzuna Air Line tonearm is a linear tangential tonearm with air bearings, significantly reducing movement friction and providing a rigid bearing, limiting the likelihood of damage to the vinyl and providing superior playback. Because of the air bearing system, the cartridge sits in the same position as the cutting head for accurate control. The Kuzuma Air Line has an aluminium construction that effectively dampens vibration for better control and audio quality. If offers easy precision adjustment for consumers of all skill levels. The air bearing system is of the highest quality, offering near-frictionless movement and precision placement and control. It also maintains the cartridge and stylus, preventing the stylus from skipping out of the vinyl grooves during playback.
---
The Durand Talea tonearm has a huge dynamic bandwidth and provides a superior, natural tone. This popular tonearm is a fixed, unpivot model. Consumers can also choose to opt for a Durand Talea with a break-out box, making this a removable tonearm. This 10.3" tonearm has a traditional, high quality wooden construction. It also has an offset pivot point, allowing consumers to use it as a 9" tonearm for maximum versatility. The Durand Talea is the first tonearm that allows consumers to quickly and easily adjust the azimuth, even while listening to music, with precision.
---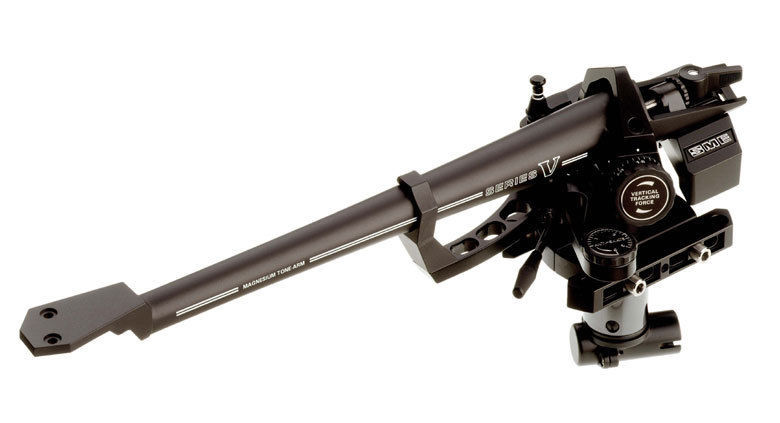 The SME Series V Tonearm is an incredibly popular tonearm as it makes no detectable sound when playing back vinyl. The tonearm pillar moves both horizontally and vertically. The movement is controlled by the presence of two horizontal jaws and two vertical slide-ways. It is a die cast tonearm, all of one piece, providing increased strength and durability. The one piece construction provides shock absorption and increased damping for better audio control and high quality sound. It also limits friction and resonance. It has a dual-lock base for increased rigidity and precision movement control. The tungsten alloy balance weight sits on two-point dampened suspension, providing the ability to play warped vinyls and receive reasonable sound quality.
---
How to Buy a Tonearm
Purchase a high quality tonearm with ease on eBay. Perform a simple search from the search bars found on every page to browse through the many results. Narrow your search by taking advantage of the search filters or entering specific information into the search bars such as tonearm make or model. A high quality tonearm produces superior audio quality and some offer enhanced pivot functionality to allow you to get quality audio from your warped or damaged vinyl. All popular models include anti-skate and precision control, preventing the stylus damaging the vinyl by skipping out of the grooves or applying too much friction.