Designed to fit the wearer's back pants pocket,
men's trifold wallets
feature three identically sized panels that fold in an overlapping fashion; each panel just large enough to carry credit cards in a vertical or horizontal configuration. There is typically also a back compartment, which provides storage for paper currency. Although most trifolds bear a similar looking exterior, the colour, material, and wallets' interior organisational design tend to vary across models, with credit card slots and plastic inserts ranging in numbers. When purchasing a men's trifold wallet at retailers such as eBay, buyers should familiarise themselves with the top five models as determined by reputable source reviews.
Produced by a popular clothing company, GUESS trifold wallets are both fashionable and functional. These wallets are available in several styles, colours, and materials, depending on one's preference. One of GUESS' most popular models, the GUESS Cruz, is made of lamb and sheepskin and holds up to eight cards in a vertical orientation for a sleek design. This high-end wallet also contains several clear windows for those who like to display photos of their loved ones or identification cards. The front of the wallet flaunts the company's inverted triangle logo, a symbol of status to many of its wearers. The company also manufactures the GUESS Trifold Passcase, ideal for those searching for a more casual wallet. The wallet itself is made of leather and comes in black or brown for an attractive look that offers both durability and comfort. Although making it a bit bulky, the wallet offers additional storage compartments for men who find that fitting all their cards into eight slots is simply undoable.
---
| | |
| --- | --- |
| 2 | Tommy Hilfiger Trifold Wallet |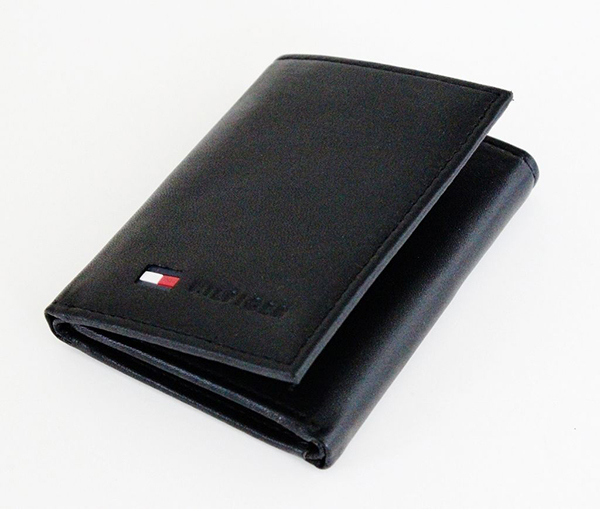 Tommy Hilfiger, a well-respected brand in terms of both clothing and accessories, carries a large line of men's trifold wallets. These wallets, which are made of cowhide, are available in black or brown. One popular model, the Cambridge Trifold, features a clear ID card holder as well as nine credit card slots and four hidden pockets for photos, business cards, and other lesser-used, yet still needed, items. The wallet also features two currency pockets to separate large and small denominations. Both the interior and exterior of the wallet bear the Tommy logo. Unique in style, the Cambridge Trifold wallet contains stitching in a contrasting light colour.
---
| | |
| --- | --- |
| 3 | Michael Kors Trifold Wallet |
Although initially tailored towards women, Michael Kors has expanded its demographic with the creation of a menswear line in 2002. Amongst its other accessories, the company produces a wide selection of men's trifold wallets, which range in material, colour, and card configuration. Wallet finishes range from smooth to rustic and from matte to shiny, making it easy for men to slide the wallet in and out of a pocket. With a leather exterior and polyester interior lining, Michael Kors trifold wallets offer great quality without the high price tag. Most come in black or brown and feature seven credit card display slots as well as four additional slots for bills, receipts, and pass key cards, making the wallet ideal for men looking for a slim fitting design.
---
| | |
| --- | --- |
| 4 | Calvin Klein Trifold Wallet |
Calvin Klein trifold wallets are ideal for men seeking a slim fitting design. With most containing six credit card slots, the wallet runs on the thinner side, helping minimise the unavoidable rear pocket imprint. Calvin Klein trifold wallets are prominently available in black; however, several models do come in brown.
---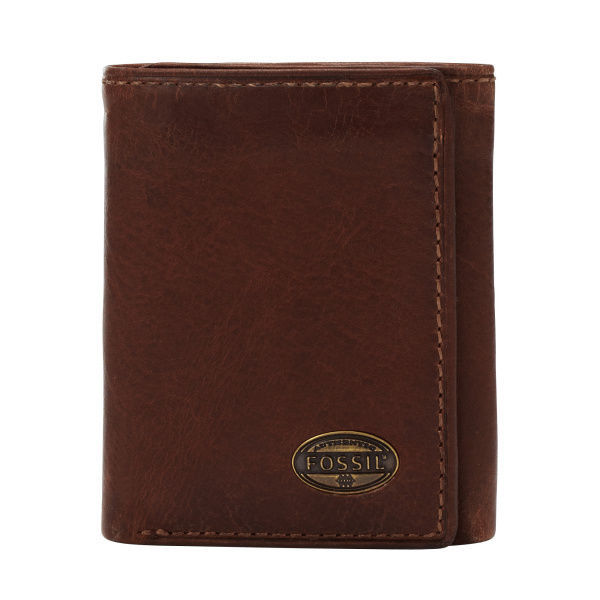 Established in 1984, Fossil's reputation amongst consumers has continued to pave the way to its popularity. Although the company seems to target a younger consumer base with its wide range of wallet designs and colour schemes, the mass appeal continues to remain steadfast. One of the most popular Fossil wallets, the Zip Trifold, holds up to ten cards and features two zippered compartments for securing both coins and paper currency. As such, the wallet runs on the thicker side, tending to work best with cargo pockets. The front of the wallet features a silver plaque logo which indicates the manufacturer.