Men's dress trousers
come in a wide array of colours, cuts, fabrics, and sizes. Well suited for office wear, each style offers its own unique advantages. As such, men should consider which trousers best tailor to their figure. It is also important to find trousers that pair well with one's existing wardrobe; this includes shirts and jackets as well as accessories, such as shoes and belts. People can find men's trousers at various brick-and-mortar retail shops; however, when shopping for the best deals, buyers should head to eBay. eBay offers a wide selection of men's trousers, many of which are top-rated for their superior quality and performance by reputable source reviews.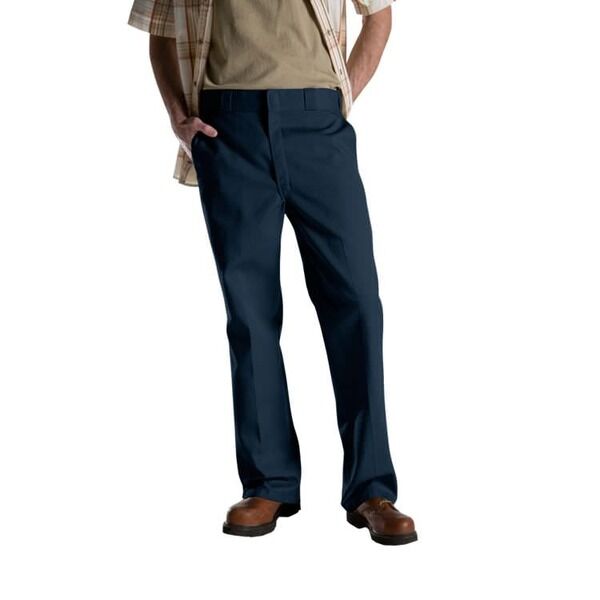 Dickies is a popular clothing manufacturer, widely recognised for its cutting-edge style and comfortable line of menswear. Its trousers, including the Original 874, hold up well over time and men appreciate them for their stain releasing ability. Resistant to wear and tear, including fraying and fading, they keep the wearer looking their best and are a great buy for men looking for durable office attire. The trousers are available in a wide array of colours and fit well with any man's wardrobe. Manufactured from a cotton polyester blend, the Dickies Original 874 trousers are wrinkle-resistant and machine washable for complete ease of care. The trousers feature a flat front, tunnel belt loops, and a sturdy lock stitched hem and permanent crease that creates a sharp, just pressed appearance.
---
| | |
| --- | --- |
| 2 | Haggar Smart Fibre Flat-Front Pants with Flex Waist |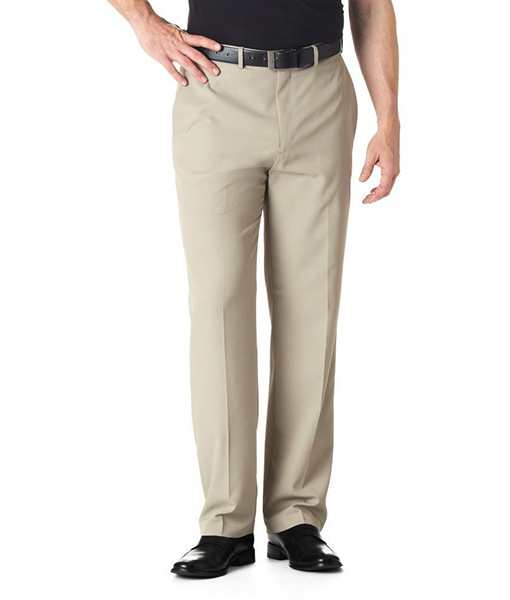 Haggar has been a leading clothing manufacturer since 1928. With an extensive line of menswear that tailors to the working class, the company has a reputation for producing high-quality trousers, such as the Smart Fibre Flat-Front pants, at a reasonable price. The Smart Fibre Flat-Front pants have an invisible flex waistband for complete comfort throughout the work day and are available in four colours: black, brown, navy, and taupe. Constructed of polyester, the trousers offer wearers a relaxed fit. Haggar's Smart Fibre Flat-Front trousers have two front pockets and two back pockets, belt loops, and an extended tab, zip closure. They also feature a permanent crease that eliminates the need for ironing. With a washable, wrinkle-resistant design, the trousers are sure to keep men looking their best until day's end.
---
| | |
| --- | --- |
| 3 | Dockers Alpha Khaki Slim Fit Pants |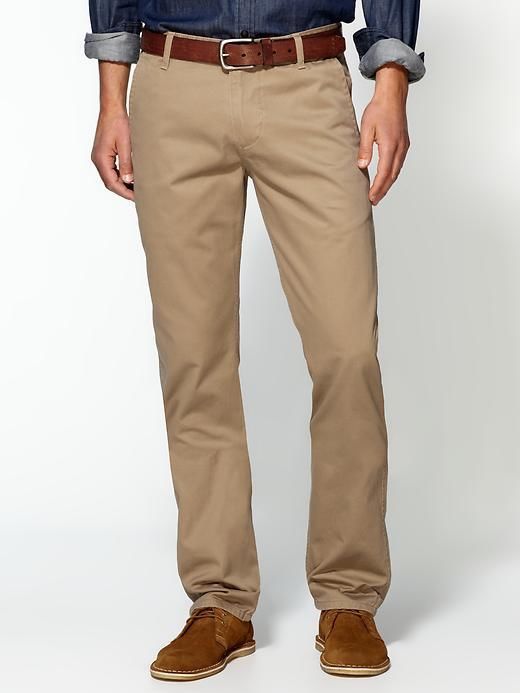 Dockers Alpha Khaki Slim Fit trousers are highly valued for their resistance to daily wear and tear. Well suited for work attire, the trousers offer a sleek look for men searching for a modern fit. Dockers manufactures them from 100 per cent cotton and contain a heavier stitching with reinforced seams. This heavier fabric construction, similar to that of denim, allows them to keep their shape for a more polished look. In addition to khaki, the trousers are available in a wide assortment of other colours, including light blue and multiple shades of browns and greys. Buyers should note that due to their slim fit, the Alpha Khaki Slim Fit pants run smaller in size than Dockers jeans.
---
| | |
| --- | --- |
| 4 | Hugo Boss Flat Front Trousers |
Hugo Boss manufactures a large line of modern menswear, including flat front trousers. These trousers, well suited for office wear, feature a zip fly, two side pockets, and two reverse pockets. Fabricated of 100 per cent cotton, the trousers are durable for long-lasting wear. Hugo Boss Flat Front trousers come in a wide assortment of colours for increased versatility.
---
| | |
| --- | --- |
| 5 | Farah Classic Flexiwaist Straight Men's Trousers |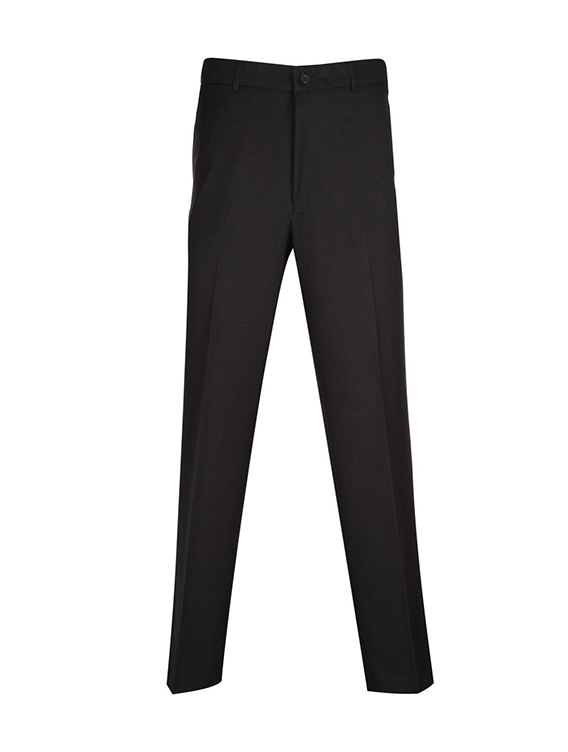 Farah has continued to gain worldwide recognition as a leading retailer in men's fashion. Considered to be a must-have label amongst fashion savvy shoppers, the clothing represents a sense of elitism. Farah's Classic Flexiwaist Straight men's trousers are flat fronted and have a zip fly, belt loops, two slanted side pockets, and a back pocket with a button closure. Constructed of 100 per cent polyester, the trousers feature an adjustable stretch waistband, which makes for a better fit and helps maximise wearer comfort.
---
How to Buy Men's Trousers for the Office on eBay
Men's trousers are available to purchase on eBay. Buyers simply need to navigate to the appropriate category by entering related keywords into the search bar. Alternatively, buyers who have a more specific idea about the type of trousers they require are free to use eBay's advanced search feature. This feature allows buyers to narrow results by price, condition, or distance from seller location. Buyers can also limit their search to that of top-rated sellers. Men's trousers come in a wide array of styles, each offering its own characteristics and features. It is important to find a pair that fits well, both in comfort and appearance, for the best office look.