The majority of consumers who purchase a computer for home use do so with the understanding that whichever features come with it are the only options available. In reality, there are many ways to improve the performance of a computer with only a few simple changes. Adding a new hard drive to a computer as a supplement to its factory installed drive can be an affordable way to drastically improve a computer's performance. In order to do this, it is necessary to install a
drive bay caddy
, in addition to the drive, itself. The following drive bay caddy styles are affordable, easy to install, and widely available.
| | |
| --- | --- |
| 1 | Optical Bay SATA to SATA Drive Bay Caddy |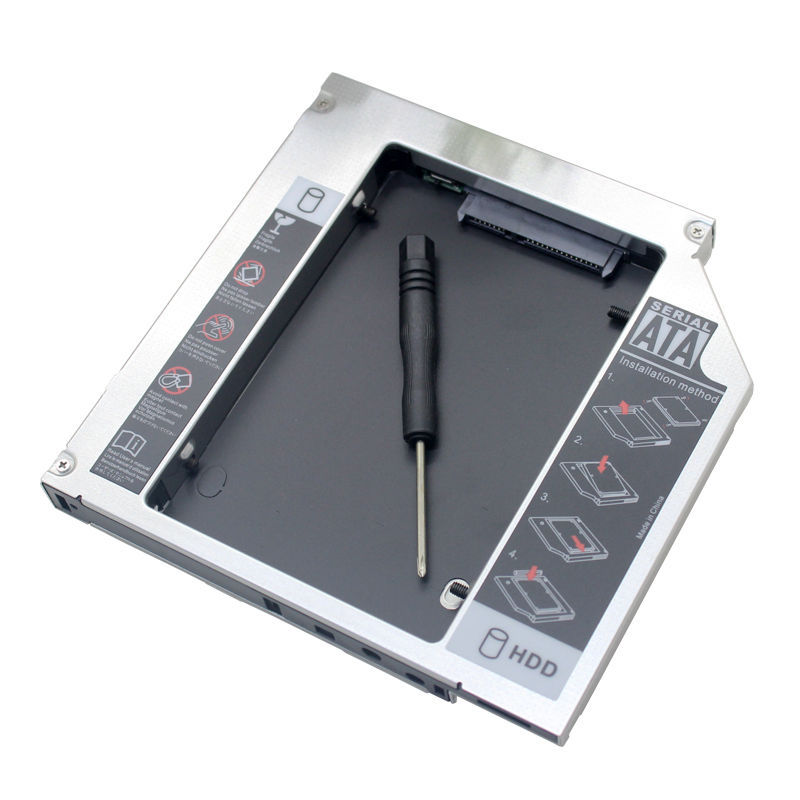 In the age of broadband Internet and streaming video, the optical bay on a laptop computer is increasingly obsolete. Therefore, an easy way to improve a laptop's performance and increase its storage capacity is to use the optical drive slot as a housing for another hard drive. Since the purpose of the optical drive is not to hold a hard drive, an optical bay SATA to SATA drive bay caddy provides a connection for the hard drive, while keeping the device securely in place. This type of drive bay caddy is appropriate for laptops with serial advanced technology attachment, or SATA hard drives. Consumers should ensure that the hard drive added to the laptop is compatible with this type of connection; otherwise, the drive bay cannot function properly. It is also important to choose an optical bay drive caddy that has the same measurements as the new hard drive so that all connections are snug and secure.
---
| | |
| --- | --- |
| 2 | 9.5 mm PATA to IDE Drive Bay Caddy |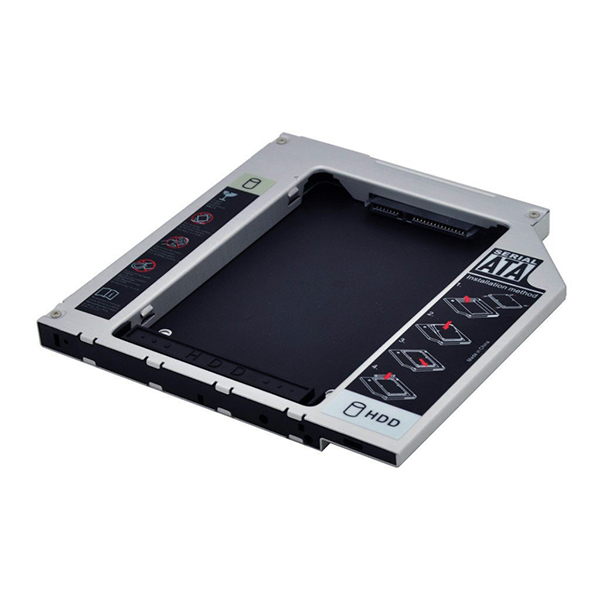 Not all laptop computers are equipped with the same type of hard drive. This is true for both the hard drive technology and the size. Instead of SATA, some laptops use a PATA hard drive, which stands for Parallel Advanced Technology Attachment. The 9.5 mm PATA to IDE drive bay caddy is compatible with this type of laptop. The additional hard drive must use IDE, or Integrated Drive Electronics technology. Keep in mind that the IDE label applies to different types of drives, and for some products, PATA and IDE are interchangeable. Consumers should be sure to check the packaging or product description on the drive bay caddy to ensure that it is compatible with the new hard drive. The 9.5 mm measurement is indicative of the size of hard drive that fits securely inside, not the size of the optical drive.
---
| | |
| --- | --- |
| 3 | SATA to IDE Drive Bay Caddy |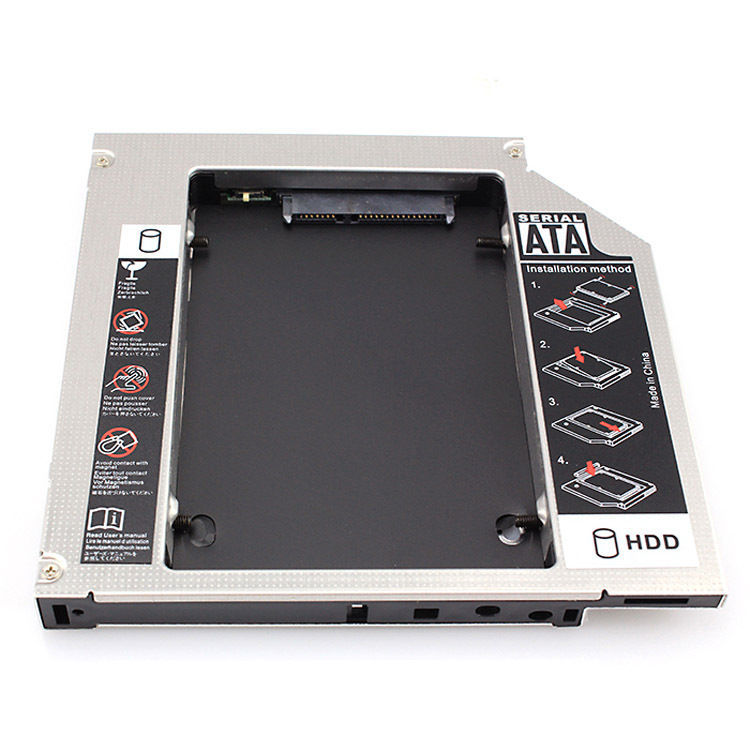 There are many opinions about whether SATA or IDE hard drives are the better value when it comes to computer technology. SATA technology is newer, but IDE can be much more affordable. Currently, more new computers use SATA technology, but IDE hard drives are still in use around the world. In order to take advantage of both types, users can purchase a SATA to IDE drive bay caddy and install an IDE hard drive in their computers that currently uses SATA.
---
| | |
| --- | --- |
| 4 | CD-ROM SATA to SATA Drive Bay Caddy |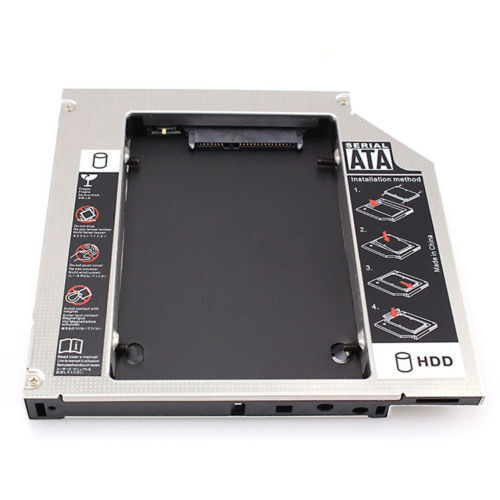 Laptop computers are not the only machines that may need supplemental hard drive space. Desktop computers can also benefit from replacing an unused drive slot with additional storage. Whether a desktop computer has a rarely used internal CD-ROM drive or even an empty slot where a CD-ROM drive could sit, a CD-ROM SATA to SATA drive bay caddy could easily replace the superfluous space. Users with a SATA-equipped computer who are happy with the drive's performance can simply add a hard drive caddy, fit with another SATA drive, into the CD-ROM space.
---
| | |
| --- | --- |
| 5 | Aluminium 12.7 mm SATA to SATA Drive Bay Caddy |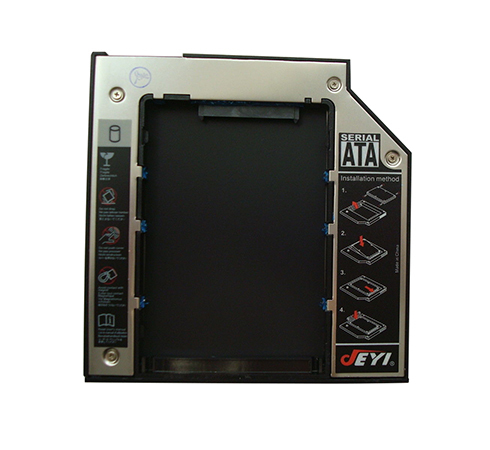 Although 9.5 mm hard drives are common as supplements to many laptop computers, some drives are larger and, therefore, need larger drive bay caddies. An aluminium 12.7 mm SATA to SATA drive bay caddy can still fit into a laptop's optical drive bay while securing an additional SATA hard drive with larger measurements. The aluminium construction means the drive bay caddy is lightweight and can insulate the computer parts surrounding the internal hard drive, which is a piece of hardware that is prone to giving off large amounts of heat.
---