Every man loves to wear a great pair of underwear. Men's underwear comes in a variety of styles, including
boxers
,
trunks
, and briefs. Men may also want to consider the special qualities of the underwear, such as whether they have built-in support for exercising or whether they help to keep the wearer warmer or cooler. Men should also determine what fabric the underwear is made of and choose the one that fits their needs the best. While each man may have his favourite style, buying from top-quality companies like Tommy Hilfiger, Calvin Klein, Emporio Armani, Hanes, and Zimmerli ensures he gets a great product.
| | |
| --- | --- |
| 1 | Tommy Hilfiger Stripe Knit Boxers |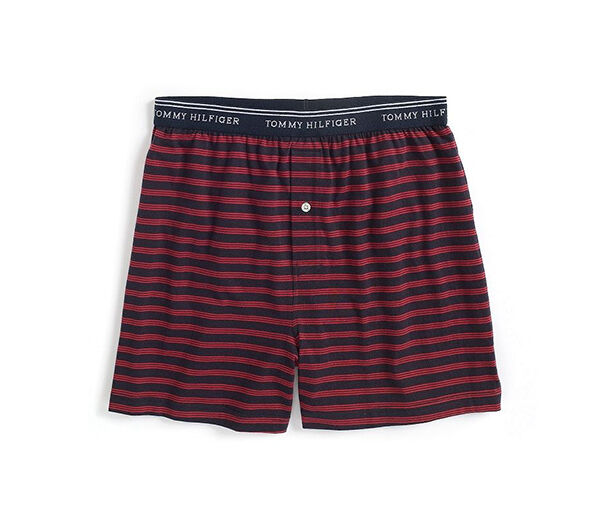 Tommy Hilfiger's stripe knit boxer comes in two colour choices: navy with a narrow red stripe, and green with a narrow blue stripe. Hilfiger chose 100 per cent cotton to make this underwear. The cotton fabric helps wick moisture away from the man's body and helps him stay comfortable all day. Tommy Hilfiger boxers feature a wide elastic waistband, and a placket on the boxer contains a single white button. A triangle sewn at the bottom of the placket helps ensure that it lies correctly and does not tear easily. The underwear features double stitching to ensure it lasts a long time.
---
| | |
| --- | --- |
| 2 | Calvin Klein Athletic Trunk |
Calvin Klein's athletic trunk comes in three colour combinations: black with grey stitching, deep ultra-marine blue with blue stitching, and spear grey with black stitching. The fabric in the body of these athletic trunks comprises 87 per cent nylon and 13 per cent spandex, while the mesh features 85 per cent nylon and 16 per cent elastane. The fabric in this Calvin Klein underwear style helps move moisture away from the man's body. A line of stitching that starts at the mid-front of the bottom leg and continues to the middle of the side seams on each side helps the trunks remain flexible. The uniquely designed contour fly also helps to increase the trunk's flexibility. Designed to fit tight against the man's body, these trunks end at the upper thigh.
---
Emporio Armani boxers are available in three colour combinations: white with a black waistband and a grey waistband, black with a green waistband and a grey waistband, and dark blue with a lighter blue and a grey waistband. The addition of the second strip at the waist helps to ensure that the fabric lies smoother against the man's body and stops the underwear from rolling up. The body of these boxers features 95 per cent cotton and 5 per cent elastane. The cotton fabric ensures that moisture stays away from the man's body, keeping him cooler, while the elastane helps to ensure that the underwear moves as the man moves. The Emporio Armani boxer stops at the upper thigh. These boxers are available in sizes small to extra-large.
---
| | |
| --- | --- |
| 4 | Hanes Ultimate X-Temp Boxer Brief |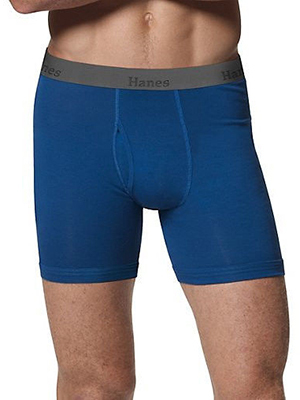 Hanes X-Temp boxer briefs are available in several colours from size small to 5XL. Therefore, these Hanes briefs fit men with a 71-cm waist up to a 147-cm waist. The briefs come in 100 per cent waffle-knit cotton fabric for extra softness. Designers at Hanes use the patented X-Temp technology to make this underwear. This technology allows the underwear to keep the wearer warm or cool, depending on the environment. In addition, Hanes made these briefs with a leg band to help ensure they stay down.
---
| | |
| --- | --- |
| 5 | Zimmerli Silk Woven Boxer Shorts |
Made of 100 per cent silk, the Zimmerli woven silk boxer shorts offer outstanding quality to the wearer. The underwear features two buttons at the top, and a hidden button on the fly. All buttons are mother of pearl. Zimmerli shorts end at the upper thigh and feature a waistband made of elastic covered in fabric. These are the only underwear made in Switzerland. Buyers find these in white, blue, navy, charcoal, and a variety of prints. The underwear comes in size small to 3XL. In addition, buyers can choose to have their Zimmerli boxers monogrammed with DMC floss by hand.
---
How to Buy Men's Underwear
Buyers find many choices in men's underwear on eBay. Just go to any eBay page and enter "men's underwear" in the conveniently located search box. Alternatively, buyers can choose to enter the brand of underwear, such as " Hanes" or "Tommy Hilfiger", into the search box. Once possible choices appear, make sure to consider those offered by top-rated sellers. These sellers have worked hard in the past to earn this reputation, and it may be an indication of their performance on your sale. Before purchasing men's underwear, make sure to consider these top selections.