Unitards are leotards which provide more coverage than traditional dance leotards. Unitards cover the whole body, including the arms and legs, or they provide coverage to the knees. Unitards, called catsuits, offer a variety of styles, such as tank designs, scoop neck types, or halter varieties. For child dancers, unitards function well as performance costumes or rehearsal garments. Unitards come in many colours and textures, including matte black unitards, shimmery purple options, or costumes created with a multicoloured look. Parents purchasing unitards for their children consider some of the top brands and styles before deciding on the right dance unitards for their specific needs.
| | |
| --- | --- |
| 1 | Katz Shiny Lycra Unitard |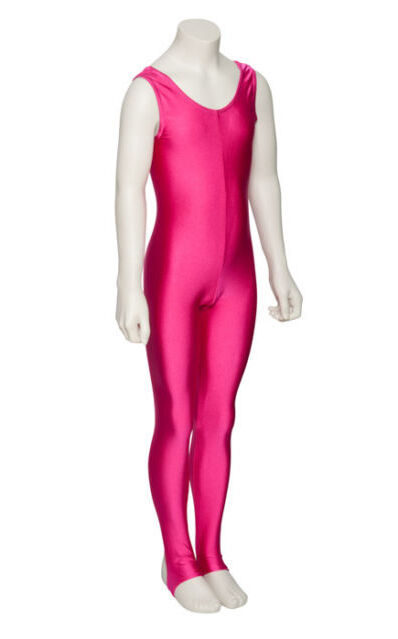 Well-known dance brand Katz offers dancers the glitter and glitz of the shiny Lycra unitard. The tank-style Lycra catsuit comes in two designs. The suit is available in a sleeveless style and a long-sleeved, scoop neck style. The unitards come in many colours, including pink, black, green, purple, and blue. The catsuits have stirrup legs to ensure a secure fit, and the sleek, glossy Lycra suits are handmade for high quality. Easily layered with wrap skirts, tutus, or jackets, the shiny fabric is perfect for performances and makes a stylish dance ensemble. Unitards work for dancers, gymnasts, jazz dancers, and tap performers. The versatile catsuit is the perfect addition to a fancy dress costume, and the nylon Lycra blend is comfortable and flexible.
---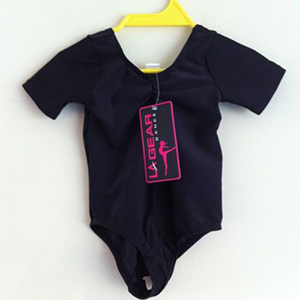 Contemporary dance brand LA Gear offers child dancers basic but essential unitards. Perfect for practice, the LA Gear dance unitard comes in a sleeveless style with stirrup feet. Made of the softest nylon and polyester fabric blend, the easy-care, machine washable catsuit offers a bit of stretch for the best fit. The unitard comes in a few necessary shades, such as black and pink. LA Gear unitards work for all types of dancers, including beginning ballerinas or gymnasts. The affordable unitards feature ruched gathers in the front, and the all-in-one design is perfect for girls of all ages to easily slip into for a smooth, flexible fit.
---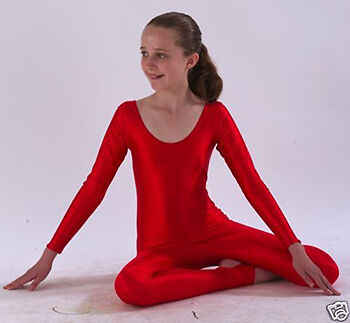 Stylish dance brand Adagio offers a shiny catsuit made of stretchy Lycra fabric. An eye-catching suit for performances, the unitard features a nylon Lycra blend and comes in many sizes from infants to maid sizes for young teens. The Adagio Lycra catsuit offers two options, including a sleeveless version and a long-sleeved, scoop neck design. The Adagio catsuit is available in several colours, including red, black, silver, purple, and burgundy. Adagio unitards feature stirrups around the feet, and Adagio creates top-quality dancewear perfect for jazz, drama, costume purposes, or rehearsals. The catsuits pair well with Adagio dance skirts. Another reason to purchase Adagio unitards is that they are unisex.
---
| | |
| --- | --- |
| 4 | Arabesque Crushed Velvet Catsuit |
Known for its theatrical and dramatic dancewear, Arabesque makes the perfect fancy catsuit for children to wear for performance purposes. The Arabesque crushed velvet catsuit comes in two different designs. One style offers a polo neck top with a unique keyhole back. The sleeveless design comes in rich, crushed black velvet for a formal and elegant look. The second option is the camisole top catsuit which extends to the ankles. There are no stirrups in either style of unitard.
---
| | |
| --- | --- |
| 5 | Roch Valley Girl's Catsuit |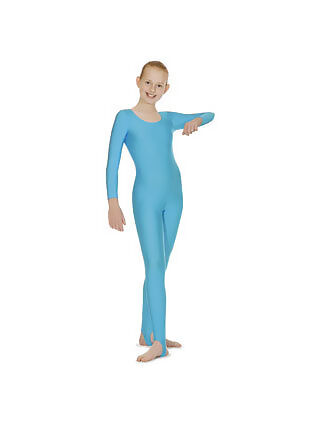 A basic dancewear essential created with quality in mind, the Roch Valley girl's catsuit offers several versatile shades like purple, blue, red, black, white, and green. Consumers choose from two styles, including a sleeveless design with front gathers and a long-sleeved design with a scoop neck top. Both versions have stirrup feet, and the nylon and Lycra blend offers shimmer and stretch in a basic but comfortable catsuit. Roch Valley catsuits complement matching Roch Valley Lycra skirts for a perfect performance ensemble. Roch Valley unitards offer durability and an extensive range of sizes and colours for children of all ages, including toddlers up to teenage sizes.
---
How to Buy Unitards for Child Dancers on eBay
Check for great deals on dancewear for your child, including unitards or catsuits on eBay. Search for well-known dance brands like Roch Valley and then narrow your search by size, colour, or new or used. Purchase dancewear from Top-rated sellers for the most satisfying experience, and do not forget to leave feedback for the buyer once you have received your items. For dancers both beginning and experienced, comfortable dancewear is imperative. Unitards work well for base pieces when it comes to layering for rehearsals or performances, and they are comfortable and supportive enough for all-day practice sessions. A unitard flexes with your child for a perfect fit, and the stirrups keep the garment in place during dance sessions.