Universal battery chargers
are used to charge nickel cadmium, nickel metal hydride, lithium ion, and lithium ion polymer rechargeable batteries. Equipped with various features and functions, they are designed for quick and easy charging whether at home or on the go. Not only are they a great way to reduce cost spendings, but they are also environmentally friendly. When purchasing a universal battery charger at retailers such as eBay, consumers should consider the top five models as concluded by reputable source reviews and familiarise themselves with the different aspects of each in order to determine which type is most compatible with their electronic gadgets.
| | |
| --- | --- |
| 1 | La Crosse Technology BC-700 Alpha Power Battery Charger |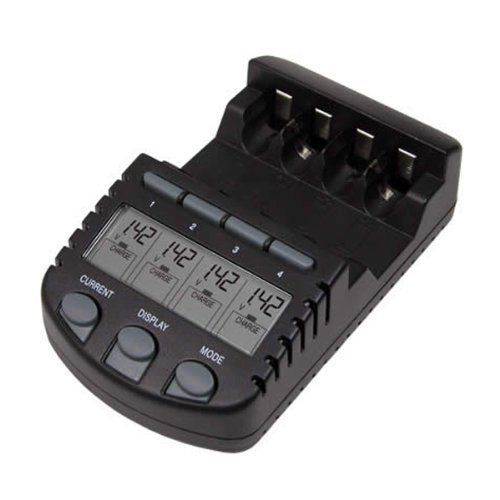 The La Crosse Technology BC-700 Alpha Power Battery Charger is compatible with nickel cadmium and nickel metal hydride AA and AAA rechargeable batteries and features four different operating modes: charge, discharge, refresh, and test (displays the battery capacity). While the discharge mode reduces memory effect by discharging the battery completely, the refresh mode discharges and recharges up to 20 cycles or until the battery is refreshed to full capacity for more efficient use. Versatile in nature, the electronic device can charge both AA and AAA batteries simultaneously. Although the charger automatically defaults to a 200 milliamp charge to prolong the life of the battery, users can override the setting and increase milliamps to 500 or 700 for faster charging times. With four separate LCD displays that indicate charging completion and the ability to charge up to four rechargeable batteries at one time, the La Crosse Technology BC-700 Alpha Power Battery Charger is anything but short on features. For added safety, the charge contains an overheat detection system to prevent overcharging. It also refrains from charging defective batteries by monitoring battery polarity and temperature.
---
| | |
| --- | --- |
| 2 | Energizer CHP4Wb4 Recharge Smart Charger |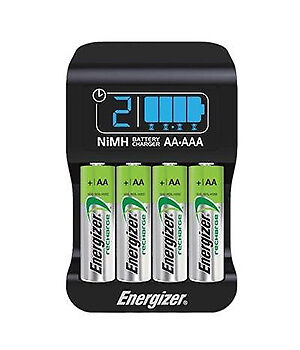 The Energizer CHP4Wb4 Recharge Smart Charger can charge two or four AA or AAA nickel metal hydride rechargeable batteries simultaneously. Energy Star certified, the charger features a countdown timer which indicates charge status as well as a bad battery alert which detects and shuts off charging when a non nickel metal hydride or old nickel metal hydride battery is inserted. The unit charges batteries at a safe, steady rate, helping to improve the long term health and life of the battery; the total charging process typically takes a maximum of four hours. Its compact design makes it ideal for on-the-go use.
---
| | |
| --- | --- |
| 3 | C. Crane Solar 11-in-1 Battery Charger |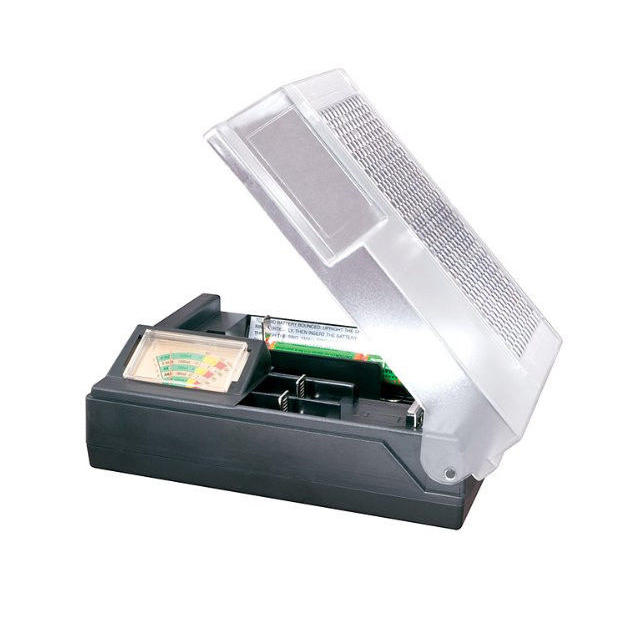 Manufactured by C. Crane, the Solar 11-in-1 Battery Charger is ideal for those who find themselves without a traditional power source. Whether camping, hiking, or on the open water, the charge efficiently charges D, C, AA, AAA, and seven varieties of Prismatic batteries using the sun as its source of solar power. For optimal sunlight exposure, the unit features a weather resistant adjustable top lid and bottom stand. Widely recognised for both its versatility and portability, the charger can charge two batteries of the same type and size simultaneously. Charged at an approximate rate of 150 mAh, the unit contains a blocking diode to prevent discharge during storage. The charger also features a built in meter that estimates the amount of time until complete charge, the strength of the sun, and the strength of the current output from the solar panel.
---
| | |
| --- | --- |
| 4 | Anker Multi-Purpose Universal Rapid Cell Phone Battery Charger |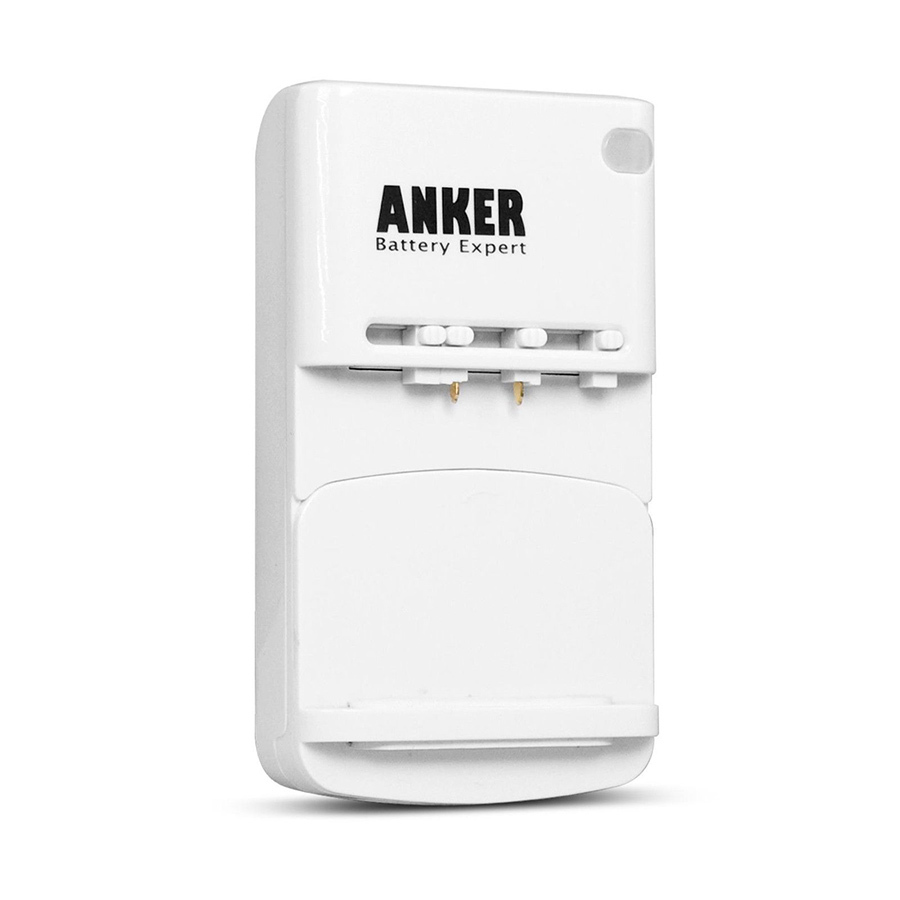 The Anker Multi-Purpose Universal Rapid Cell Phone Battery Charger iis well known for its compatibility across cell phone models. The unit features an adjustable dock that fits over 90 per cent of single cell lithium batteries. It also features an added USB port that allows for cell phone charging; up to two different batteries can be charged simultaneously when the dock and USB port are used in sync. For added versatility and portability, users can charge their battery from any wall outlet or powered USB port. Depending on the specific battery model, charge time can fluctuate up to three hours. Automatic detection of polarity eases battery placement and orientation, while the unit registers when the battery is full and stops charging. The Anker Multi-Purpose Universal Rapid Cell Phone Battery Charger features an LED light which indicates the charging status.
---
| | |
| --- | --- |
| 5 | Tenergy T-1199B Universal 4 Bay Charger |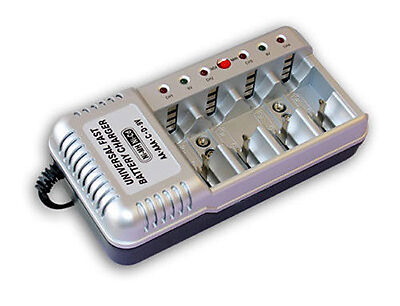 Renowned amongst consumers for both its versatility and durability, the Tenergy T-1199B Universal 4 Bay Charger has the ability to charge up to four AA, AAA, C, and D nickel metal hydride and nickel cadmium rechargeable batteries or up to two 9-volt batteries simultaneously. The charger automatically adjusts its charging current to account for the size of the inserted battery for added safety measure. Other noteworthy features include an LED lamp to indicate proper charging, and built-in IC timer control to ensure that the batteries are not overcharged, therefore, preventing overheating.
---
How to Buy a Universal Battery Charger
If you want to buy a universal battery charger on eBay, it is easiest to start browsing by typing "universal battery charger" into the search box at the top of every eBay page. If you have a specific idea as to what kind of universal battery charger you desire, you can also include these keywords in your search. You should pay close attention to the details in the item listing and ask the seller in case you have any queries about the charger. By choosing top-rated sellers with positive feedback and high ratings, you can be sure that you are getting the best service.