enhance laptop functionality by providing portability. The benefits of docking stations include ease of use, improved ergonomic form, and the capability to operate multiple devices at once. Laptop users who must operate several electronic devices at one time should consider docking stations that include at least four ports. Consumers can find a wide variety of name brand docking stations on one of the leading ecommerce sites, eBay. Before buyers go on eBay to search for docking stations, they should first learn about docking station ports and the four types of docking stations, as well as review the top five laptop docking stations.
| | |
| --- | --- |
| 1 | ASUS Universal Docking Station |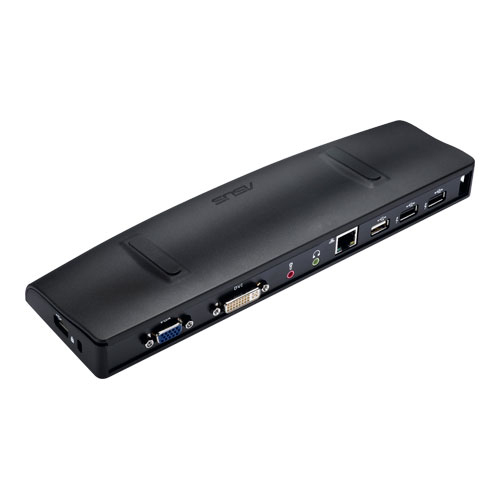 Achieve maximum expandability with just a single plug with the ASUS Universal Docking Station.. Compatible with both Windows and Mac operating systems, this docking station has ergonomics in mind, so it provides comfortable and supportive typing. The raised platform design helps keep the unit running cool.
From just a single USB port plug, the ASUS docking station expands any notebook: An additional VGA port allows for connection to a secondary monitor or television, while additional USB 2.0 ports open up room for a multitude of devices from external hard drives to webcams, joysticks, and wireless hardware. The high power USB ports even charge devices quickly and effectively. The ASUS Universal Docking Station also provides connectivity expansion in the form of an additional audio jack, and extra mic port, and one more broadband Ethernet port that split, extend, and even share.
---
| | |
| --- | --- |
| 2 | Toshiba Dynadock Universal Docking Station |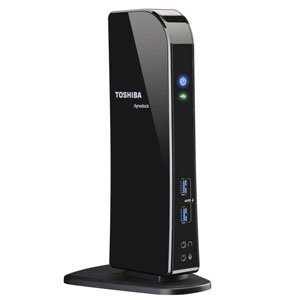 Connected through a simple USB port plug, the Toshiba Dynadock Universal Docking Station makes it possible to not only expand virtually any laptop with a Windows operating system into a fully functioning desktop computer, but makes it possible to dock notebooks previously built to be undockable.
Reduced cable clutter drastically by using a Dynadock Docking Station to connect all of your external hardware and devices, from additional speakers and monitors to scanners, Bluetooth devices, and more. When it is time to take the laptop on the go, unplugging one port is all it takes. Play games and stream videos with ease, and enjoy clear, brilliant Full HD for photos and CAD files.
---
| | |
| --- | --- |
| 3 | Targus Universal Docking Station |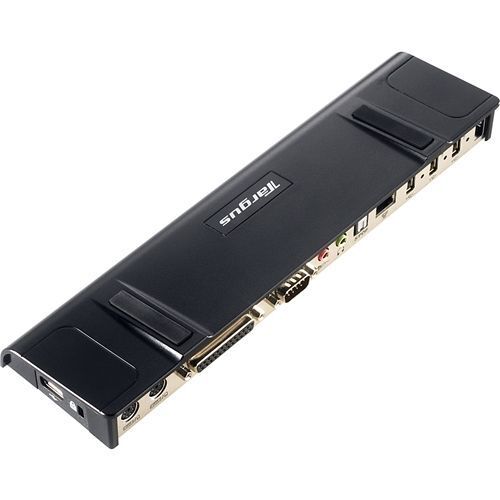 The Targus Universal Docking Station with video is a simple to use, the one plug model connects to any laptop or notebook through just one USB port. This docking station requires no additional cable or connector for the addition of an LCD or monitor; simply plug and play directly from the docking station. The raised platform design enables convection cooling and keeps the station from overheating.
Double spaced USB ports make room for larger plugs and adapters. Docking station ports remain connected and powered even removal of the laptop, so charging hardware and wireless devices is a breeze. What is more, there is never any need to reboot when plugging in a new device, as the station features plug-and-play connectivity that recognises new USB devices instantaneously.
---
| | |
| --- | --- |
| 4 | Kensington Universal Docking Station |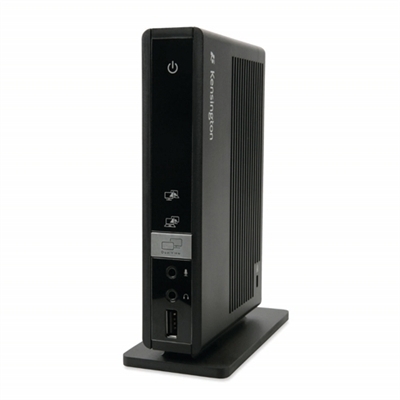 Designed for optimal compatibility with every brands and model of laptop and notebook, from Acer to Toshiba, the Kensington Universal Docking Station stays connected and powered even when the laptop is off, so external devices and hardware stay charged and ready to go. Use a security cable and cablesaver to engage the security slot and safely secure not only the dock but any connected peripherals.
The Kensington Universal Docking Station with video boasts a reduced desktop footprint with its slim tower design. Multiple ports allow for easy connection of keyboard, mouse, external hard drive, and more. Enjoy plug and play technology that means never needing to power down to switch out plugs and devices. Maximise quality of sound with both a back speaker port and front audio port.
---
| | |
| --- | --- |
| 5 | HP Universal Docking Station |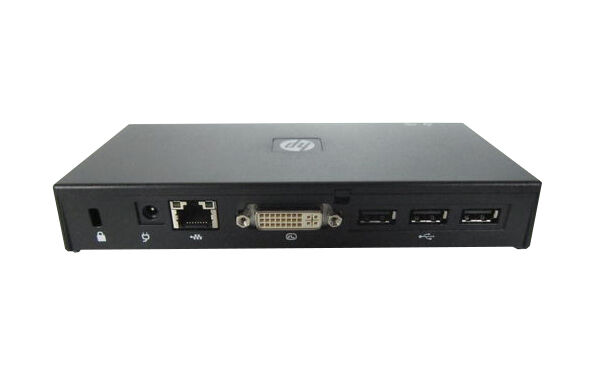 Slim, petite, and packed with key features to expand laptop capability, the HP Universal Docking Station is highly portable and perfect for multitaskers looking to get the most out of their notebook. The HP docking station comes equipped with four USB 2.0 ports as well as a VGA external monitor port. An easy to access security cable slot makes it simple to protect your laptop and connected devices.
An audio in jack provides quick connection to microphone, while the audio out jack enables fast headset and headphone use. Create guest desk spaces smoothly Flash memory enhanced with installation-ready software drivers that immediately detect new systems.
---
How to Buy a Universal Docking Station on eBay with Confidence
Create a fully functional, multi-purpose desktop terminal wherever you may be with one of the top five universal docking stations. Virtually any laptop can convert into a stationary and versatile desktop computer system with the addition of the right docking station. Laptop users who know the exact docking station they are looking for can find it quickly and easily by entering keywords and terms directly into the eBay primary search bar. Find new and used docking stations to suit any budget with the use of eBay's advanced search options, and sort search results according to price. Many listing even feature free shipping. For utmost buying confidence, shop eBay's top-rated sellers, recognised for quality merchandise and outstanding customer service.