Ham radio
still has a devoted following, after a history spanning many decades. The quality of equipment varies sharply, but increasing features accompanying the digital age has brought about a different set of radio user experiences, including a sense of loss by those who pine for simpler times. Fortunately, enthusiasts of vintage
ham radio need not despair as they may purchase some of their fondly remembered equipment online. Although the performance capabilities of older pieces are less certain because of their age, many sets from the 1950s to the 1970s are still in good condition and may provide many more years of service. Enthusiasts who search eBay may stumble upon some remarkably well-made units; nevertheless, customers should only choose from among well renowned manufacturers.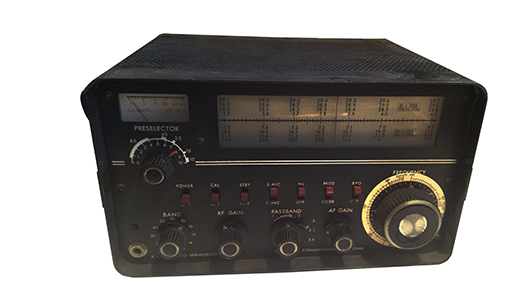 The Drake 2B Receiver is a 1960s triple conversion superhetrodyne receiver that spans frequencies from 3.1 to 4.5, 6.9 to 7.5, 13.9 to 14.5, 20.9 to 21.5, and 28.5 to 29.1 MHz. The receiver features excellent frequency sensitivity and gives a clean, warm tone with low noise. It has a 3.5 kHz bandwidth position, and includes a non-adjustable noise limiter which can reduce non modulation noise to 14 dB. The receiver employs the use of very stable, high frequency crystal controlled oscillators that tunes the same signal range across all bands. This receiver features a direct read slide rule dial and an adjustable subdividing scale to enable users to read each frequency easily and accurately.
---
| | |
| --- | --- |
| 2 | Hallicrafters SX-122 Radio Receiver |
The Hallicrafters SX-122 is a high end, dual conversion receiver with crystal filter, and offers four radio bands. This model is therefore extremely versatile as users may pick up many more frequencies than is otherwise possible on a standard radio receiver. Control adjustability includes RF gain, antenna trimmer, BFO, CAL/OFF, ANL/OFF, and audio gain. Users may even adjust the signal metre's response. The receiver has a highly durable tuner made from thin, steel cables and includes a heavy flywheel to facilitate smooth and quick tuning.
---
The German made Rohde and Schwarz EK07 is a 27 valve tube communications receiver. It features 12 band tuning, with outstanding CW, A3, and SSB reception. This unit includes a metre switch, a noise limiter, a 300 kHz calibrator, and frequency locking. The two front panel metres monitor AF levels, valve feeds, and enable operators to monitor the signal strength. The RX frequency ranges from 0.5 to 30.1 MHz. The receiver includes two headphone jacks on the front of the unit to allow for two simultaneous operators. This is a well thought out receiver designed to very high standards. Manufactured in the 1950s with a weight of 65 kg, this receiver represents one of the heavier models around.
---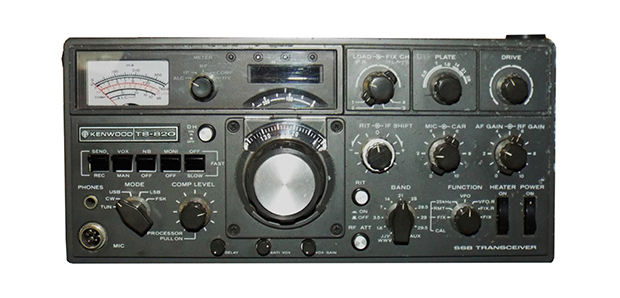 The Kenwood R820 is a triple conversion HF receiver that includes stepped RF attenuator, a 25 kHz crystal calibrator, IF Shift, VBT, and final IF with 50 kHz. It receives a wide selection of amateur bands including AM, SSB, CW, and RTTY in 8.1 to 2, 3.5 to 4, 21 to 21.5, 28 to 28.5, 28.5 to 29, 29 to 29.5, and 29.5 to 30 mHz. This rare receiver from the late 1970s offers tremendous stability and operates with quiet efficiency thanks to its noise blanker switch that reduces interference sound. Users can pair this receiver with the TS-830S transceiver to experience ultimate incoming/outgoing ham radio operation. It includes a digital display above the tuning dial for easy frequency readouts. Users can adjust tone and gain to attain optimal audio quality.
---
| | |
| --- | --- |
| 5 | JRC Radio Receiver NRD-92 |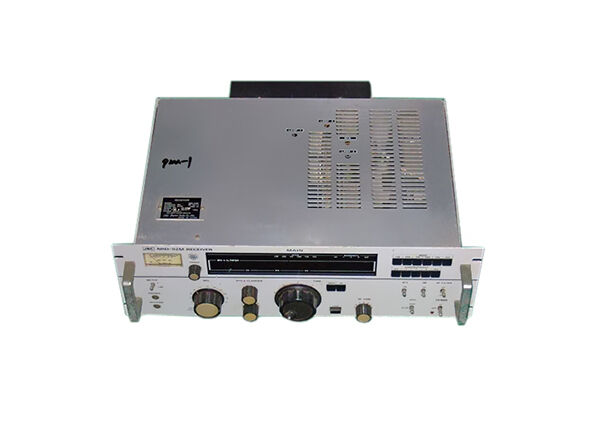 The JRC Radio Receiver NRD-92 has with a wide frequency spectrum of 90.00 to 29999.99 kHz coverage and 10 Hz display in CW, AM, DSB, FSK, FAX, and SSB modes. This is a Japanese-made unit that features fixed distress frequencies of 500 and 2182 kHz. It has supplied bandwidths of 3, 6, and 0.5 kHz, plus AUX. It includes a dimmer and AGC selection, NB, AF filter, and a lock. The receiver comes with the NVA 92 external speaker, and includes a spare parts kit. The front interface includes both analogue and digital display.
---
How to Buy Vintage Ham Radio Receivers on eBay
To purchase vintage ham radio receivers on eBay, enter a general or product-specific search, such as " Drake
2B
Receiver". Ensure your selected item has every feature you need by reading all information carefully, including terms of sale and returns policies. Purchase from somebody with a positive customer feedback score of at least 99 per cent. Although vintage radio equipment may not carry the extensive features reflected in newer models, they do, nevertheless, provide great insight into the daily operations during the classic age of radio. They serve this purpose by keeping alive an appreciation for traditional radio communications, and by endorsing the values and vision espoused by the community of ham radio operators around the world.