Not made strictly for mobility purposes, vintage
walking stick
s are lovely to look at. There is a wide variety of walking stick types, from elaborate, hand-carved styles to beautiful glass walking sticks. Vintage walking sticks offer many collectible options or unique walking canes for consumers searching for something different and eye catching. Made of all types of wood, metals, and other materials such as bamboo, vintage walking sticks are as beautiful as they are functional. Consumers looking for rare walking sticks first compare the top types of canes and sticks before purchasing.
| | |
| --- | --- |
| 1 | Vintage Silver Walking Sticks |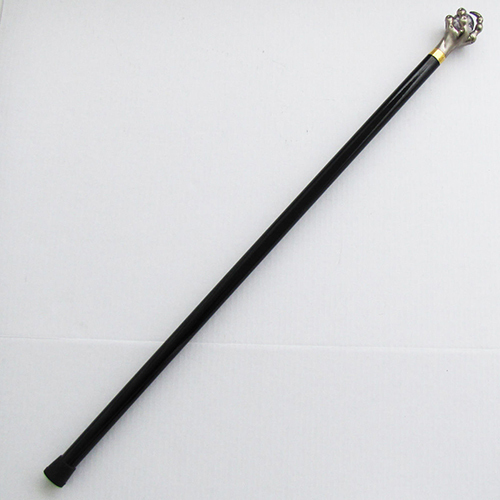 Made with wooden bottoms and metal embellishments, vintage silver walking sticks are walking sticks with either silver handles or silver tips and rings. Some silver walking sticks have silver top designs, which sometimes include intricate details such as animals, or Victorian or Edwardian patterns specific to those eras. Made of wood throughout, vintage silver walking sticks sometimes have bands of silver around the bodies of the sticks for added flair, or gemstones embedded in the silver handles. Curved and long, ball shaped, or horned, walking stick handles are all different. Walking sticks generally have rubber stoppers on the ends to make walking easier and slip resistant. Some silver walking sticks are made of silver plating and referred to as dress canes.
---

The most common type of vintage walking stick is the antique wooden walking stick. Made of all types of wood including rosewood and teak, wooden walking sticks and canes offer a variety of designs, including black tribal wooden canes, stylish crook handle walking sticks, and intricately carved wooden walking sticks. Wooden canes with elaborately carved designs are rare finds, and simple, lightweight walking sticks are basic and beautiful. Some vintage walking sticks include details such as telescope handles, spiked ends, or ivory carved handles. Unusual designs such as hand-carved faces or colourful handles make some wooden walking sticks more valuable than others.
---
| | |
| --- | --- |
| 3 | Carved Head Walking Sticks |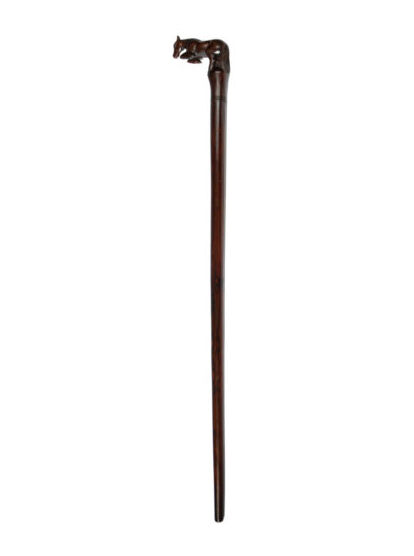 One of the hallmarks of vintage walking sticks is the detailed carvings on the handles. In particular, many carved head walking sticks feature the faces and heads of animals, including birds, dogs, ducks, horses, and even fish. Made of quality oak, the canes are durable and sometimes have heads with different materials, such as ox bone or ivory. Walking sticks with added details such as designs that continue down the length of the canes are perfect for collectors, and handmade, imported sticks from Africa offer a unique look at vintage canes from other countries. Walking sticks from the Victorian era sometimes depict majestic creatures such as delicate birds and have added embellishments like silver accents around the animal heads. It is not uncommon to see brass carvings or detachable head carvings, for consumers to switch out the handles of their canes.
---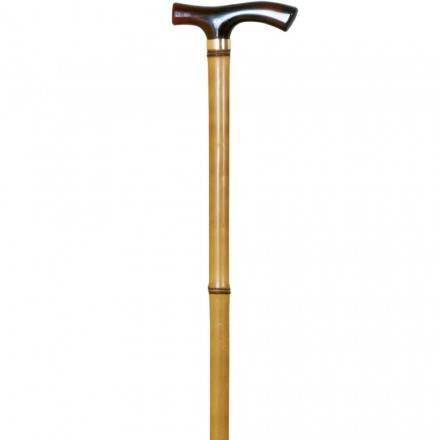 Stylish and decorative, bamboo walking sticks were popular in the early 1900s. The canes from the Edwardian and Victorian periods feature shiny, polished bamboo with curved handles or embellished handles, such as horns or T-style handles. Bamboo canes sometimes had authentic silver handles, and these cost more than standard bamboo canes. Metal-topped canes were popular, and sometimes included simple silver knobs at the top of the sectioned bamboo walking sticks. Bamboo canes were sometimes oxidised to give the canes a fuller finish, and though bamboo is not scratch resistant, antique bamboo usually stays in good condition if the canes were well made and taken care of properly.
---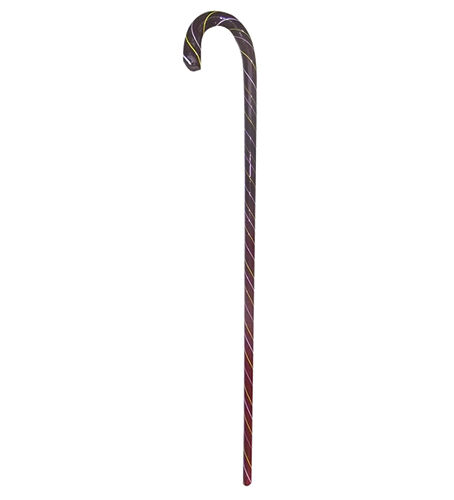 There is nothing like the beauty of a vintage glass walking stick. These blown glass, shiny walking sticks were popular in the Victorian era and made with authentic English glass. Glass walking sticks are either clear glass or coloured with glass in shades like red or white, and have curved handles with no additional embellishments. Twisted during the glass blowing process, some antique glass walking sticks have a unique texture. Most glass walking sticks are tall and stand roughly 65 to 75 cm. Though the glass is fragile, the design makes them sturdy and appealing to vintage walking stick collectors seeking an unusual find.
---
How to Buy Vintage Walking Sticks on eBay
Add to your vintage walking stick collection by scoring unique walking sticks on eBay. Do a general keyword search for vintage walking sticks and filter the search by the type of stick, time period, or the age of the stick, such as 1900 to 1940. For the best experience, purchase rare antique walking canes from Top-rated sellers with many completed transactions. Walking sticks are elegant, simple, and stylish, while some canes are more detailed and elaborate. They come from many countries and many time periods. Vintage walking sticks are fun and eclectic items for history buffs to collect, and their durability tends to create long-lasting pieces of artwork.