A
waistcoat
is a traditional garment, originally worn exclusively by gentlemen. In the modern era, these garments are still commonly worn by males, but there are also female models available. For traditional formal attire, such as conventional weddings, benefits, and other occasions that require morning dress or strictly formal attire, backless waistcoats or formal waistcoats are a must-have, worn with dress trousers and a morning jacket. Christmas waistcoats are a great option for less formal festive gatherings. Leather waistcoats are ideal for bikers and those who want to rock a retro punk look. Novelty waistcoats are a great way of expressing personality and individual flair while maintaining a smart appearance.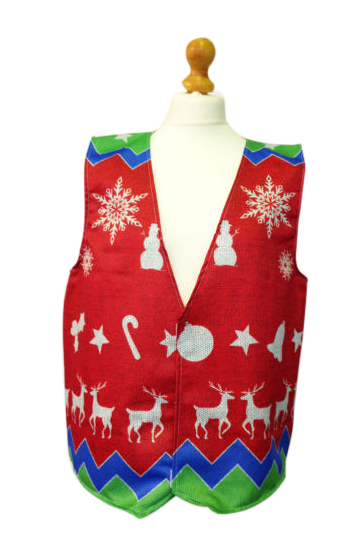 A Christmas waistcoat is a formal waistcoat, usually with a Christmas scene or pattern across the back or front, or, for the more adventurous, across the front and the back. The more formal Christmas waistcoats are made of silk and traditionally worn as part of a suit, complete with dress shirt, trousers, and suit jacket. Other models are worn without a jacket. Consumers can opt for a vintage Christmas waistcoat with a bold Christmas scene, ranging from the nativity, to Santa in his sleigh, or a festive landscape, complete with a picturesque cottage with a smoking chimney, snow blanketed fields, frolicking children and animals, and a snowman. Or, for more understated tastes, opt for a delicate snowflake motif. Less formal waistcoats are generally worn as outer garments, over a shirt, and without the need for a jacket. Christmas waistcoats are usually worn with a fun festive tie.
---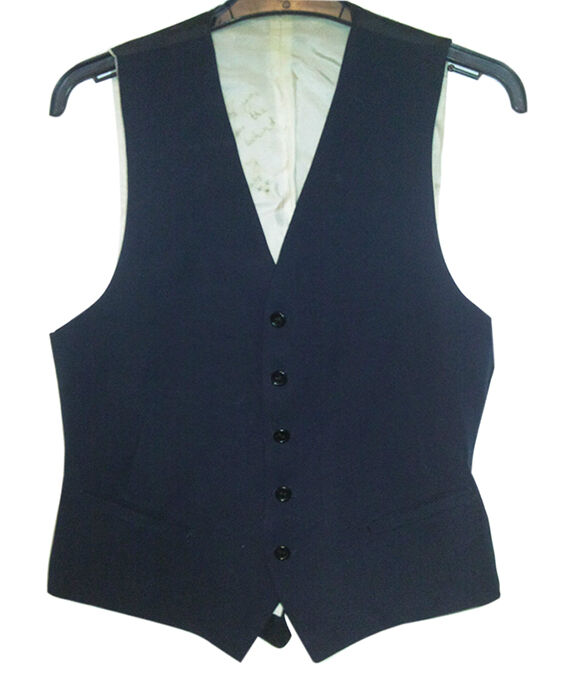 A formal waistcoat, commonly made from silk, is usually worn for special occasions, such as weddings, funerals, or formal dances. These waistcoats are available in single breasted or double breasted models as part of a three piece suit, consisting of dress trousers, waistcoat, and jacket. They are worn over a plain dress shirt and accompanied by a tie, bow tie, or cravat. Formal waistcoats for workwear are either silk or wool, and generally have a small pocket on the front. Traditionally, this pocket was where a pocket or fob watch sat, connected on a chain to a button. The buttons were traditionally mother of pearl, but in the modern era, they are made from a variety of materials including plastic and glass. Most waistcoats are plain or have pinstripes and are dark in colour, although white and pastel models are available. For those wanting something other than the traditional black or dark grey formal waistcoat, models with a black or grey front and a silk back of a different colour, such as red or purple, are available.
---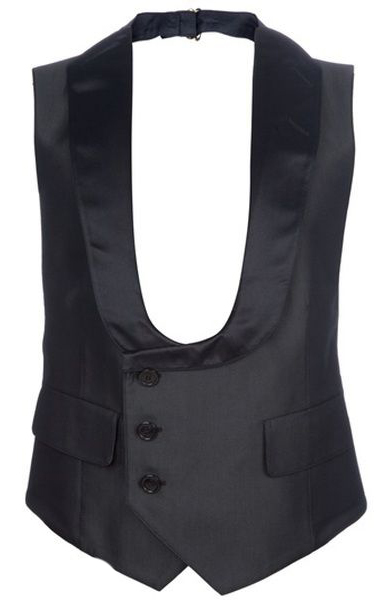 The backless waistcoat is a traditional formal garment worn over a shirt and beneath a morning jacket. First popularised in the 1920s, these garments are also known as dress waistcoats. They have two three button front panels that are low cut, buttoning from the waist to the bottom of the rib cage. These waistcoats do not have a back panel like a traditional waistcoat. Instead, they have an adjustable strap at the neck and another at the waist to hold the front panels in place. Backless waistcoats are for formal or morning attire, particularly in those instances where the ambient temperature is likely to be particularly warm. The backless waistcoat is designed to provide comfort and prevent the wearer getting too hot and removing the morning jacket which, at events that call for morning dress, should be avoided at all costs.
---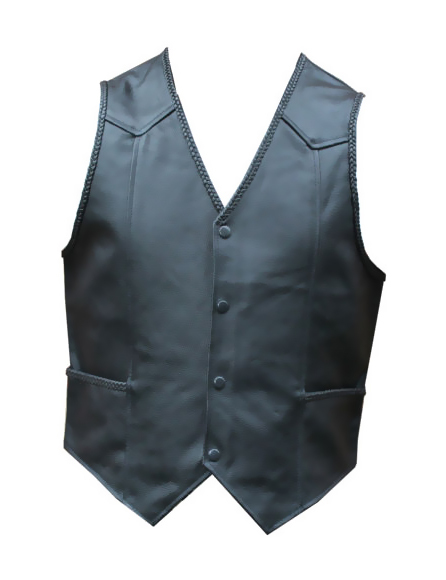 Leather waistcoats are casual waistcoats traditionally worn by labourers, cowboys, bikers, and punks and are most commonly worn with a plain t-shirt or a casual shirt beneath. For the vintage 70s punk look, leather waistcoats are worn with a white t-shirt or on their own. Leather waistcoats are durable and offer protection for wearers against heat, cold, and debris, acting like a second skin. They are longer than a standard waistcoat, with many models sitting just below the hips, making them more practical.
---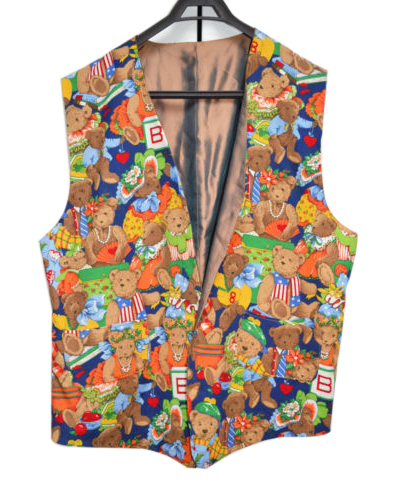 Inspired by snooker player John Virgo, novelty waistcoats are available with a range of novelty themes, ranging from seasonal, to humorous. These waistcoats are suited to some formal events as well as semi formal events and parties. However, they are not suitable for morning attire. They are usually worn over a plain dress shirt without a jacket and commonly with a matching bow tie. Consumers can choose a theme that expresses their personality, from VW campers to retro, psychedelic prints, or their favourite vegetable. The choice of novelty waistcoats is unlimited, with something to suit every personality.
---
How to Buy Waistcoats on eBay
Waistcoats
are available for a range of occasions from festive family parties to formal events that call for morning attire. A simple search from the search bars located on every
eBay
page delivers a huge number of waistcoat listings to choose from. Narrow your search by entering more specific information such as waistcoat type, size, or gender. Ensure you purchase from a seller with a good reputation for delivering quality products in a timely manner by checking their feedback. Choose a waistcoat based on your personal style and its intended function. If you are planning on attending a formal event that requires morning dress, opt for a formal waistcoat or, when the temperature is likely to be hot, opt for a backless model. For parties and festive occasions, opt for a less formal novelty waistcoat and express your personality in style.