Walkie talkies
, or two-way radios, are a great way for groups and individuals to communicate with each other when hiking, camping, or doing anything outdoors. Walkie talkies use radio frequencies to send messages, meaning that calls are free; however, reception is not always perfect. Owners can talk as much as they want without having to wait for a signal to go through. Walkie talkies offer multiple features including different channel range, different types of batteries, and even different quality levels. Buyers can purchase their two-way radios on eBay, in brick and mortar electronics stores, and some other shops. Choosing a top walkie talkie set with the right features can ensure buyers enjoy flawless communication.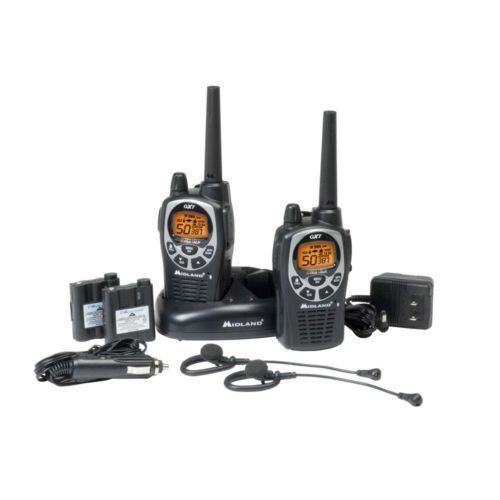 A high-end option, the Midland GXT1000VP4 offers up to 58 km range. With 50 channels, it is perfect for use in highly populated areas, because users can switch channels if they find the current one is in use. The rechargeable battery pack features AC and DC charging, and eliminates the need to bring along batteries on a trip, while the built-in weather alerts warn users when the weather is about to get rough. The Midland walkie talkie is a perfect choice for hikers, climbers, and campers, and works with headphones.
---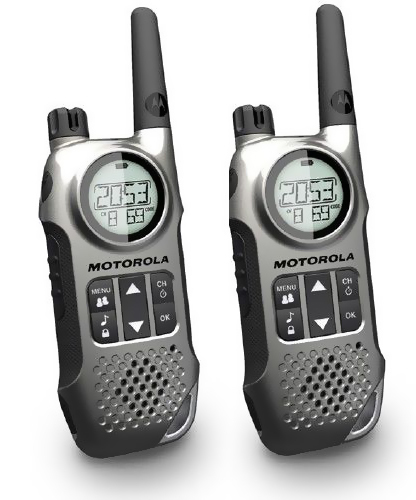 The Motorola TLKR T8 is a rugged and durable walkie talkie excellent for long lasting use. The two-way radio operates at up to 10 km range and includes a vibrating alert besides ten ringing tones. While the radio only features eight channels and 121 codes, it works with group calling and hands-free use. The rechargeable battery offers convenience and long-term affordability. The Motorola TLKR T8 is splash-proof and features a built-in LED flashlight, a backlit display, and a keypad lock to prevent others from using the radio.
---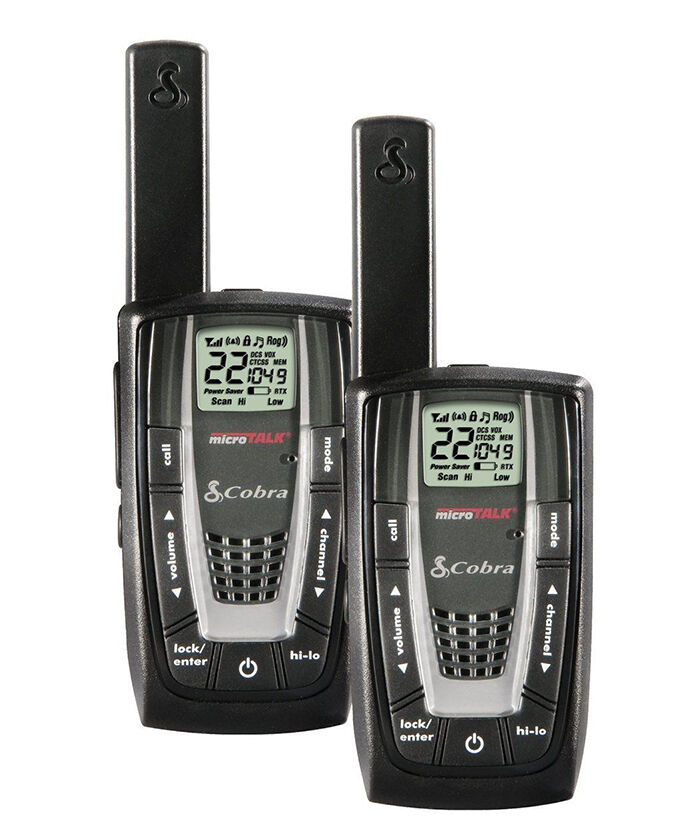 The Cobra MicroTalk CXR925 is highly portable. With a 43 km range, the Cobra is good for most individual and group use, and it includes up to 22 channels with 142 different privacy codes, allowing users ultimate security. Features like VOX auto transmit, key lock, auto noise cancelling, and vibrate alert make the Cobra even more convenient. The Cobra MicroTalk comes with two rechargeable lithium-ion batteries but is compatible with standard AA batteries.
---
| | |
| --- | --- |
| 4 | Motorola TalkAbout MR350R |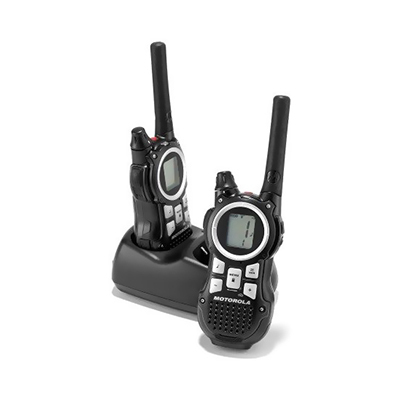 The Motorola TalkAbout T5320 is a compact two-way radio with emergency-alert weather channel to ensure that the owner is prepared in case of anything. The radio features 14 channels and five call tones for easy communication between groups. The rechargeable lithium-ion battery on the Motorola TalkAbout also offers convenience, with four charging methods including car, desktop charger, and mini USB.
---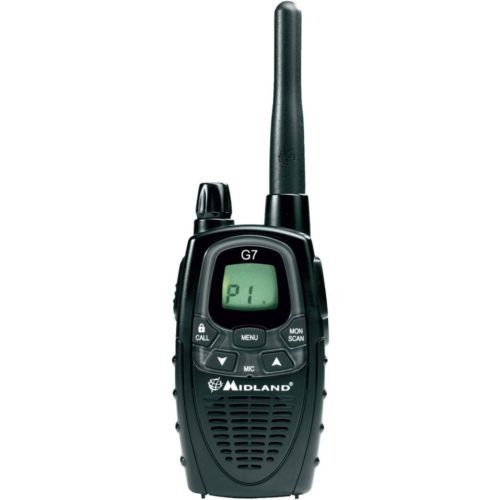 The Midland G7 is another great walkie talkie. The radio features a PRM and LCD transceiver that receives up to 78 channels, and broadcasts up to 4 km outdoors in hilly areas or up to 1 km in the city. It has a maximum range of 12 kilometres over open ground. The G7 features VOX hands free technology, a dual watch function, an LCD display with backlight, and a rechargeable battery. The G7 also works with headsets and vibration alert for users who need quiet operation.
---
Walkie Talkie Shopping Tips
Buyers should take the time to pick out a specific model or brand of walkie talkie before going shopping for it. Features like range, charging, number of channels, and extras like lighting or hands free all distinguish a good from a below-average walkie talkie. Budget is also an important concern, as not everyone needs a top of the line two-way radio. Instead, buyers should consider their needs to find something that fits into their budget for their intended use of the radio. Buyers on a budget can compare models to find the best options, look for deals on walkie talkies, and consider used models to save money.
How to Buy Walkie Talkies on eBay
Buying a walkie talkie on eBay is a great idea for anyone looking for more options, including second-hand devices, and competitive prices. After choosing a make and model of walkie talkie, search for it using the search bar on any eBay page. From there, browse through results and choose a model. Take into account the cost of postage if you are on a budget. Other than that, consider the features, price, and intended durability of the device you want to buy. Especially if you are looking to invest in a top walkie talkie, compare the number of channels, charging or power options, and size of the walkie talkie before buying.