All Apple products come with <a data-cke-saved-href="http://www.ebay.com/sch/wall
charger
s">wall chargers as well as cable that detaches and plugs into a USB port on a computer or other device. While these dual-purpose chargers are great to have, most people end up needing another charger at some point. This could be because they lost their charger, they want an extra one for travel, or they bought a used Apple device that came with no charger at all. Regardless of the reason, it is easy to find wall chargers for Apple products because multiple manufacturers make them and Apple sells replacements as well. The key is to choose a charger that meets the shopper's needs. Not all wall chargers are equal.
| | |
| --- | --- |
| 1 | Apple 5W USB Power Supply |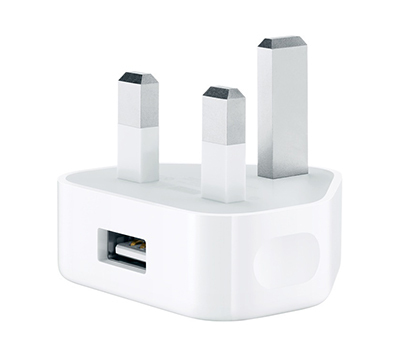 The Apple 5W USB power supply comes straight from the manufacturer and works with the iPhone, iPad Mini, and any of the iPod models. It is only the USB wall charger with no chord, so it is ideal for those who have the USB cord for their Apple device, but lost the wall charger. Be sure to get the UK Apple power supply rather than the US or EU version. All three kinds are very common and it is easy to order the wrong version by mistake.
---
| | |
| --- | --- |
| 2 | PortaPow 2.5A Quad USB Wall Charger |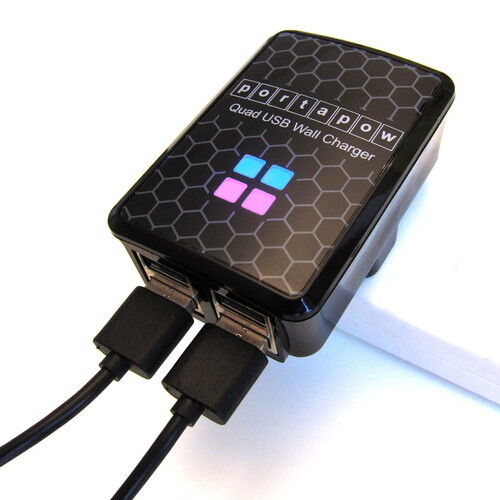 Those who have several Apple devices need not despair. The PortaPow 2.5A Quad USB wall charger has four USB ports so that people can hook up multiple USB cables and charge up to four devices at a time. The PortaPow has high speed connections so that people can charge two large devices, three mobile phones, or four small devices simultaneously at high speeds. There is also the option to charge a mix of Apple device together at slower speeds. No cords are included with the charger, but since the charger only uses one wall outlet, it leaves the remaining outlets free for use.
---
| | |
| --- | --- |
| 3 | KENSINGTON 4-Port Universal USB Wall Charger |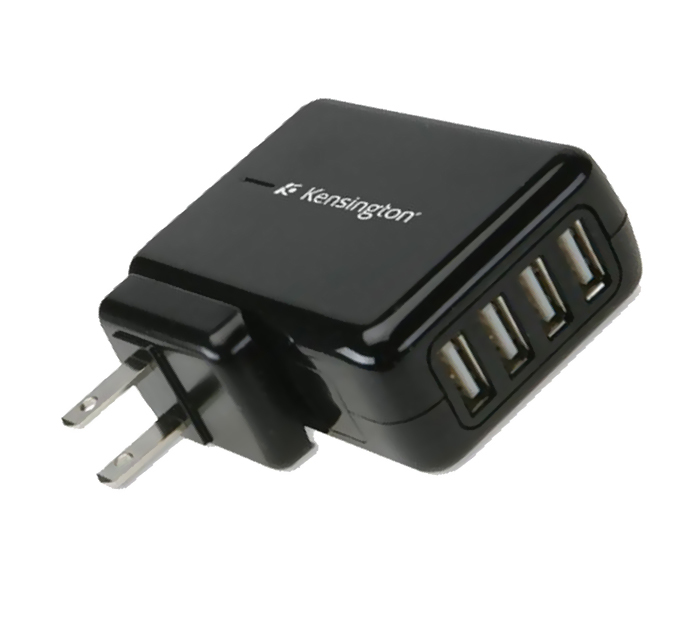 The Kensington 4-Port charger turns one outlet into a charging station for four Apple devices. Just plug in four USB cords, hook them all up to different Apple devices, and the job is done. This wall charger does not come with any cords and it is important to note that hooking up several devices to one outlet does result in slower charging because each device is using the same power source.
---
| | |
| --- | --- |
| 4 | Belkin Dual USB Wall Charger |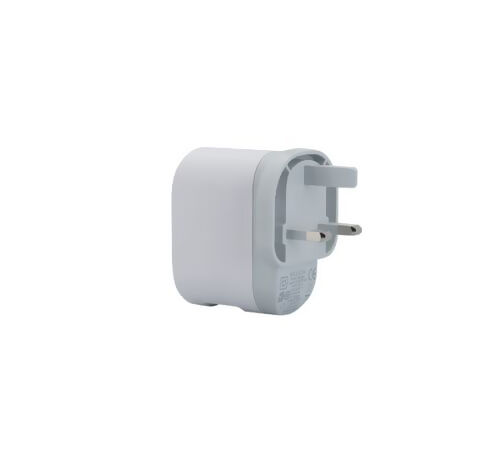 The Belkin Dual USB wall charger comes with two rapid-charge ports for the USB cables. This means that even though two devices are sharing a single power source, they still charge quickly. The Belkin also comes with two USB cords so it is great for shoppers who want extra cords on hand.
---
| | |
| --- | --- |
| 5 | iGO USB Wall Charger with EU and UK Plug |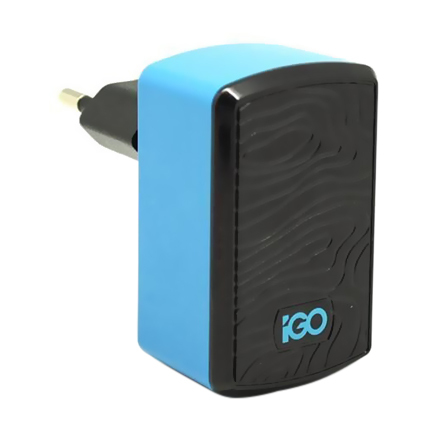 The iGo USB wall charger with an EU and a UK plug is great for world travellers. It has one USB port that delivers 1 amp of power and it comes with a wall connection that is interchangeable between EU and UK wall sockets. Trying to plug in electronic devices when travelling can be really frustrating. Owning universal wall chargers is a great way to be more flexible.
---
Things to Consider When Choosing a Wall Charger
The chargers for Apple products do vary. First, there are two kinds of connections. All Apple products use a 30-pin connection, but some of the newer chargers have Lightning connectors which are much faster. This means that people cannot use their older chargers with Apple products that have the Lightning connector. The length of the cord is another thing to keep in mind. A too short cable can get frustrating when trying to use it while plugged in. Most Apple chords are three feet long, but shoppers can find longer chords from other companies. Also keep in mind that some wall chargers do not even come with a cord. Some wall chargers come with accessories such as a car charger. This means that people can convert the wall charger into a car charger and take their Apple device with them wherever they go.
Finding Apple Wall Chargers on eBay
As technology advances, people own more and more electronic devices. This also means that everyone needs a way to keep their items charged. All Apple products can charge through a USB connection and it is easy to lose the cord or wall charger that comes with the device, or end up needing a few extra wall chargers on hand. Luckily many manufacturers make them so they are easy to find. Compare all of the different kinds on eBay by using the search bar to bring up a list of products. Just type in a general phrase, such as " Apple wall charger", or be specific and enter something such as " Belkin Dual USB wall charge
r
". If you want to find a good deal, look for the sellers that offer free postage and packaging as well as bargain prices.