Wall decals
make decorating boys' rooms easy. Simple to apply to the wall, decals can easily transform a plain room into an enchanting and engaging space. Consumers should choose decals and an overall decorative theme according to the tastes and interests of the boy in question. While there are many decal themes available, choosing from among the most popular gives consumers a good starting point and ensures there are many other suitable products to decorate and accessorise the room while maintaining the theme. Whether a boy likes cars and trucks, a particular movie like Shrek or Harry Potter, a sport such as quidditch or football, or the idea of travelling through space, there are decals to suit any taste, along with a whole host of other accessories for a seamlessly decorated bedroom that captures the imagination.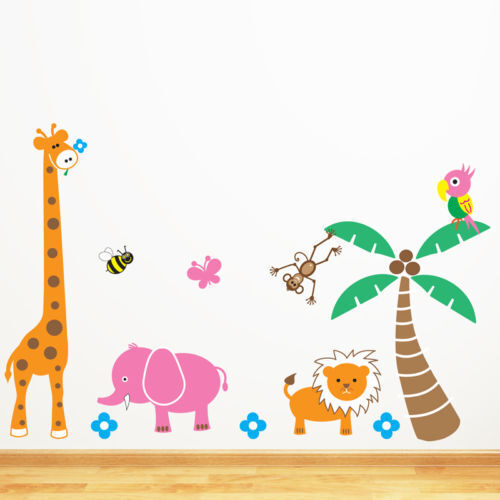 Jungle decals are great for boys who have a love of nature or jungle animals. The Jungle Book, despite its age, continues to amaze and delight children across the world, and jungle decals help to capture those feelings of wonderment for young boys. Consumers can easily transform their boy's room into a tree-filled jungle wonderland with these decals. For boys who really love nature, paint trees on the walls and use jungle-themed animal decals. Be sure to use friendly, smiling jungle decals so as not to frighten young boys at bedtime. Consumers can get creative and place monkeys in the tree tops with birds and sloths, with tigers, frogs, and capybaras at ground level, providing plenty of visually engaging entertainment.
---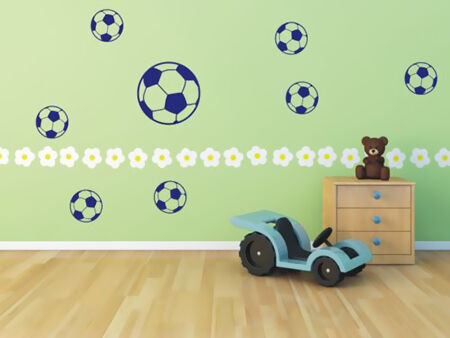 For boys who love sports and sports entertainment in general or a specific sporting event, such as football, WWE, cricket, tennis, motor racing, or quidditch, using sport-themed decals is an easy way to decorate their bedroom in a style they love. For budding broomstick-riding quidditch-playing, wand-wielding young wizards, use Harry Potter quidditch-themed decals. Consumers can purchase paint to create the quidditch goal hoops at each end of a wall, then use quidditch decals to create a large themed wall displaying a quidditch match in play. For fans of WWE, use decals of their favourite wrestling superstars, from the Undertaker to the Rock. For football fans, use decals of their favourite team and accessorise the room with team bed linen, curtains, and a light shade.
---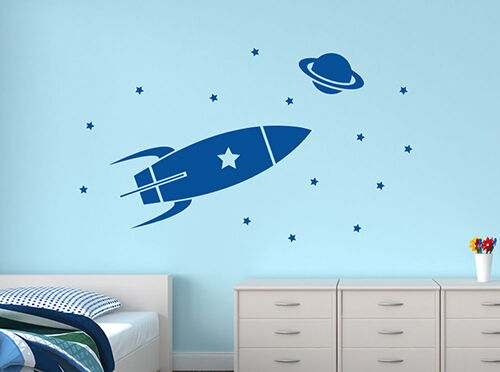 Many boys are fascinated by space, planets, and the universe, as well as the possibility of alien life. Consumers can use space-themed decals to decorate a boy's room accordingly. Use glow in the dark star and moon decals to bring the night sky indoors, placing them all over the ceiling. For an authentic look, parents can take the time to position the stars into constellations. Use friendly alien decals and map out the planets using planet decals. Space craft decals and a decal of the iconic white space suit enables a child to use their imagination and propels them into a space travelling fantasy, discovering new planets and alien lifeforms.
---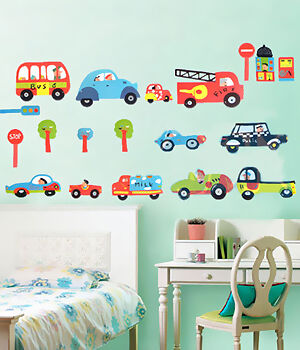 For boys who love vehicles, decorate their room with the wide range of modes of transport available. From planes to trains, consumers can create a whole room dedicated to different vehicles or create a specific room based on one. Turn the room into a giant Formula One racetrack with a racetrack painted on the wall and racing car decals placed onto the track. Paint on the crowds or use decals to create a realistic race. Use aeroplane decals to create a ceiling representing the sky. Paint the ceiling blue, draw on fluffy white clouds and use plane and hot air balloon decals any child would love to look at as they gaze up from their bed. For added detail to a transport themed room buy traffic sign decals including traffic lights and stop signs. Use tree decals to complete the room.
---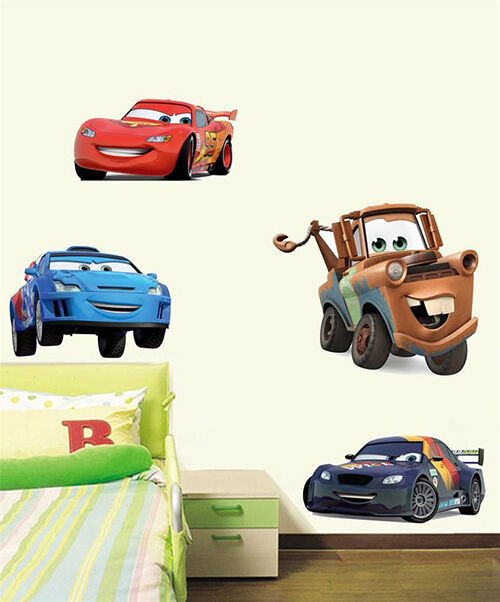 Choose from a wide range of movie decals to decorate a boy's bedroom with characters from their favourite movie. Whether they are a fan of the film "Cars" or they enjoy the characters from "Despicable Me", there is a decal theme available for their room. With the loveable characters from "Cars" consumers can turn their boy's room into a racetrack with Lightning McQueen and Hudson Hornet racing to the finishing flag. Transform their room quickly and easily with friendly television characters such as Postman Pat and Fireman Sam. Turn their room into a swamp by decorating in a forest green colour and add Shrek and Princess Fiona decals to the wall.
---
How to Buy Wall Decals for Boys
Buying wall decals on eBay is easy and inexpensive. The user friendly website offers a huge range of wall decals and other decorative items, including bed linen, paint, action figures, and themed wallpaper and borders at very competitive prices. A simple search delivers many matching results to choose from and you may even find reputable eBay sellers offering free postage with your purchases. Choose a theme for the room to help you select the most appropriate decals and decorative items for the best results. Considering the most popular wall decal themes gives you a great starting point along with a little inspiration to turn your boy's room into a rich, engaging wonderland.