Consumers can inspire, motivate, and uplift their family and visitors with a huge choice of
wall stickers with quotes
. Whether shoppers are planning to lift the decor of their living room, or transform a child's room into a Hogwarts wonderland, there are wall stickers to suit the occasion. Wall stickers or decals look fabulous and do not require nails driven into the wall. Instead, the back of the stickers are self adhesive and secure easily to the wall. Another benefit of using good quality wall stickers is that they are easy to remove and do not mark or deface the wall surface upon removal. Instead, they simply peel off, leaving the painted or papered surface unharmed.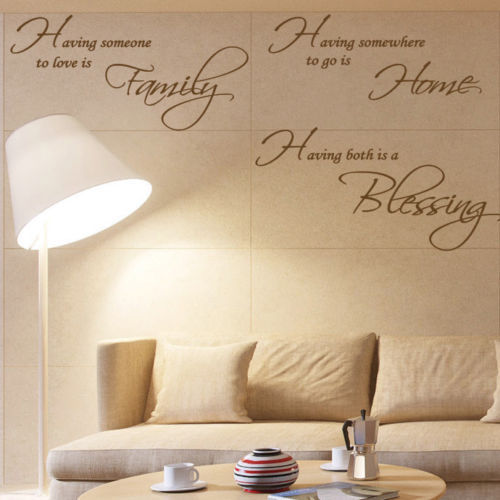 Having somewhere to go is a home, having somewhere to go is a family, having both is a blessing, is a great inspirational quote, available as a wall sticker. This wall sticker offers an uplifting and inspirational message in any indoor living space. Consumers can place this decal in a special and prominent position, to lift their thoughts and bring smiles to the faces of all who read it. Alternatively, this wall sticker makes a great gift for a treasured family member or friend as a housewarming present or a token of affection. This particular quote is available in a range of fonts, colours, and sizes to suit an array of decorative styles and to complement almost any living space.
---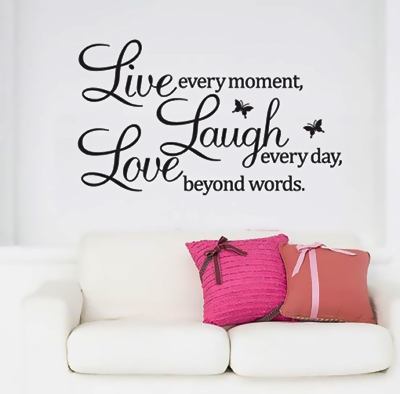 Live, Love, Laugh decal is a traditional and uplifting message. Available as an attractive wall sticker, this quote provides a simple yet poignant message and looks fabulous in any indoor living space. Consumers can place this message in their living room or opt to stick it in the entry hall, so it is plainly visible upon entering the home. Shoppers can lift their decor and express their personality and their family philosophy with this fabulous wall decal in a choice of colours, fonts, and sizes.
---
| | |
| --- | --- |
| 3 | Harry Potter Wall Decal Quotes |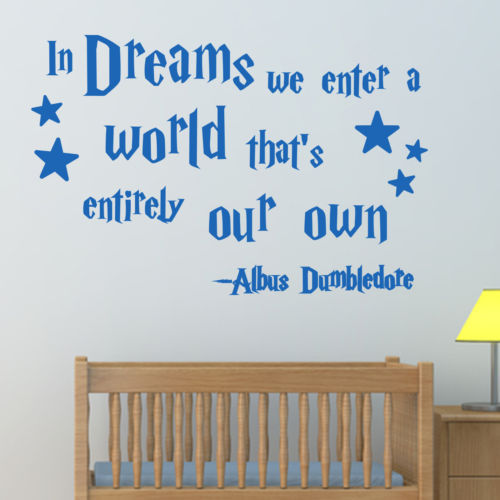 For fans of the Harry Potter books and films, there are a huge range of wall stickers with quotes available. Choose from an extensive selection of poignant and uplifting quotes, funny quotes, and iconic quotes. Alternatively, consumers can opt for a memorable quote from their favourite character, such as "In dreams we enter a world that's entirely our own", and "We are only as strong as we are united, as weak as we are divided", or "Happiness can be found even in the darkest of times if we only remember to turn on the light", from the magnificent Professor Dumbledore. Alternatively, for a child's room, or even a cheeky teenager, opt for the key to the Marauder's Map from Moony, Wormtail, Padfoot, and Prongs, with "I solemnly swear that I am up to no good." Whether consumers are buying for Harry Potter fans or those who enjoy an uplifting, inspirational, or humorous quote, Harry Potter wall sticker quotes are a great choice. Shoppers can even turn their child's room into a Hogwarts fantasy land, with quotes from Ron, Hermione, Harry, Dumbledore, Hagrid, and more, along with spells, such as Lumos, Wingardium Leviosa, and Expelliarmus.
---
| | |
| --- | --- |
| 4 | Always Kiss Me Goodnight |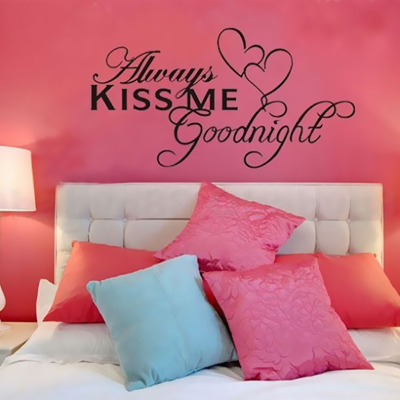 Always kiss me goodnight is a touching and loving wall sticker to place in pride of place in a bedroom. In a couple's bedroom it is a romantic sentiment that reminds a couple to never go to bed in anger and always end the day with love and harmony. Placed in a child's room it speaks of the unconditional love between a parent and child and reminds both parent and child that they have a strong, unbreakable bond. For adult rooms, choose this wall sticker surrounded by hearts and lips or, for a child's room, choose butterflies or another attractive theme. This quote is available in a range of sizes, fonts, and colours, including burgundy, yellow, pink, royal blue, cobalt blue, gold, silver, or green. For larger sizes, the sticker comes in three separate portions, making it easier to get a straight, flat, even finish, without creases or air bubbles.
---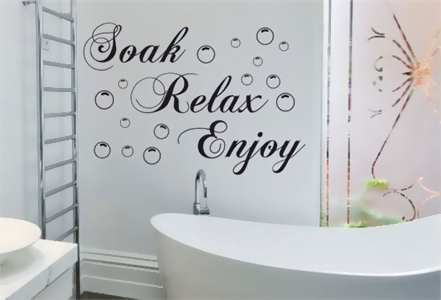 Soak, relax, enjoy is a great wall decal choice for the bathroom. It offers a calming, relaxing message, encouraging readers to let their cares and worries slip away while they relax peacefully in the bath. This wall sticker is waterproof, allowing it to stay securely on the wall, even in a hot, steamy bathroom full of condensation. It has a three layer application, ensuring water and condensation resistance and an attractive, even finish. This wall sticker is available in a selection of colours and sizes, with a variety of decorative themes, including bubbles or little rubber ducks, making it suitable for any bathroom.
---
How to Buy Wall Stickers With Quotes
Find a vast array of wall stickers with quotes from reputable
eBay
sellers at great prices. Whatever your taste, find a wall quote with an appropriate style and message from a multitude of eBay sellers, including many with top-rated status. Once you've identified your wall quote, check the seller feedback and complete your transaction. You may also find free postage on your wall stickers to save money. Lift your decor and uplift yourself, your family, and visitors to your home with a range of stunning quotes, from humorous, to uplifting, inspirational, motivational, or philosophical. Express your personality and the philosophy of your home with your choice of wall stickers with quotes from eBay.