Disposable nappies
can be a drain on the monthly budget of parents and caretakers. As such, many parents look for alternative ways to increase cost savings. While coupons are always beneficial, using
reusable nappies
proves to be the more environmentally friendly and economical route. Reusable nappies come in a wide array of styles, sizes, and prices. While determining which brand is best for a baby is often a matter of trial and error, with proper care and use, the nappies are sure to look fresh and new despite the multitude of messes they endure. When purchasing reusable nappies at retailers such as
eBay
, buyers should familiarise themselves with product care guidelines to help determine which nappies best fit their lifestyle habits.
| | |
| --- | --- |
| 1 | Do Not Use Too Much Detergent |

Whether machine or hand washing reusable nappies, parents should make sure that they do not use too much detergent. While it may be tempting given the severity of some blowouts, excess detergent actually forms a coating on the fibres of the nappy and thus reduces absorbency. Therefore, it is important to use as little detergent as possible, even with heavily soiled nappies, and avoid switching detergents. While many people are unaware that they are in fact using too much detergent, the odour of ammonia right after baby urinates is often an indication of excess residue. When a proper amount of detergent is used, the nappy should be nearly odourless after urination. In addition, detergent overuse can cause mould and mildew build up inside the washer and leave the nappies smelling foul.
---
| | |
| --- | --- |
| 2 | Strip Detergent Residue as Needed |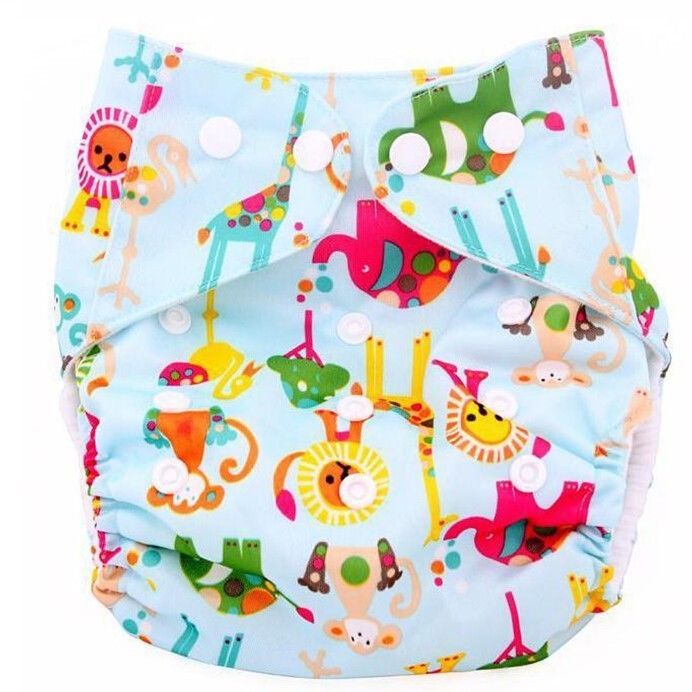 If the reusable nappies have been continually exposed to excess amounts of detergent, it may be necessary to strip residue build-up in order to regain absorbency. This is best accomplished by washing the nappies in extreme heat followed by a second washing in a mixture of baking soda and vinegar. The vinegar not only helps rid the reusable nappies of residue but also helps clean the washer tub. If there are soap suds in the water after washing without the use of laundry detergent, this is a sign that detergent residue is present.
---

Parents should avoid using chlorine bleach to remove stains as the bleach may linger in the cloth nappy and be absorbed by the baby's skin and irritate the skin. In addition, chlorine bleach is known to damage nappy fabric. As an alternative, parents should consider whitening with sunlight; hanging the nappies out to dry in direct sunlight is proven to remove stains. If there is a lack of sunlight, or hanging the nappies out to dry is not an option, parents should opt to use an eco-friendly bleach.
---
| | |
| --- | --- |
| 4 | Wash Promptly and Dry Thoroughly |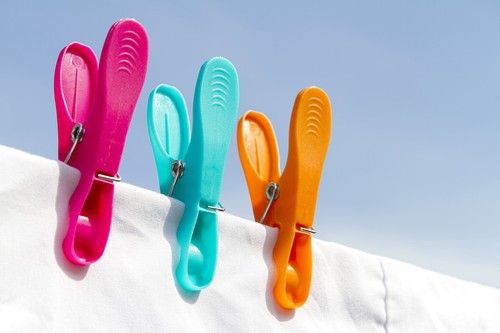 Although it may be tempting to let wet nappies collect until there is enough to run a full load, it is important to wash promptly to avoid the formation of mould and mildew. A musty odour is often the first indication of bacteria growth, followed by visible signs of discolouration. Washing promptly is also the best way to prevent stains from setting in the fabric. At the very least, reusable nappies should be washed every two to three days. Parents should also make sure the reusable nappies are completely dry before putting them away.
---
| | |
| --- | --- |
| 5 | Develop a Routine that Works |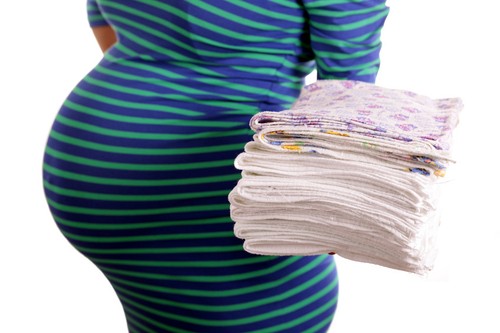 Whether a new or experienced parent, developing a nappy care routine that works is of the utmost importance. In addition to using a dye and perfume-free detergent, parents should find a setting that works best given the make and model of their washer. It is also important to develop a safe stain removal technique as well as a storage method for dirty nappies. Generally speaking, there are two methods of soiled nappy storage: wet pail and dry pail. While the wet pail method involves soaking the dirty nappies in an anti-bacterial solution until they are ready to be washed, the dry pail method uses no water.
---
How to Buy Reusable Nappies on eBay
To begin shopping for
reusable nappies
, head to
eBay
. For all related item listings, type "reusable nappies" into the search bar. You are free to browse all results for the search or narrow listings by preferences, such as condition and price. Search terms can also be used to find specific items. For example, if you know what type of reusable nappies you require, you are free to include this information as well. Reusable nappies are a great way to keep a baby's bottom fresh and clean while maximising associated cost savings. In order to keep the nappies looking new, it is important to develop proper care techniques at all stages of the cleaning process.