Nothing represents classic bridal style like a
wedding gown hoop
. The hoop look harkens back to Victorian Times, when roles for men and women were strictly defined and romance lay wait at the end of every church aisle. Like the white
wedding dress
, bridal veil, and feminine lace, the tradition of the hoop skirt has endured for centuries. Because there are many styles of wedding gown hoops, a bride-to-be may want to review her options before making a purchase, looking at photographs to obtain an idea of how well the hoop complements her look. When ready to shop, the blushing bride finds everything she needs to make her feel like a princess on her special day on eBay.
| | |
| --- | --- |
| 1 | Single Hoop Wedding Gown Undergarment |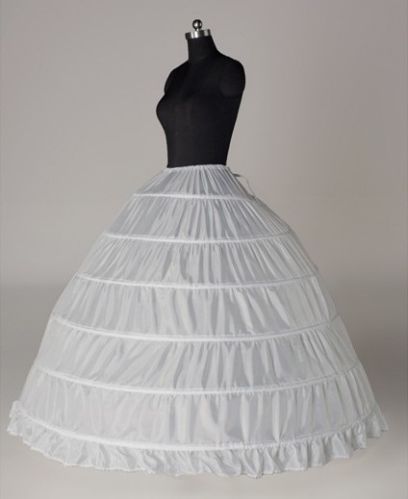 A single hoop wedding gown undergarment is the classic bridal hoop. Also known as a petticoat hoop, the undergarment is essentially a crinoline slip with circular metal supports that give the gown a bell shape. Ladies looking to maximise the full appearance of their gowns without adding the bulk of multiple layers can do so with this line of apparel. An advantage of wearing a hoop wedding gown undergarment is that it keeps the bride from stepping on her dress, which can result in unsightly rips or embarrassing stumbles. Outside of the matrimonial venue, ladies can don a single hoop wedding gown undergarment for Renaissance Faires or period reenactments.
---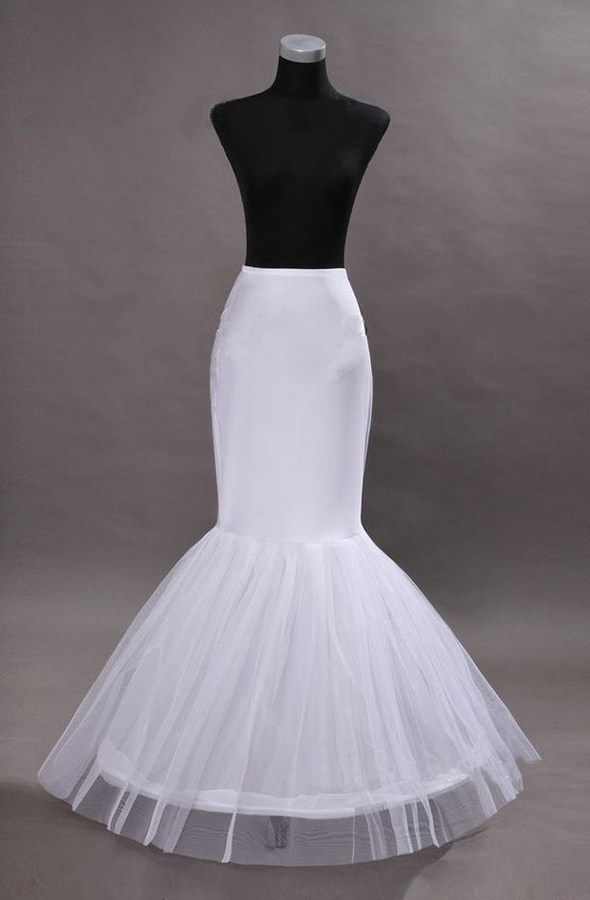 The mermaid gown delivers a more modern take on classic bridal beauty, brushing the floor with its gentle gathers and swishing bell shape. The dependable, flexible mermaid hoop pulls the dress away from the body, working its way outward from the waist to the floor. When shopping for a mermaid hoop, it is important to find one that hugs the hips and is not visible through the dress; otherwise, a full-body hoop slip is called for. Mermaid wedding dresses usually eschew tulle and lace in favour of satin and silk, presenting a soft and shimmering dream of a bride.
---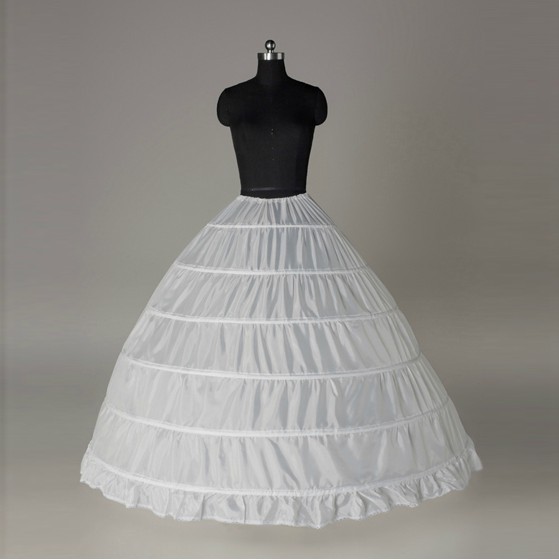 This is the stuff that fairy tales are made of. In the movies and on the pages of little girls' fairy tale books, every princess wears a ball gown to marry her prince, her hair piled high on her head, her lips red-lipsticked and pouty. Ball gowns have a more formal feel, with luxuriant layers of taffeta and tulle and a hoop shape that falls to the floor in either an A-line or a more classic, rounded bell curve. Whereas the ball gown hoop lends accent to the skirt part of the dress, the bodice may feature accents of rhinestones, gemstones, or stitchery. A bride cannot help but feel beautiful in a hooped ball gown.
---
| | |
| --- | --- |
| 4 | Hoop Skirt Wedding Hoop |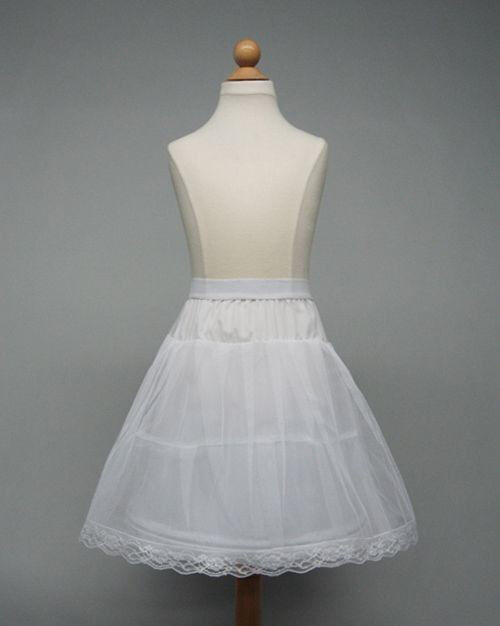 A bride who wears a hoop skirt wedding hoop looks sweet good enough to top the cake. Dresses with hoop skirts are distinctly feminine, with their A shapes drawing the eye from either bust or waist to the floor. Hoop skirt wedding hoops turn a church into a cathedral, a family villa into a castle. Tucked beneath silky or satiny dress material, the hoop skirt makes lace, gathers, or appliques stand out. Most hoop skirts are made of nylon and tulle, with tailored waists for easy concealment. After the wedding, a woman can don her hoop skirt anytime she wants to relive the day she got to be a queen.
---
| | |
| --- | --- |
| 5 | Train Wedding Gown Hoop |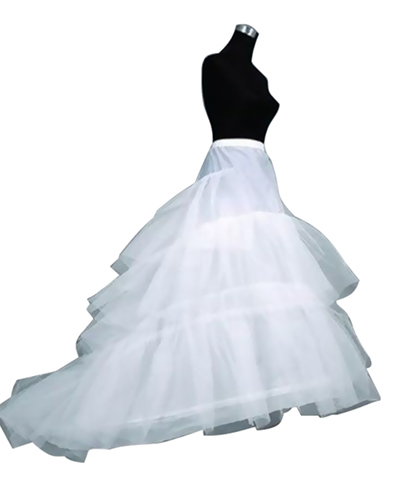 All heads turn as a bride glides down the aisle, draped in a stunning dress with a long train. When wearing a train, it is important that ladies ensure the fabric does not cluster clumsily at their feet; therefore, the selection of the right wedding gown hoop is an important one. The purchase of a train wedding gown hoop needs to follow the acquisition of the dress, as hoops are available in a wide range of circumferences, all evoking different visions. For instance, a bride's train may reveal an A-line style, similar to that provided by the ball gown hoop, or it may wrap more gracefully around the legs, almost like a mermaid hoop.
---
How to Buy Wedding Gown Hoops
The biggest day in a woman's life is, without a doubt, her wedding day. During that fairy tale event, she transforms into a princess, with the gorgeous Sleeping Beauty gown and
Cinderella
slippers to boot. For a classic, heavenly look, you can find the
wedding gown hoop
of your dreams on eBay. From mermaid hoops to ball gown hoops, hoop skirts and train hoops, eBay has everything to make your special day memorable. If you have not already procured a gown, be sure to visit the site's
Wedding & Formal Occasion
shop, where you are sure to find your dream dress. From there, thousands of wedding gown hoop options await, each one poised to give you the wedding of a lifetime.