Obtaining water from a well often requires a
well water pump
. These pumps help to bring water up from a variety of depths and for a variety of uses, from gardening to supplying tap water. The many types of well pumps on the market include
surface pumps
for bringing up water from shallower wells and
submersible pumps
for bringing up water from deeper wells. Owners may also choose
pressurised systems
that allow them to connect their water pumps directly to a pipeline for easy access to the water. Choosing a well pump involves choosing the type of pump and other features, such as depth and size. An overview of some of the best well pumps on the market can help homeowners make a wise investment.
| | |
| --- | --- |
| 1 | Eco-Tec Trade Well-Star 320-2 E |
The Well Star 320-2 E from Eco-Tec Trade is a stainless steel pump, so it does not rust in water. It is also a submersible deep well pump, with an 18-metre cable that allows for deeper submersion; the 320-2 E can source water from a maximum depth of 35 metres. Using only 320 watts of power, this pump is also more energy efficient, thus more cost efficient to operate, than other similar pumps on the market. This pump works best in narrow openings of up to 75 millimetres because it has a diameter of 72 millimetres. With a capacity to pump up to 1,300 litres per hour, the 320-2 E has a variety of uses, such as channelling water into the house, as well as irrigation, sprinkling, ground water sinking, and filling and emptying containers.
---
| | |
| --- | --- |
| 2 | Scuba Close Coupled Submersible Pump |
The Scuba close coupled submersible pump from TP Pumps is a heavy-duty submersible pump with 128-millimetre diameter that works best in demanding deep well environments. It can pump water from a depth of up to 20 metres, and can deliver up to 7.5 cubic metres of water per hour. A double-sealed oil chamber protects the electric motor of this pump from water damage. The Scuba Pump can operate continuously, making it ideal for situations that require heavy water usage. This pump works not only with wells but also with rainwater tanks, reservoirs, basins of all kinds, as well as in sprinkler systems and fountains.
---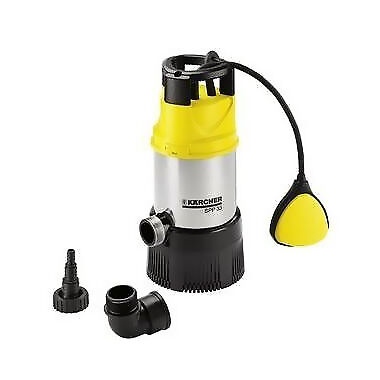 The SPP 33 Inox from Karcher is a submersible pump that works best when accessing well water for watering the lawn or garden. This pump is capable of running more than one sprinkler at a time, and therefore offers greater watering coverage than other types of submersible pumps. In addition, the Karcher maintains consistent water pressure, even over long distances, allowing for a steady water flow. The SPP 33 Inox pumps at a rate of 6,200 litres per hour and uses 850 watts of power. It is fairly wide, with a diameter of 220 millimetres, and immerses to a maximum depth of 8 metres.
---
| | |
| --- | --- |
| 4 | Brumby Submersible Water Pump |
The primary distinguishing feature of the Brumby submersible pump is durability. The Brumby can pump any kind of water without incurring damage, wear, or tear for many years. The pump consists of only two moving parts, ensuring that the Brumby works effectively and resists damage for more than two decades. In addition, the Brumby consists of materials that do not rust or wear out, and can withstand damage from debris that the machine may suck up when pumping. It can pump up to 12,000 litres of water per hour from wells at least 1 metre deep and 100 millimetres in diameter.
---
| | |
| --- | --- |
| 5 | TP Leader 1200 Submersible Pump |
The Leader 1200 from TP Pumps is a submersible deep water well pump. It is an inexpensive plastic pump that can provide residential water if owners use it with a pressurised water system. It consists of materials that do not rust or wear easily. The Leader 1200 immerses up to 15 metres and provides a water flow of 5,400 litres per hour. This pump works best for watering gardens.
---
How to Buy Well Pumps on eBay
When purchasing a
well pump
, you need to decide whether you want a surface or submersible pump, how much flow you want from your pump, and how deep you need the pump to immerse. Choosing a pump on
eBay
is simple. Type in a search term, such as 'well pump', into the search bar on any eBay page. You can then sort the results by a variety of factors. Using a well pump makes it possible to access well water for gardening and other uses. Choosing one of the top five well pumps helps to ensure a high-quality, effective well pump.