Few things are more valuable in a woman's wardrobe than a collection of attractive, demure,
wash and wear blouses
for the office. A smart business look that is flattering and easy-fitting is prized by ladies who are on the go and fashion-forward. Why waste money on cheap garments that do not hold their shape or on taking expensive designs to the dry cleaners? Fill every hanger with one of the top five designs in women's blouses for the office and never worry over a professional ensemble again. While gathering up these fine looks in choice colours can mean several trips to a range of brick and mortar department stores and boutiques, savvy fashionistas find them all at reasonable prices by shopping online sites such as
eBay
.
| | |
| --- | --- |
| 1 | The Limited Long-sleeve Button-Down Shirt |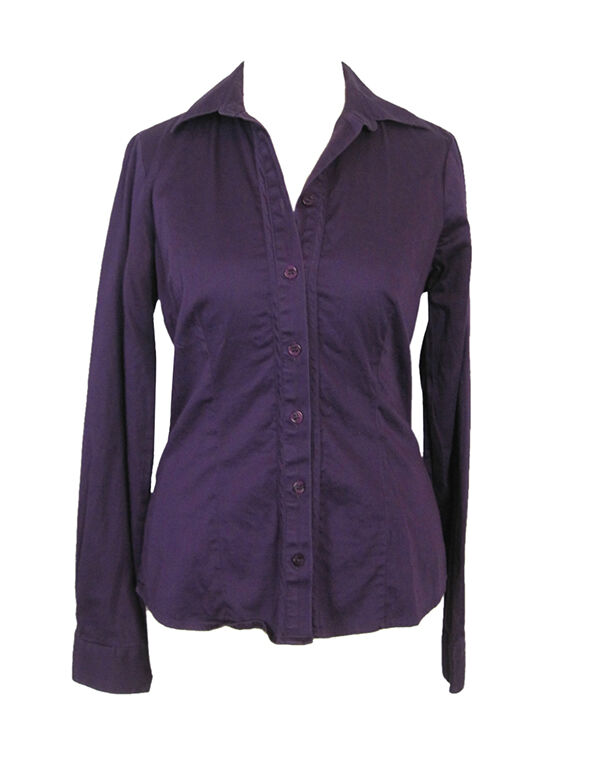 Featured in both InStyle and Vogue magazines, The Limited long-sleeve button-down shirt is a smart wardrobe essential for any professional lady. Constructed of high-quality smooth, soft, cotton stretch sateen, the design features subtle darting to create an easy feminine shape. The design also features a curved hem that wears attractively both tucked in and left out. This style is only featured in basic black and white hues; however, the clean design and button cuffs make it a standard for every closet. Keep two of each on hand. This button-down blouse is machine washable on the gentle cycle.
---
| | |
| --- | --- |
| 2 | Foxcroft Women's 3/4-sleeve Fitted Blouse |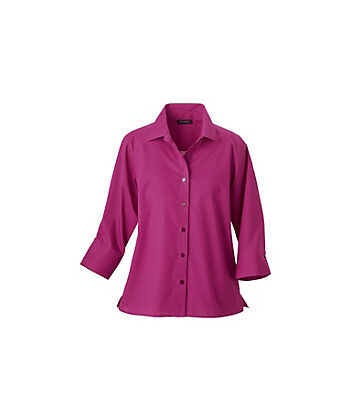 Comfortable and casual but with a professional style and fit, the Foxcroft women's 3/4-sleeve fitted blouse can go anywhere. This breezy garment is featured in a dozen classic, dusty shades: white, charcoal, currant, juniper, chili pepper, and blueberry. The Foxcroft 3/4-sleeve fitted blouse boasts side slits for feminine shape and freedom of movement and boasts a clean shirttail hem that wears beautifully tucked in or left out. Constructed of high quality non-iron pinpoint Oxford cotton, it is machine washable on a warm cycle and tumbles dry on low. As trim and presentable with a tailored pant as with an A-line skirt or blue jeans, the Foxcroft blouse is an ideal year-round blouse for all professional occasions.
---
| | |
| --- | --- |
| 3 | BCBG Emma Chiffon Blouse |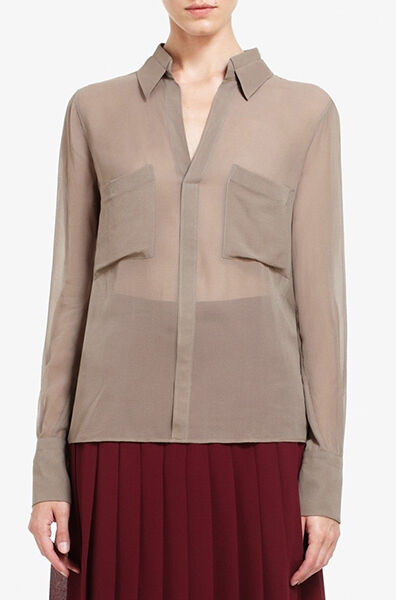 Every woman needs a chiffon blouse to round out her professional wardrobe. To that end, the BCBG Emma sheer chiffon blouse from Max Azria is a classic and classy essential piece. Featuring a delicate and feminine placket front as well as a spread collar and long sleeves featuring barrel cuffs, this 100 per cent silk chiffon blouse is both chic and casual. Front pockets add a demure and casual touch reminiscent of the Boho style, and a high-low hem underscores that sense of flowy, feminine comfort and fashion. Perfect for any office setting, this is one blouse that transitions well to off the clock. Flirty yet demure, match up this sheer garment with a solid camisole or tank top and pair with a smart pair of slacks or easy skirt.
---
| | |
| --- | --- |
| 4 | Express Portofino Shirt |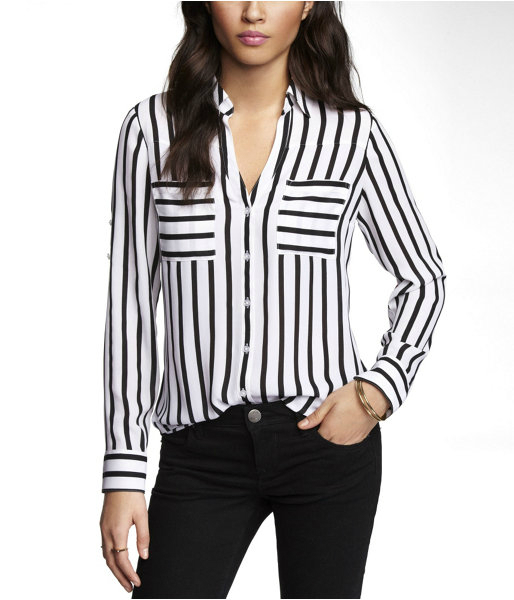 For sheer variety under a single design, the Express Portofino shirt cannot be matched. Boasting almost 30 colours, from basic black and white to delicate shades of soft ivory and surreal mint as well as intense and bold hues such as wild orchid, bitter grape, and red lacquer, a professional woman can build an incredibly versatile wardrobe around this brand and design alone. Featuring yoke shoulders, shirt collar, and a drop v-neck, it has a flattering and feminine style. Wear in any weather with long, convertible sleeves that boast roll tabs and button cuffs. Patch pockets and tonal buttons are among the classic touches that make the Express Portofino shirt a must-have in every closet. Constructed from semi-sheer polyester crepe, this shirt is machine washable and wears beautifully by itself or with a light camisole.
---
| | |
| --- | --- |
| 5 | Jones New York No-Iron, Easy-care Blouse |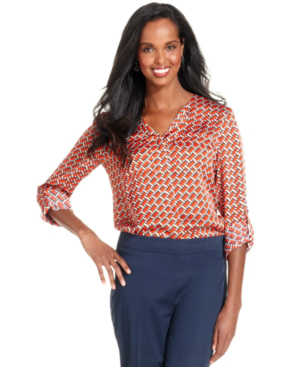 For a no-iron, easy care shirt that looks sleek, feminine, and professional, look no further than the Jones New York no-iron, easy-care blouse. Beautiful with slacks or a trim pencil skirt, this 100 per cent cotton, machine washable top comes in a small range of colours: white, chrome, new blue, lilac, ink, and soft rose. This top is available primarily in petite sizes, and boasts cap sleeves and a button-down front. Because it needs no ironing, this blouse is ideal for tight packing on weekend business trips, staying crisp and wearable even in tight quarters.
---
How to Buy Women's Blouses for the Office on eBay
Create a women's wardrobe that is ready for anything with a collection of blouses for the office from top brands and designers. A range of styles and colours of easy-wear,
easy-care tops
and blouses makes for a versatile closet. Mix and match for dozens of looks that wear beautifully in and out of the professional setting. Ladies who know the brands and designs they are looking for can find them quickly and easily by entering keywords and terms into the primary eBay search bar. Find bargains on bundled blouses, some even featuring free shipping, and
sort search results
by price using eBay's advanced search options. eBay's top-rated sellers offer quality garments and excellent customer service.